First Place:

"AT&T Black Future Makers"
Submitted by: TwentyFour7, Portland | Photography: Courtesy of TwentyFour7, Portland
2022 International Visual Competition FIRST PLACE: In-Store Storewide Promotions
The world's largest telecommunications provider, AT&T (Dallas), in collaboration with music artist Chief Wakil, visual artist Temi Coker and Portland, Ore.-based design agency TwentyFour7, debuted Dream in Black Immersive in its flagship locations. This visually driven storewide campaign intended to "pay tribute to all Black future makers by putting them in the high-art canon while they are here with us today," says Harley Ward, Director of Retail Innovation, Visual Merchandising, and Environment Design, AT&T.
During February 2021's Black History Month, a new group of "Black Future Makers" was revealed each week, recognizing musical artists, independent filmmakers, media executives – even a physicist – among 28 total honorees.
A dynamic theme designed with the help of artist Temi Coker merged fine art aesthetics and "celebratory flowers," and was used in-store as well as through digital, broadcast and social media channels. Coker also created portraits of the 28 Black Future Makers, which were animated to become 60-second digital wallpapers displayed through various formats, from 9-foot-by-15-foot video walls to floor-to-ceiling cylindrical columns. At flagship locations, customers were encouraged to create their own "living" portrait that they could share on social media through an interactive kiosk.
Advertisement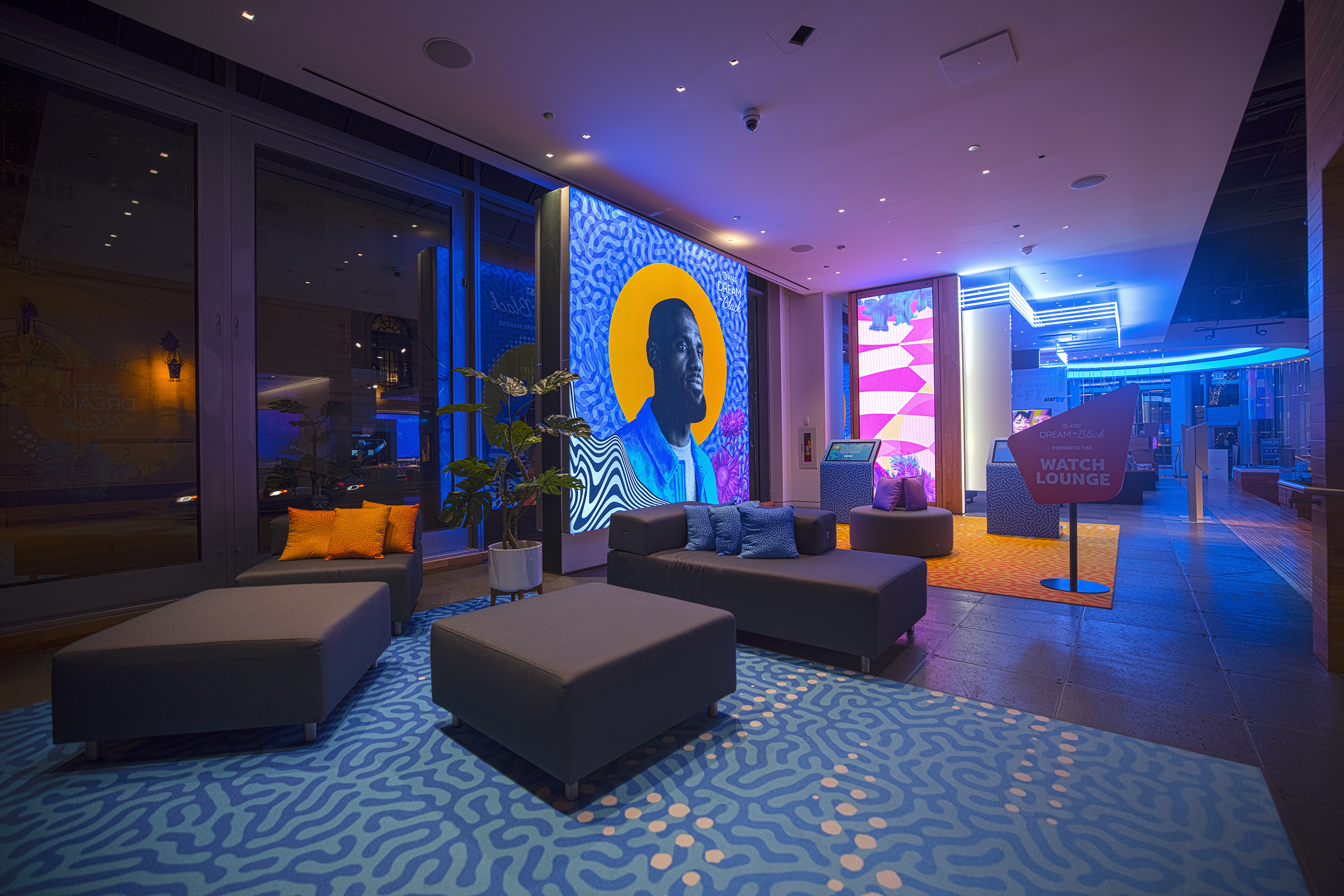 Advertisement
Other content was available via the kiosk, such as biographies for each of the 28 Black Future Makers; additional biographies of Black Americans involved with AT&T's history; and background information regarding the service retailer's investments to support diversity and inclusion.
To coincide with all the offerings in store, a monthly Black Future Makers contest was launched so other Future Makers could be nominated to win $10,000 to pursue their dreams.
"Highlighting local Black Future Makers, alongside global celebrities and icons, is a reminder that #DreaminBlack is about the journey, not the destination," says Ward. "It is a celebration of the dreams and the future made possible by more than 400 years of Black history, culture and contributions – that continues well beyond the month of February."
EDITOR'S NOTE: Due to an oversight, the direct quotes in this article were incorrectly attributed and have been updated to reflect the correct attribution.
PHOTO GALLERY
(18 IMAGES)
SPONSORED VIDEO
Embracing Whole-Brained Thinking in the Design Journey
Strategy needs creative, and creative needs strategy—yep, having both is really the only way of unifying all disciplines with a common vernacular with an eye toward building a strong creative vision that is foundational to the processes. Hear from Bevan Bloemendaal, former VP, Global Environments & Creative Services at Timberland, how to connect the dots between disciplines, claiming and creating a clear differentiation for the brand and ensuring that any asset (experience, product, ad, store, office, home, video, game) is created with intention.