2023 Retail Design Trends Forecast: Omnichannel and Shrink Are Top of Mind
Retailers are becoming more sophisticated as they look to create memorable shopping experiences
EXPERIENTIAL STORES AND restaurants are likely to continue proliferating in the coming year, as operators look for ways to make their spaces memorable in today's frenetic world. One larger-scale undertaking along those lines is the renovation of the historic James B. Beam distillery complex, which is open to tours of its bourbon production house, as well as tastings, a gift shop and a new restaurant.
That all takes place on a 400-acre site in Clermont, Ky., which is about a half-hour drive from Louisville and is the first stop on the famed Kentucky Bourbon Trail. Overseeing the complex's remake was design firm LOVE (Manchester, U.K.), along with Bergmeyer (Boston) and OJB Landscape Architecture (Houston).
THIS PAGE: Recently renovated, the James B. Beam Distilling Co. campus in Clermont, Ky., offers tastings, a gift shop, a restaurant and tours of its bourbon production house, engaging visitors with a multitude of experiences.
"At this scale, a brand experience can be different things, even on the same visit, for the same person," said LOVE Creative Director Russell Ashdown.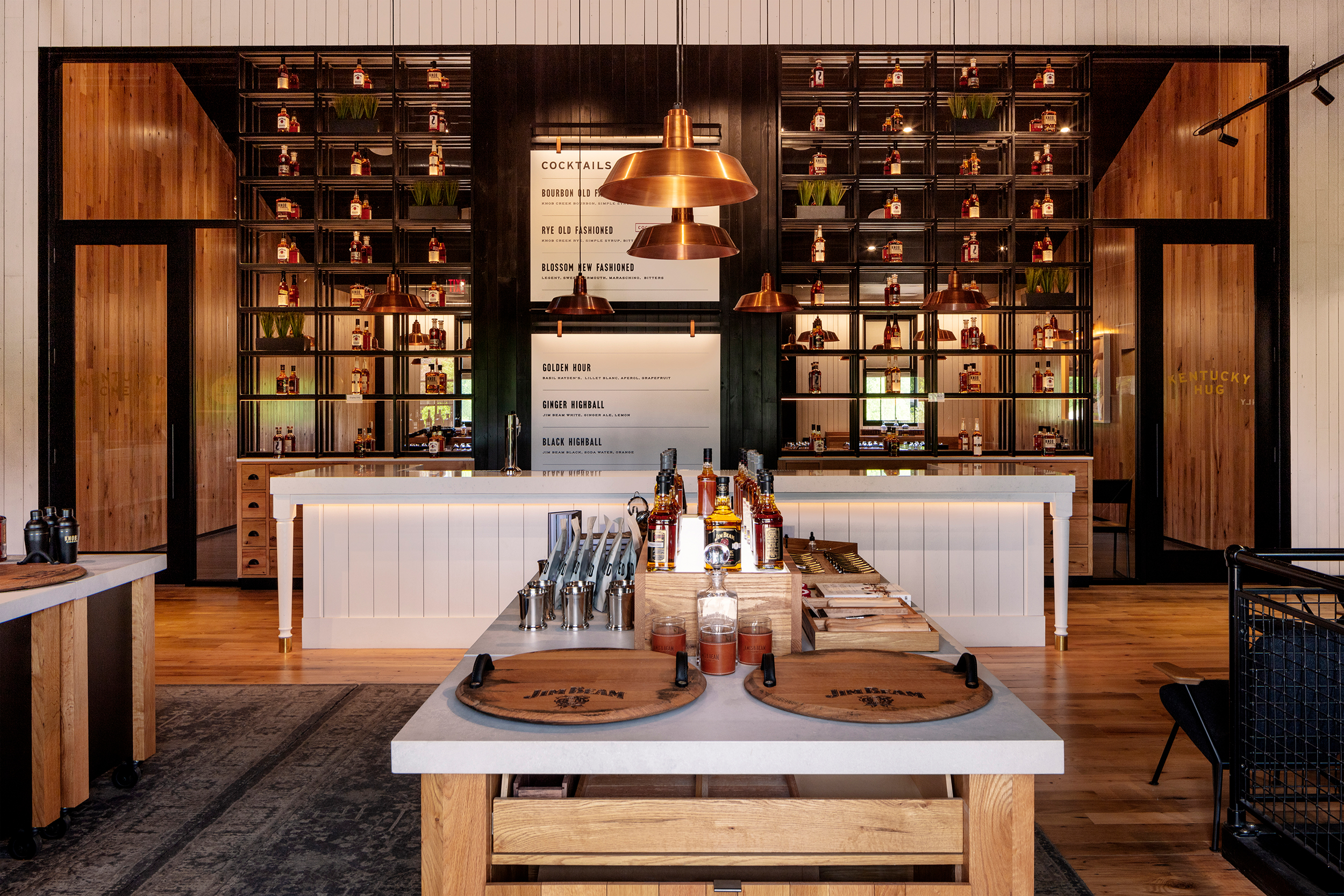 THIS PAGE: Spanning 400 acres, all touchpoints in Jim Beam's visitor experience are meant to exude a sense of craftsmanship. Its elegantly wood-clad interiors help create a relaxing atmosphere.
In keeping with that idea, major steps the designers took to help draw visitors to that spot included creating a new, interactive entry experience on the history of the eighth-generation family brand, as well as a new restaurant called The Dining Room. Inspired by a photo of the Beam family's dining room, the restaurant features wood and leather detailing.
Advertisement
Advertisement
Omnichannel Becoming Omnipresent
Taking an omnichannel approach to running a retail business is another major strategy that's expected to continue going strong in 2023. And when it comes to honing its omnichannel chops, please extend a tip of the hat to Lids (Indianapolis) for its latest brick-and-mortar store in Queens, N.Y.
📷: Luke Hayes/Love, London/Manchester, U.K.
That store, which opened late last year at 168-05 Jamaica Ave., is the first physical iteration of the brand's LidsHatDrop.com platform that launched several months earlier. Like its online counterpart, the Lids Hat Drop store offers exclusive and limited-edition releases, including notable athlete and celebrity collaborations that pay tribute to the Jamaica, Queens, neighborhood it's located in. Taking that concept a step further, shoppers at the Lids Hat Drop outpost will have first dibs on exclusive hat drops beginning at 11 a.m. ET each Friday, an hour before the collection becomes available on the brand's ecommerce platform.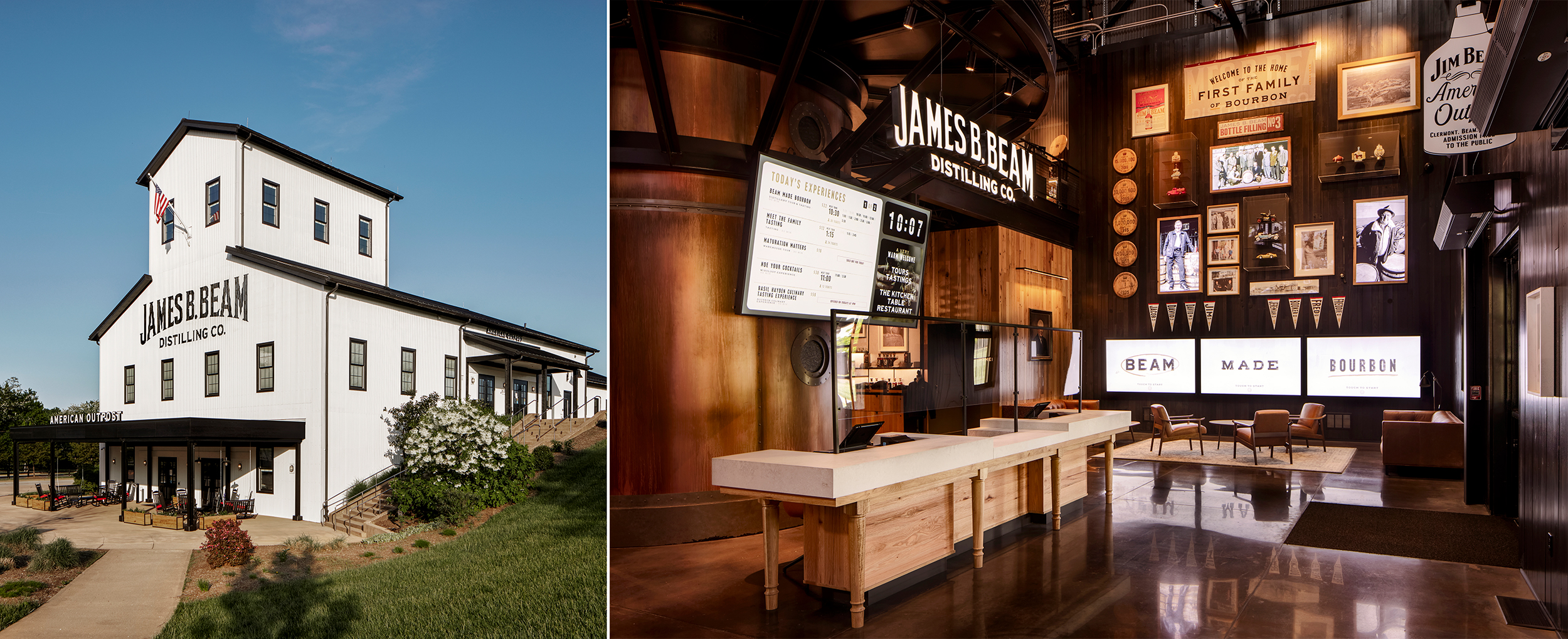 "We've seen huge success with LidsHatDrop.com, but Lids is a bricks-and-mortar retailer at its core, and this concept is yet another step in our strategy to lead the conversation and become even more ingrained in the hat community," says Lids President Britten Maughan.
Advertisement
Lids has lots of company in finding ways to upgrade an omnichannel approach. For instance, more and more retailers are configuring their spaces to accommodate and facilitate "buy online, pick up in-store" (BOPIS) strategies. (That strategy is also being aggressively pursued by restaurants of all stripes. For a deep dive into trends in that sector, see "Food Future," VMSD, November/December 2022, pg. 18).
THIS PAGE: A leading brand in "child-parent entertainment," LEDI Culture's latest Fundoland concept was designed by X+Living. Throughout the 48,438-square-foot complex, 10 diverse "entertainment zones" immerse guests.
Probing the Metaverse
A small but growing number of retailers are also working to see if the so-called metaverse should be part of their customer interactions. (The metaverse is a virtual reality space in which users can interact with a computer-generated environment via a VR unit, though users can access it in other ways without such specialized equipment.)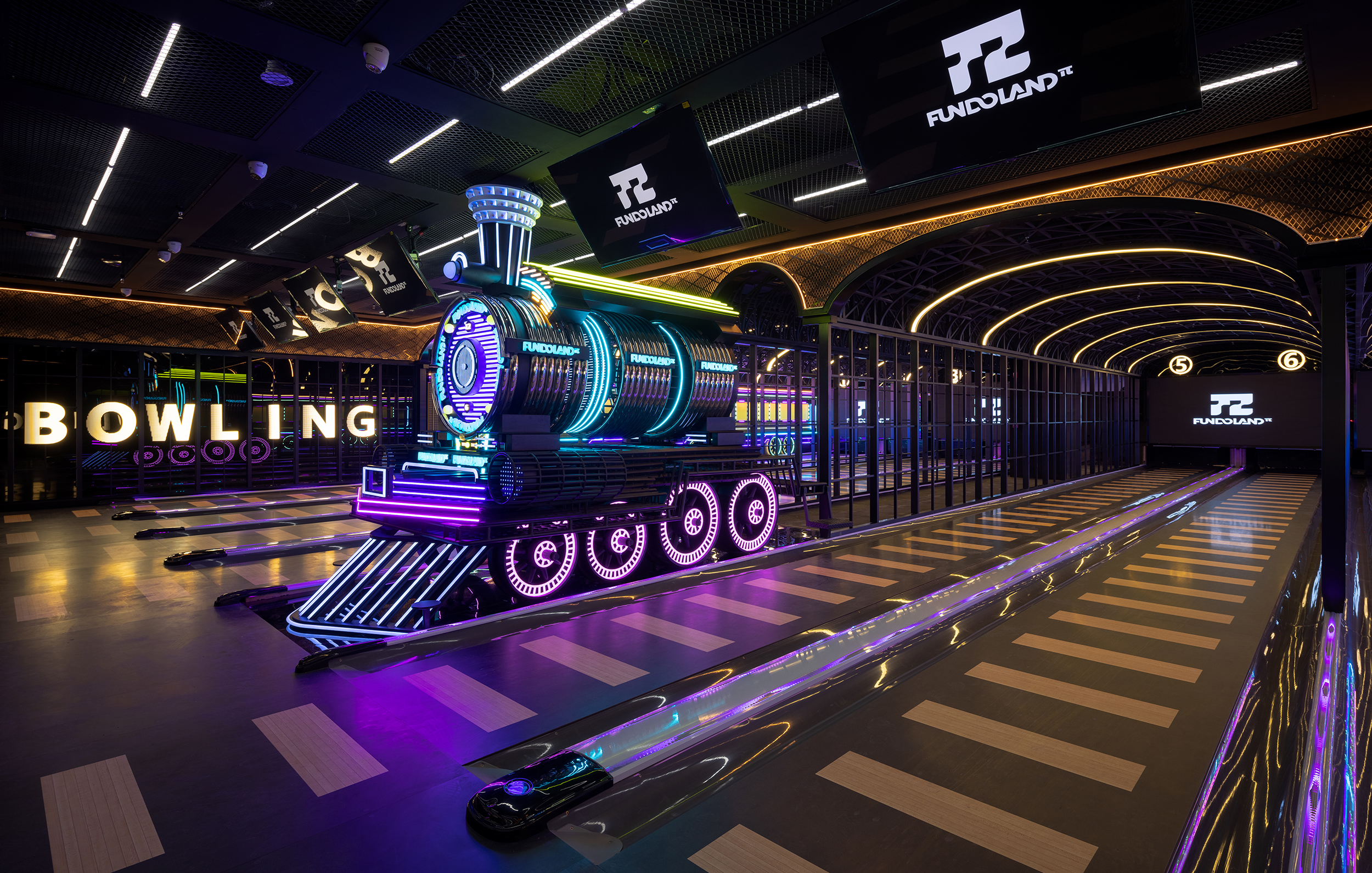 One retailer incorporating the metaverse into its brand-building strategy is fast-fashion retailer Forever 21 (Los Angeles), which recently launched its first-ever metaverse-inspired fashion collection. That line is the result of the brand's virtual product testing and is available in the brand's stores and on its website. Skepticism about whether consumers will buy into such worlds (literally) is still a major concern for retailers.
Advertisement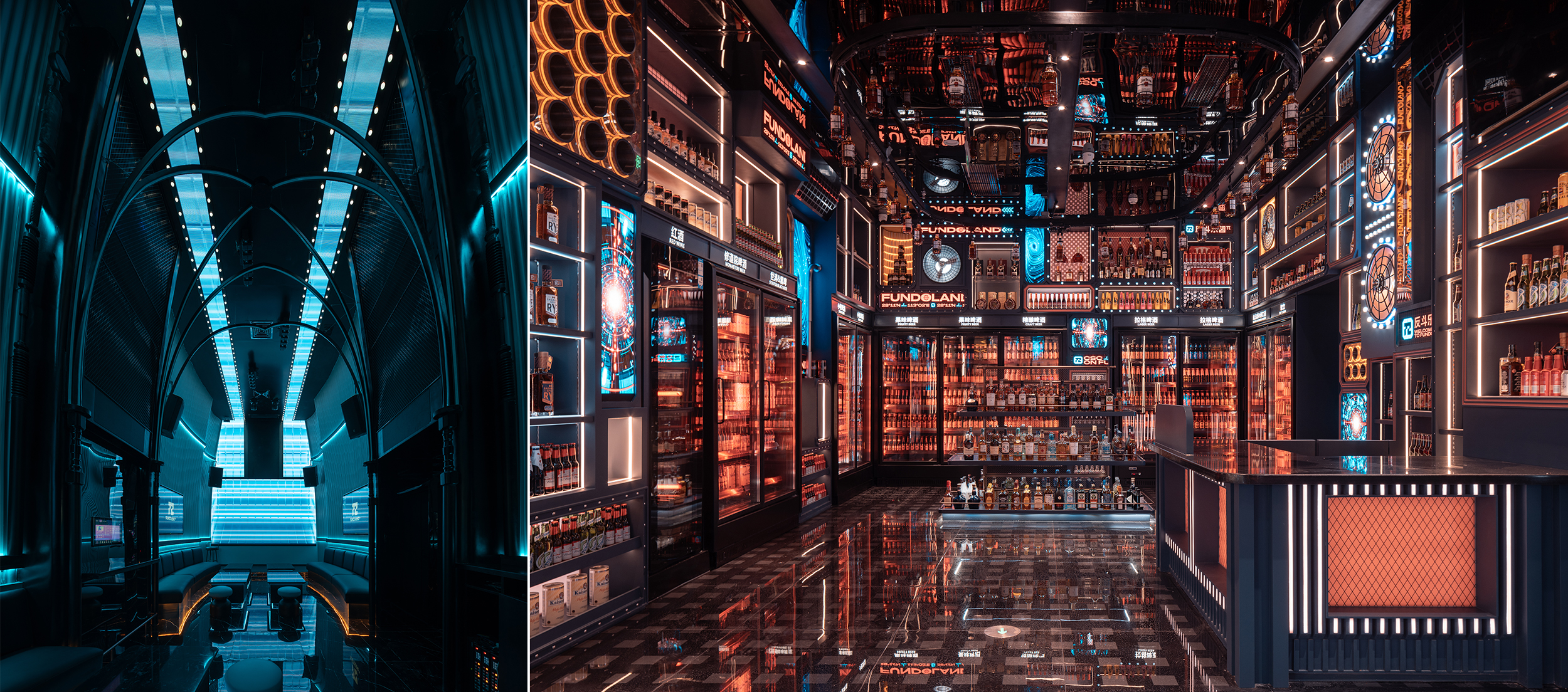 THIS PAGE: Located in Changsha, China, Fundoland's 10 zones entertain visitors, like Aracde City (shown opposite page, top left), which took its design inspiration from the imagining of a "retro neon subway." Experiential retail design is still top-of-mind for retailers in 2023.
Advertisement
Shrinking Shrink
Technology can also play a role in helping retailers find ways to deal with a brazen criminal element that's pushing "shrink" to unprecedented levels. The National Retail Federation (Washington, D.C.; NRF) estimates losses from shoplifting and other forms of theft are approaching $100 billion a year, driven largely by organized crime groups.
The growing dimensions of that problem were reinforced by comments made by Walmart (Bentonville, Ark.) CEO Doug McMillion in an interview recently on CNBC's "Squawk Box" program.
"If that's not corrected over time, prices will be higher, and/or stores will close," McMillon says. "It's really city by city, location by location. It's store managers working with local law enforcement, and we've got great relationships there for the most part."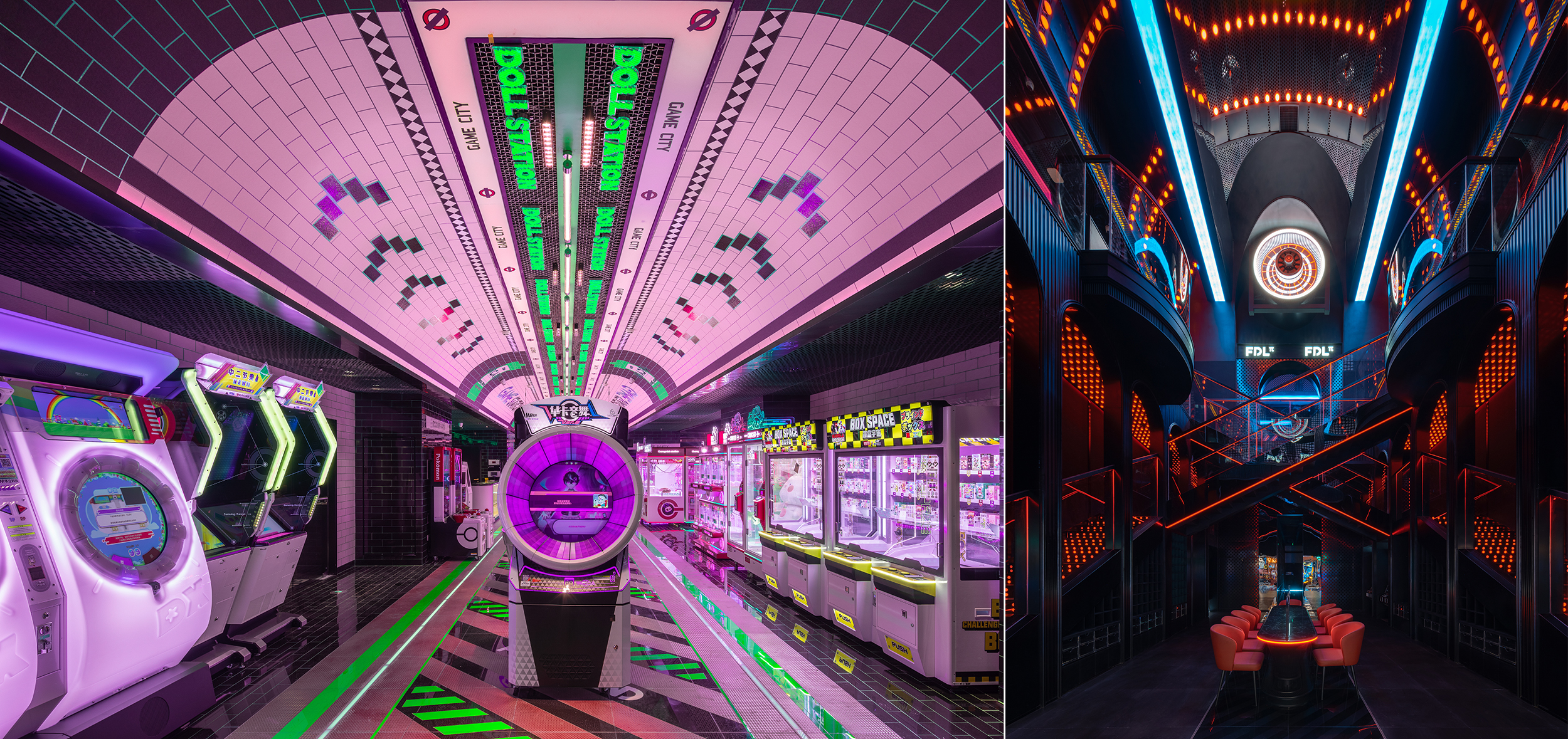 In addition, the NRF notes, many retailers are using technology to protect their stores and the people around them. Such systems include artificial intelligence-based video analytics of shopping aisles, autonomous security robots and license-plate recognition video systems in parking lots.
Another potential tech tool in retailers' crime-fighting arsenal is facial-recognition technology, but concerns over invasion of privacy concerns are keeping many on the sidelines when it comes to using such systems (at least for now).
Advertisement
📷: SFAP
All this means retail designers are likely to find themselves working with clients to make sure such systems are placed effectively and unobtrusively in store environments. Installing such systems can be a delicate balance, especially when it involves taking such steps as adding storefront barriers or putting more merchandise under lock and key, as such deterrents can also be a turnoff to many shoppers.
Looming over all the above is the worry that the coming year could see the onset of a potential recession that would cause shoppers to dramatically tighten their spending. If that does indeed happen, implementing some or all the strategies outlined above could well help retailers weather the storm.
PHOTO GALLERY
(81 IMAGES)


📷: Luke Hayes/Love, London/Manchester, U.K. | SFAP
SPONSORED VIDEO
Embracing Whole-Brained Thinking in the Design Journey
Strategy needs creative, and creative needs strategy—yep, having both is really the only way of unifying all disciplines with a common vernacular with an eye toward building a strong creative vision that is foundational to the processes. Hear from Bevan Bloemendaal, former VP, Global Environments & Creative Services at Timberland, how to connect the dots between disciplines, claiming and creating a clear differentiation for the brand and ensuring that any asset (experience, product, ad, store, office, home, video, game) is created with intention.