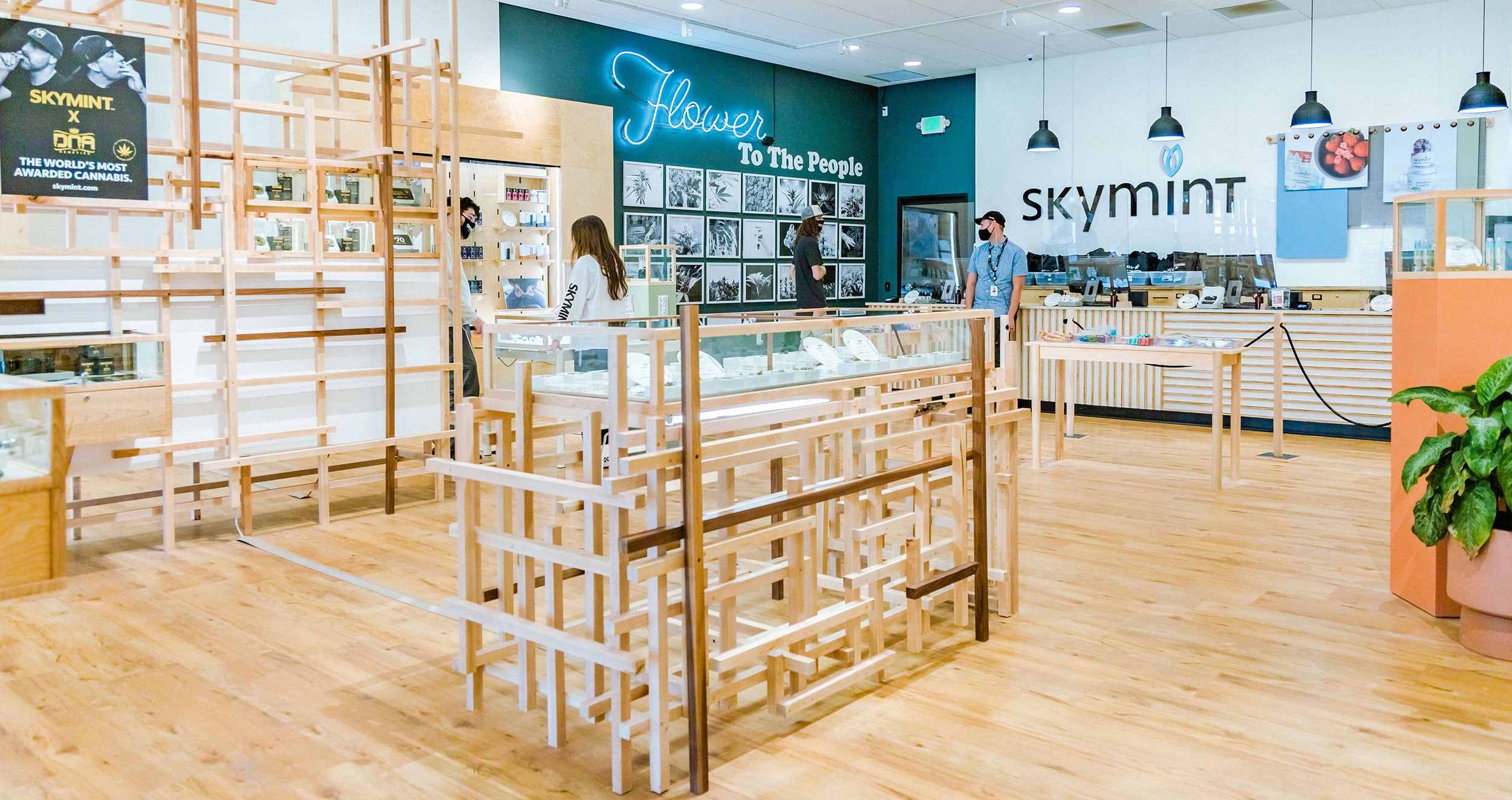 Happy People, Happy Plants
Skymint is actively participating in cannabis retail evolution while also blazing the trail for cannabis store design.
"THIS IS MY happy place." Those are the words uttered by a frequent customer of Skymint – a cannabis dispensary in Michigan that took this notion and created a mantra for itself: happy people, happy plants. Cannabis retail continues to break down misconceptions, and Skymint is actively participating in its evolution while also blazing the trail for cannabis store design.
"We have a cool, young, modern vibe that's highly emotional and a little irreverent … We take a lot of pride in our farmers and how we grow our plants, and we make sure our employees are really happy," says Laurie Gregory, Chief Brand and Product Officer for Skymint, who began her career at Les Wexner's Express and eventually rose to Executive VP of Bath & Body Works.
Pride of place, satisfied customers and staff play pivotal roles in the brand's design decisions. "Historically, a lot of dispensaries are set up more like a pharmacy where you walk in and right up to the counter to place your order. All of the product is sort of behind this barrier at the point of sale," explains Summer Ransom-Cleveland, Chief Retail Officer, who joined the brand after spending time as the North American Visual Director for Urban Outfitters. "We really wanted to design the store where the product is out from behind a barrier and on a regular sales floor like any jewelry store or fashion store."
The sales floor is abundant in its natural light, the ideal environment for happy plants. Wall cases are organized by category of consumption – from vaping to flower and everything in between. But what is unique to Skymint is its use of fixtures. "Floor fixtures are not typical in a lot of the cannabis dispensaries," says Ransom-Cleveland. "We merchandise a brand by collection or by benefits. We also do lifestyle merchandising, with accessories, even a little bit of apparel."
All design and merchandising decisions are made with the customer in mind, to optimize their shopping experience and to cater to their individual needs. "When I first started shopping cannabis out of college, [I felt] kind of pressured up at the counter. You want to make a decision quickly because there are people behind you," says Ransom-Cleveland. "That's not really comfortable, and it can be intimidating. Our sales floors are designed where you can come up to the counter and place your order right away if you want to, or you can browse for minutes, hours, however long you want to stay, and learn as much as you possibly can."
Cannabis sales skyrocketed in the midst of the coronavirus pandemic, with global sales expected to top $19.7 billion for 2020. Like many retailers, Skymint added e-commerce capabilities, including BOPIS, while also offering curated, individual experiences. "COVID altered our retail permanently," said Ransom-Cleveland.
Gregory agrees. "Curbside is here to stay even beyond COVID, but there's nothing like the store experience. We're in a lucky space that we can offer both."
Photography: Courtesy of Skymint Brands, Dimondale, Mich.
PHOTO GALLERY
( 17 IMAGES)
SPONSORED VIDEO
Embracing Whole-Brained Thinking in the Design Journey
Strategy needs creative, and creative needs strategy—yep, having both is really the only way of unifying all disciplines with a common vernacular with an eye toward building a strong creative vision that is foundational to the processes. Hear from Bevan Bloemendaal, former VP, Global Environments & Creative Services at Timberland, how to connect the dots between disciplines, claiming and creating a clear differentiation for the brand and ensuring that any asset (experience, product, ad, store, office, home, video, game) is created with intention.