A Gift to Coyoacán
Upscale Mexican department store El Palacio de Hierro opens its doors in the artistic center of Mexico City
COYOACÁN, A BOROUGH of Mexico City, is a weekend destination for those hoping to enjoy its street fairs, open plazas, artisan markets and art galleries. Established as a colonial town, it was the headquarters of Hernán Cortés in the early days of the conquistadores.
The home to Frida Kahlo and Diego Rivera, Coyoacán was historically a magnet for artists, writers, poets, political activists and film stars. In the 1940s, Dolores del Río, the first Mexican actress to break into Hollywood, and actor/director Emilio Fernández, as well as other notable Mexican actors, assembled in the borough with its narrow streets and quaint cafés. This cultural tradition continues today as Coyoacán enjoys its position as the artistic hub of Mexico City.
El Palacio de Hierro, the luxury Mexican department store, chose Coyoacán for its newest store location. The 410,000-square-foot space, designed in partnership with TPG Architecture (New York), is the second largest in the retailer's impressive portfolio.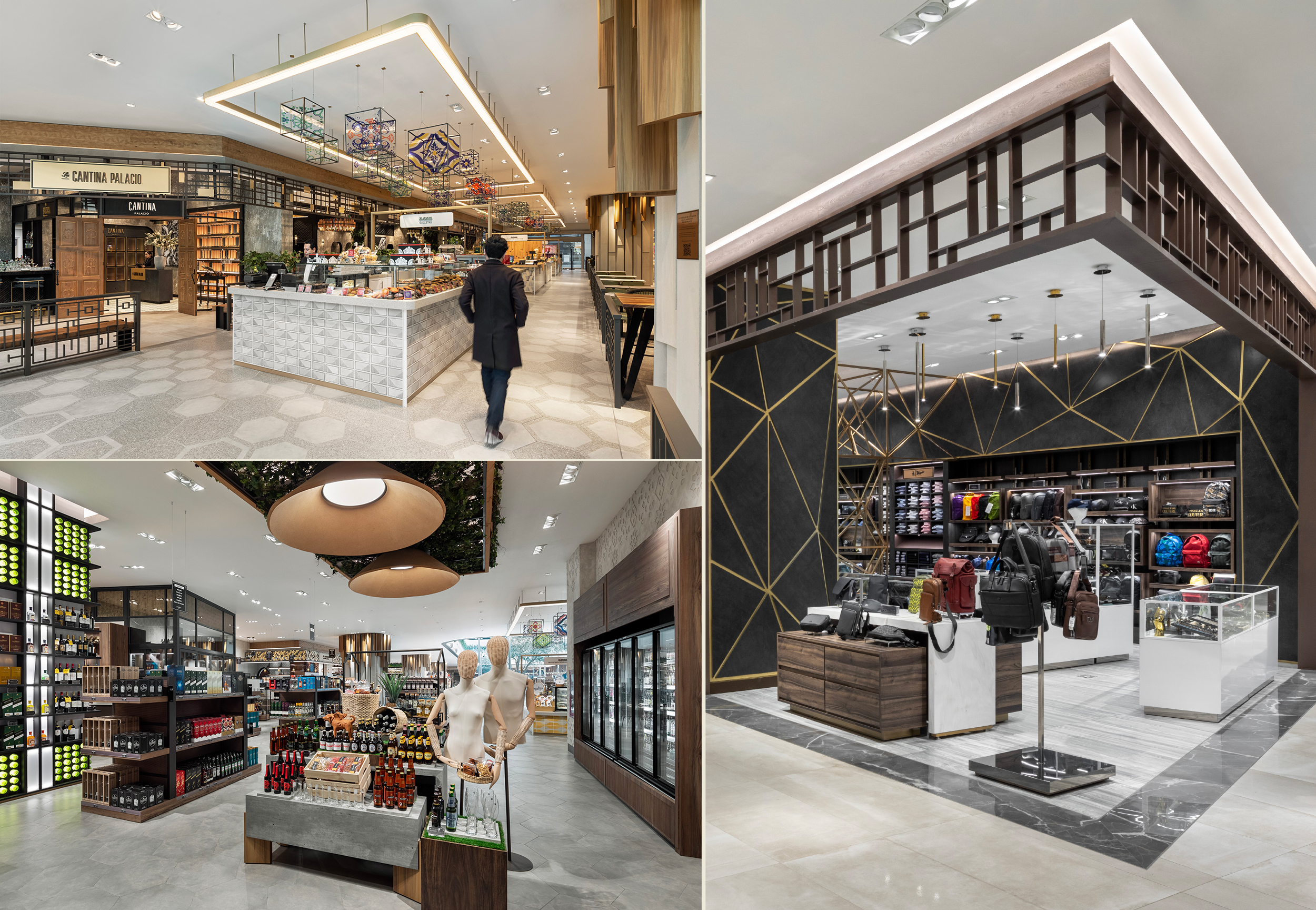 The Palacio ethos is to create stores that are spiritually and emotionally owned by the community. The retailer proudly proclaims, "Soy totalmente Palacio – I am completely Palacio." Each store is a tool of communication, speaking directly to the people it serves. According to Alec Zaballero, Managing Executive at TPG, "Every Palacio is a flagship and homage to the culture, history and character of each location. They're all a gift to the community."
Advertisement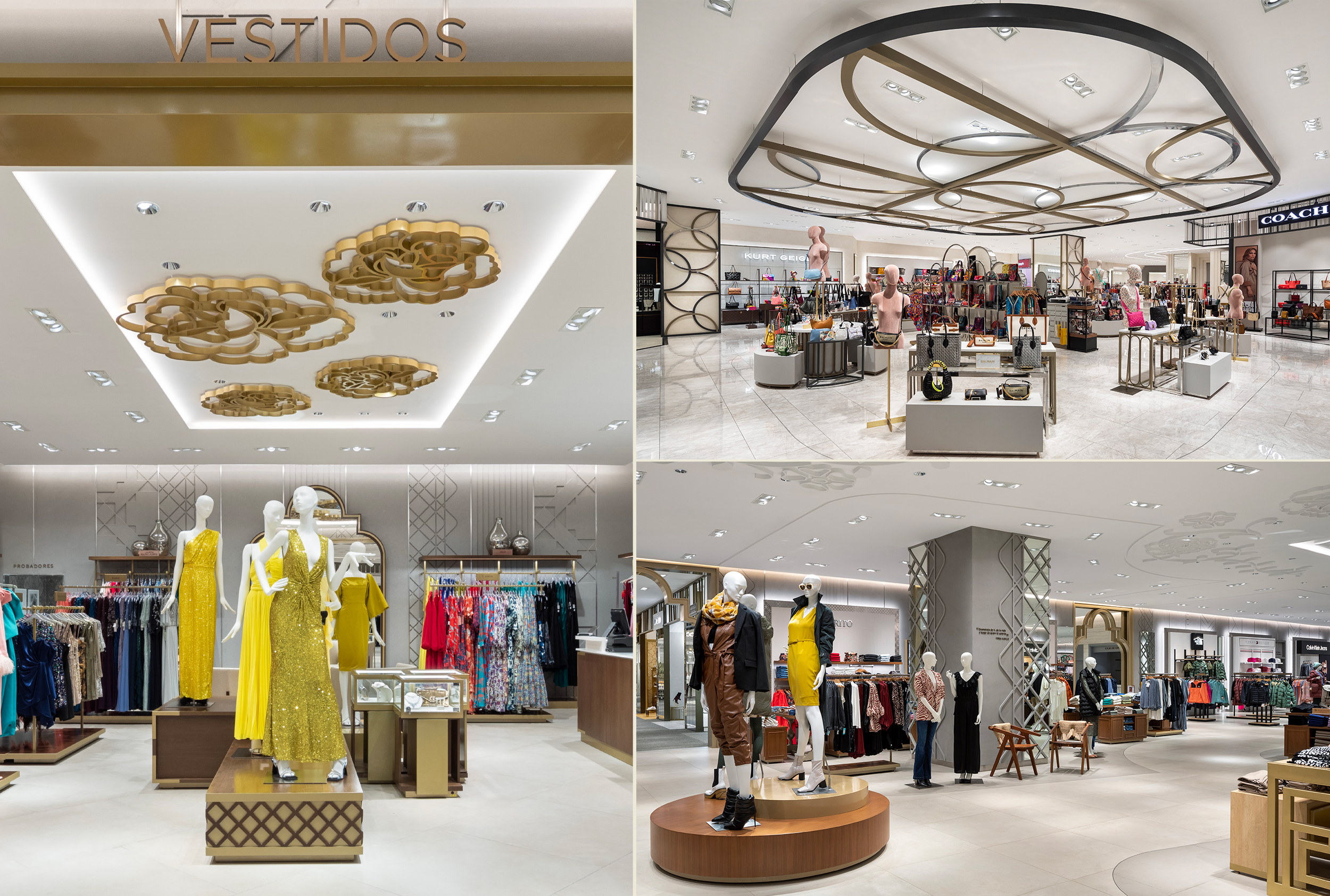 The Coyoacán store revolves around a luxurious atrium under a 15,000-square-foot dome. A set of sculptural escalators wrapped in colorful murals by Mexican artist Yanieb Fabre defines the space. This colorful iconography speaks proudly of Mexican culture with a visceral interpretation of national artistic colors juxtaposed against the marble floor below, and the high reaching dome above. Ascending the five levels of the escalator reveals storytelling vistas into each floor, with stage-like settings for action vignettes within. A racetrack floor plan around the atrium reveals a ring of departments with radial aisles to mall entrances.
Advertisement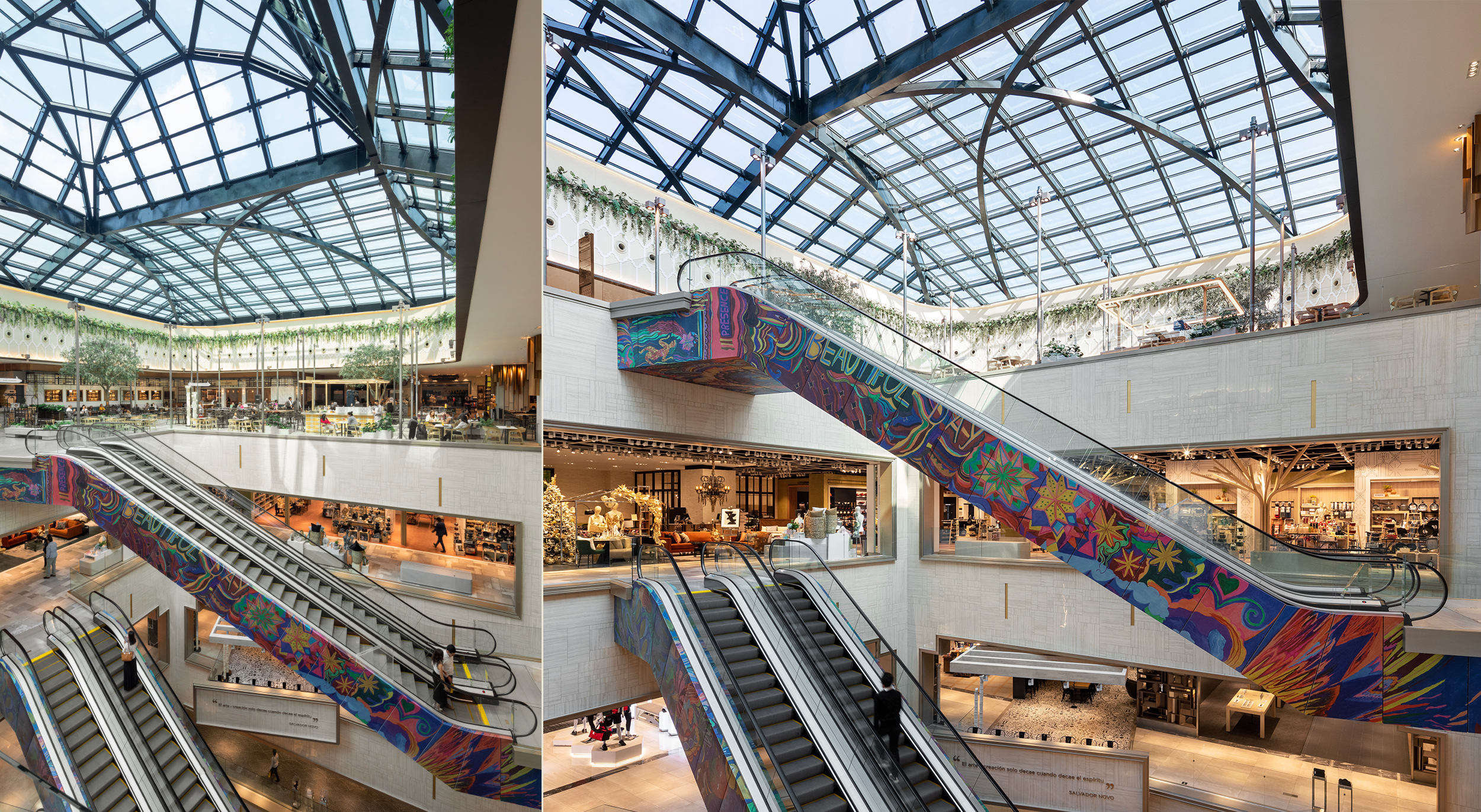 Escalators ascending through the department store's five levels, and under an impressive dome, are wrapped in murals by Mexican artist Yanieb Fabre.
The ceiling is an active participant in the environmental aesthetic with dynamic treatments such as a palm tree motif in cosmetics and custom magnolia pendants suspended from the ceiling in the women's departments.
Every floor of the new department store is dedicated to different notable Coyoacán natives and residents, like actress Deloris del Río.
Each department is defined environmentally. An arboretum of sculptural trees enhances the home department, and the children's department is brought to life with the tones and colors found in Casa Azul, the home of Frida Kahlo.
Advertisement
Though there are 38 individual departments, all share a common Palacio sensibility. Each floor in the five-level establishment is dedicated to one or two of the notable people who led amazing lives in Coyoacán: The ground floor is dedicated to the actress Deloris del Río and director/filmmaker Gabriel Figueroa; the first floor pays homage to Frida Kahlo and Diego Rivera, and the second floor is a nod to the actor Emilio Fernandez, and poet Salvador Novo. Completing the journey, the third floor recognizes architect and environmentalist Miguel Angel Quevedo, and muralist and writer, Aurora Reyes Flores. A grand food hall is located on the top floor as a destination under the massive dome, creating an almost outdoor plaza-like experience.
Palacio Coyoacán is more than a store. It's a destination for families and friends, designed to be an integral part of the community, and a reflection of its rich culture and storied history.
PHOTO GALLERY
(34 IMAGES)


📷 Paul Rivera, South Lake City, UT

Advertisement
SPONSORED VIDEO
Embracing Whole-Brained Thinking in the Design Journey
Strategy needs creative, and creative needs strategy—yep, having both is really the only way of unifying all disciplines with a common vernacular with an eye toward building a strong creative vision that is foundational to the processes. Hear from Bevan Bloemendaal, former VP, Global Environments & Creative Services at Timberland, how to connect the dots between disciplines, claiming and creating a clear differentiation for the brand and ensuring that any asset (experience, product, ad, store, office, home, video, game) is created with intention.