Camelot Music
Great Lakes Mall, Mentor, Ohio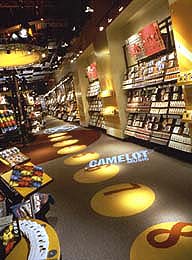 When the mall-based Camelot Music chain decided to open a larger, 17,000-square-foot flagship store, the decision was made to compete on platforms of service, experience and technology rather than price. Camelot's broad appeal to music-lovers of all ages included a palette of intense, saturated colors in a cavernous industrial space. Lighting effects reproduce theatrical environments with oscillating track heads and template graphics. Invisible laser technology allows customers to step onto a numbered floor circle to hear top-20 tunes, triggering the audio mechanism to project that particular music through a localized sound dome. Typical music-store long rack fixtures have been replaced by shorter racks, interspersed with cross-merchandising fixtures.
Photography by Camelot Music, Canton, Ohio
Design: Jon Greenberg & Associates, Southfield, Mich. — Michael Crosson, ceo; Kenneth Nisch, principal in charge; Jenness Anderson, planner/ designer; Michael Benincasa, designer; Edward Kaffel, project manager
Camelot team: Kenneth Chance, vice president store planning and operations
Architect: Jon Greenberg & Associates, Inc. General contractor: Gaetano Contracting, Canton, Ohio
Advertisement
Lighting Design: Illuminating Concepts, Farmington Hills, Mich. Audio/video consultant: AEI Music, Seattle
Fixturing: Kason, Binghampton, N.Y. Flooring: Amtico Intl., Glen Ellyn, Ill. Lighting: Kramer Lighting, Fall River, Mass. Ceiling: USG Corp., Chicago; Sequentia, Middleburg Heights, Ohio Graphics: Communication Arts, Boulder, Calif.; Integrate Inc., Columbus, Ohio
Mannequins: Greneker Solutions, Los Angeles Visual Merchandising, and 3-D graphic signage: Chute Gerdeman, Columbus, Ohio
SPONSORED VIDEO
Embracing Whole-Brained Thinking in the Design Journey
Strategy needs creative, and creative needs strategy—yep, having both is really the only way of unifying all disciplines with a common vernacular with an eye toward building a strong creative vision that is foundational to the processes. Hear from Bevan Bloemendaal, former VP, Global Environments & Creative Services at Timberland, how to connect the dots between disciplines, claiming and creating a clear differentiation for the brand and ensuring that any asset (experience, product, ad, store, office, home, video, game) is created with intention.