Cartier Opens Elegant Boutique in Amsterdam
Brand's latest locale in city features local design touches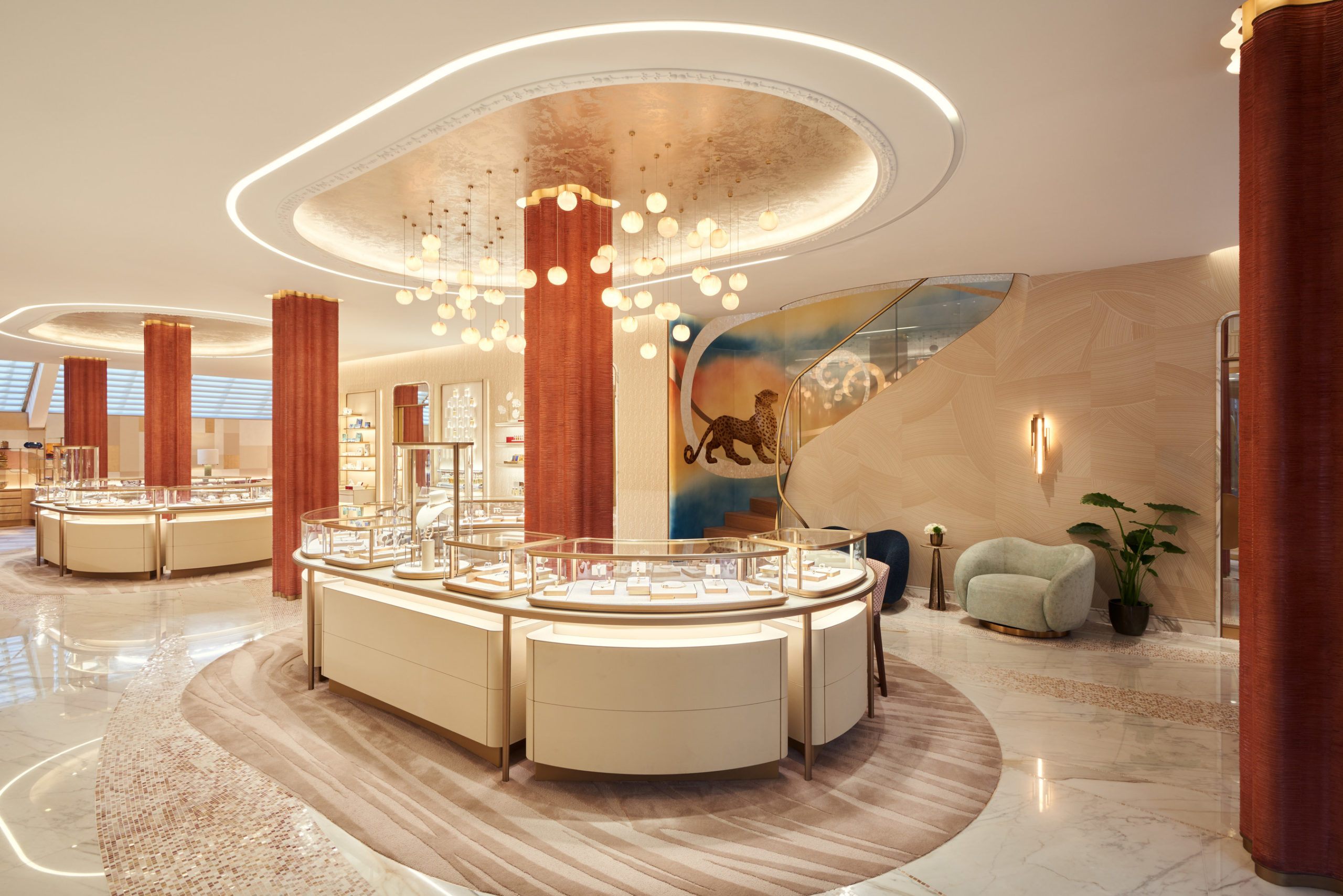 Luxury jeweler Cartier (Paris) has opened its third boutique in Amsterdam, at P.C. Hooftstraat 129. Studio Parisien oversaw the boutique's design inside and out, inspired and supported by local Dutch talents.
The boutique's ceramic façade, designed by Amsterdam-based artist Eva Crebolder, is inspired by the perfect imperfections of the city's canal houses. All ceramic elements were produced in the world's oldest operating tile factory (Koninklijke Tichelaar Makkum). Stepping inside, visitors encounter delicate touches such as Atelier Tollis columns in organic shapes, which have been sculpted and colored as a re-interpretation of the bricks that define the city. In the back, a colorful wall paneling pattern refers to De Stijl, influenced by Mondrian and his use of primary colors. Sustainable French oak parquet shows a pattern based on those in Vermeer's art.
In the upstairs salon, ceiling coves evoke the spatula-centered painting techniques of Van Gogh. An airy staircase opens the path to a light area located on the boutique's second level. Here, a masterpiece by Atelier Midavaine made of lacquer and mother of pearl punctuates the rise from the canals to the polder cloudy landscapes. The upper level is also home to a courtyard garden designed by MAAK space.
"The new boutique will be an open window to timeless design, celebrating creativity and craftsmanship," Valérie Ahner-Boudier, Managing Director Cartier Benelux & Nordics, said in a news release. "It's a perfect reflection of Cartier's distinctive blend of tradition and innovation."
Advertisement
SPONSORED VIDEO
Embracing Whole-Brained Thinking in the Design Journey
Strategy needs creative, and creative needs strategy—yep, having both is really the only way of unifying all disciplines with a common vernacular with an eye toward building a strong creative vision that is foundational to the processes. Hear from Bevan Bloemendaal, former VP, Global Environments & Creative Services at Timberland, how to connect the dots between disciplines, claiming and creating a clear differentiation for the brand and ensuring that any asset (experience, product, ad, store, office, home, video, game) is created with intention.