Christmas in July at Pret
Love it or hate it, some retailers are getting festive during the summertime months
To keep abreast with what the various London stores are doing in terms of visual merchandising, I always take a regular walk around the main shopping areas of London: Oxford Street, Regent Street, Piccadilly, Knightsbridge, Sloane Square and the Kings Road.
I was quite staggered when I exited the Oxford Street tube station one Saturday afternoon to find fully dressed Christmas garlands around the doorways to every Pret a Manger.
Its ever-popular Christmas sandwich was back in store for to hail this marketing campaign in July, even though the festive season was several months away. It was felt that people had missed them last December due to the Covid pandemic and the subsequent U.K. lockdown.
"Every year customers ask us for the Christmas sandwich to return earlier and earlier, and after many customers missed out on having one last year, we've decided to stand by our mission of spreading joy through our food and coffee and bring our iconic Christmas sandwich back early for a limited time this summer," says Clare Clough, the chain's U.K. Managing Director.
Pret has also said that 50 pence from the sale of each Christmas sandwich would be donated to its charitable foundation, which works to combat poverty, hunger and homelessness.The hearty club – which contains turkey with a port and orange cranberry sauce, plus herby pork stuffing, baby spinach, mayo and crispy onion – was available until early August.
Advertisement
There were definitely mixed opinions about this marketing campaign. Customers had slammed Pret as disrespectful and unprofessional by releasing their range of Christmas sandwiches during the summer, while some customers were threatening to boycott the brand.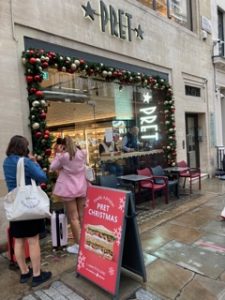 As we approach the end of August, there will be mixture of comments from the public as regards Christmas Shops being launched at several of the major stores in London later this month. Harrods and Selfridges are likely to launch their Christmas shop over the August Bank Holiday weekend. Selfridges will launch a "soft Christmas" to tempt and educate the customer with a full Christmas shop opening in early October.
From the various key stakeholders in retail that I have spoken to, everyone feels that business will be brisk with the run up to Christmas. Many families in the U.K. could not spend Christmas together last year due to the Covid pandemic, so it is felt that this Christmas will be "bumper Christmas" for retail.
Here at Creative Download (www.creative-download.co.uk), we work four to six months in advance with many of our clients. So, while the Christmas concepts have been designed and ready for installation at the end of October, we are now planning Valentine's and spring 2022.
Advertisement
SPONSORED VIDEO
Embracing Whole-Brained Thinking in the Design Journey
Strategy needs creative, and creative needs strategy—yep, having both is really the only way of unifying all disciplines with a common vernacular with an eye toward building a strong creative vision that is foundational to the processes. Hear from Bevan Bloemendaal, former VP, Global Environments & Creative Services at Timberland, how to connect the dots between disciplines, claiming and creating a clear differentiation for the brand and ensuring that any asset (experience, product, ad, store, office, home, video, game) is created with intention.