Club Libby Lu
Schaumburg, IL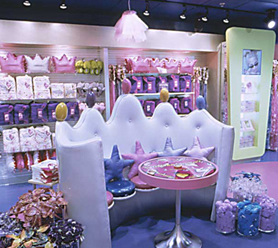 Little girls are meant to have a royal blast in Club Libby Lu (designed by the Chicago and Columbus, Ohio, offices of Chute Gerdeman). Every Lu girl (target age seven to 12) is a princess – free to do what she wants in the palatial, almost bedroom-like settings. The 1600-square-foot Lu debuted in August in the Woodfield Mall (located in Schaumburg).
Vibrant colors and glitter galore mark the trappings of other Tween-oriented retailers. But Club Libby Lu hopes to engage its young customers with experimentation, customization and socialization.
Girls join the "club" at an interactive kiosk at the front of the store, where they're asked for their opinions, like "Who's your favorite celebrity?" Membership includes a monthly newsletter that details in-store events.
The store comprises four rooms with main activity areas: bath and body, T-shirts (design your own or prêt-à-porter), jewelry and dress-up. At the child-scaled bath and body counter, girls can concoct their own shimmering lotion "parfait." Easy-to-follow instructions guide them through the bottling process.
Client Team: Club Libby Lu, Chicago – Mary Drolet, ceo; Erin Killoran, executive vp
Advertisement
Design Team: Chute Gerdeman, Chicago and Columbus, Ohio – Lee Peterson and Jennifer Linn, brand development; Debra Thuma, program manager; Brian Shafley, creative director/AE; Lori Mukoyama, senior designer; Adam Limbach, creative director/graphics designer; Tina Burnham, graphic production manager; Susan Siewny and Steve Boreman, graphics production
Outside Consultants: RAS Builders, Chicago (general contractor); Ridgeland and Associates Architects, Oak Brook, Ill. (architect)
Suppliers: Creative Solutions Intl., Scandia, Minn., and EPS Specialties, Cincinnati (fixturing); Amtico Intl., Atlanta, and Atlas Carpet Mills, Los Angeles (flooring); Andre's Imaging and Graphics, Chicago, MK Signs, Chicago, Belltown Boxing, Seattle, and Howard Packaging, Lincolnwood, Ill. (signage/graphics); Lighting Management, New York (lighting); Ian Crawford Fabrics, Palm Springs, Calif., Knoll Textiles, New York, and Naugahyde, Soughton, Wis. (textiles); Anton Kobrinetz Design Inc., Chicago (furniture); Abet Laminati, Englewood, N.J., Pionite, Auburn, Maine, and Chemetal, E. Hampton, Maine (laminates); Scuffmaster, Minneapolis, ICI/Dulux, Cleveland, The Sherwin-Williams Co., Cleveland, and Duron Paints & Wallcoverings, Beltsville, Md. (paint); Server Products, Menomonee Falls, Wis. (pumps); Yankee Containers, New Haven, Conn. (glass containers); Fasteners for Retail, Solon, Ohio (decorative hardware); Ample Plastics Co., Wyoming, Mich. (acrylic frames)
Photography: Michael Roberts, Chicago
SPONSORED VIDEO
Embracing Whole-Brained Thinking in the Design Journey
Strategy needs creative, and creative needs strategy—yep, having both is really the only way of unifying all disciplines with a common vernacular with an eye toward building a strong creative vision that is foundational to the processes. Hear from Bevan Bloemendaal, former VP, Global Environments & Creative Services at Timberland, how to connect the dots between disciplines, claiming and creating a clear differentiation for the brand and ensuring that any asset (experience, product, ad, store, office, home, video, game) is created with intention.