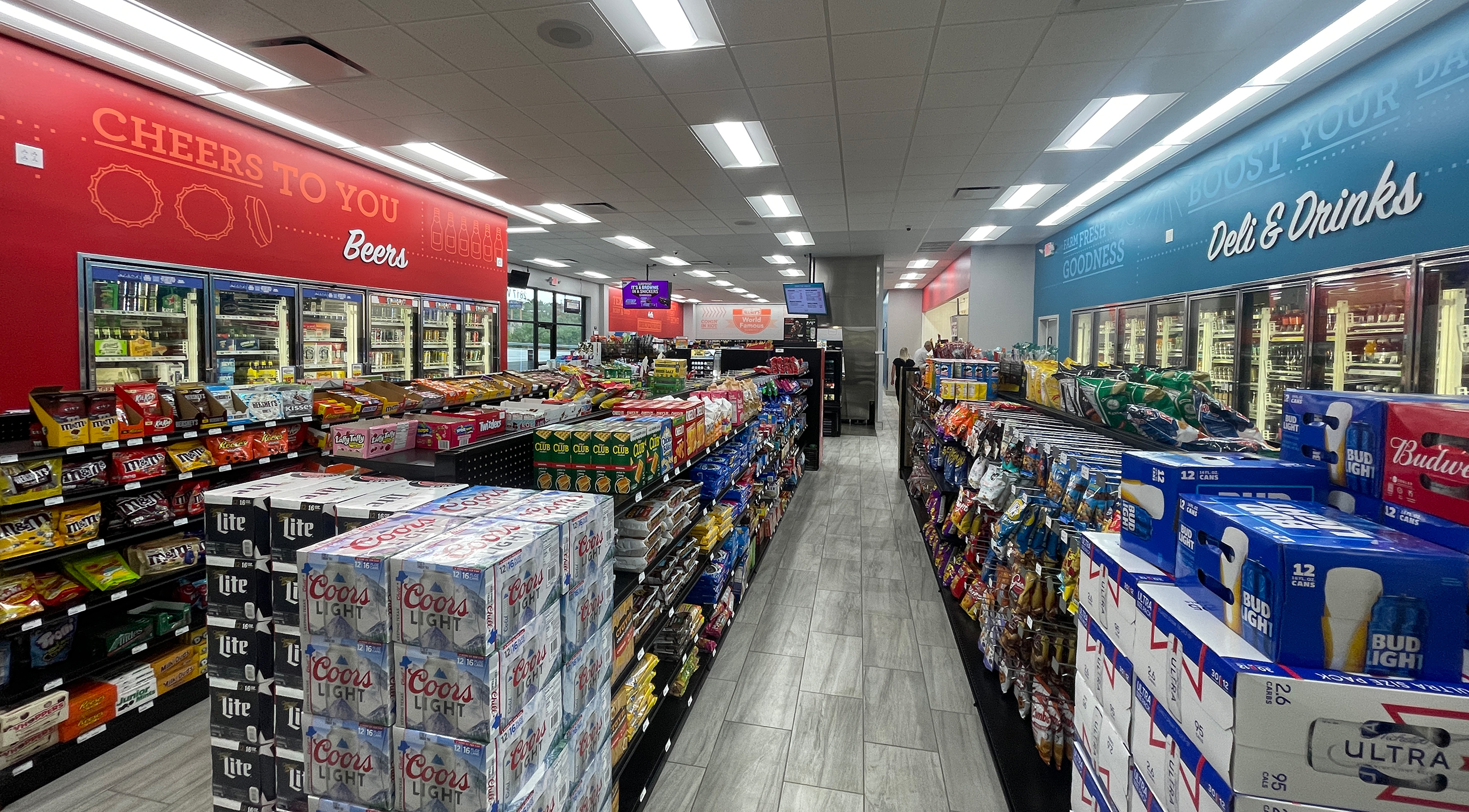 Convenience Stores Up Their Game to Stay Competitive
C-stores become A-plus roadside respites with focus on design
CONVENIENCE STORES HAVE long felt pressure from grocery and general merchandise retailers offering larger assortments of food and essentials. The best bet for such C-store retailers to stay competitive with those rivals is to "smartly redefine" their mission, concludes a recent industry study by Incisiv (New York) and Toshiba Global Commerce Solutions (Durham, N.C.).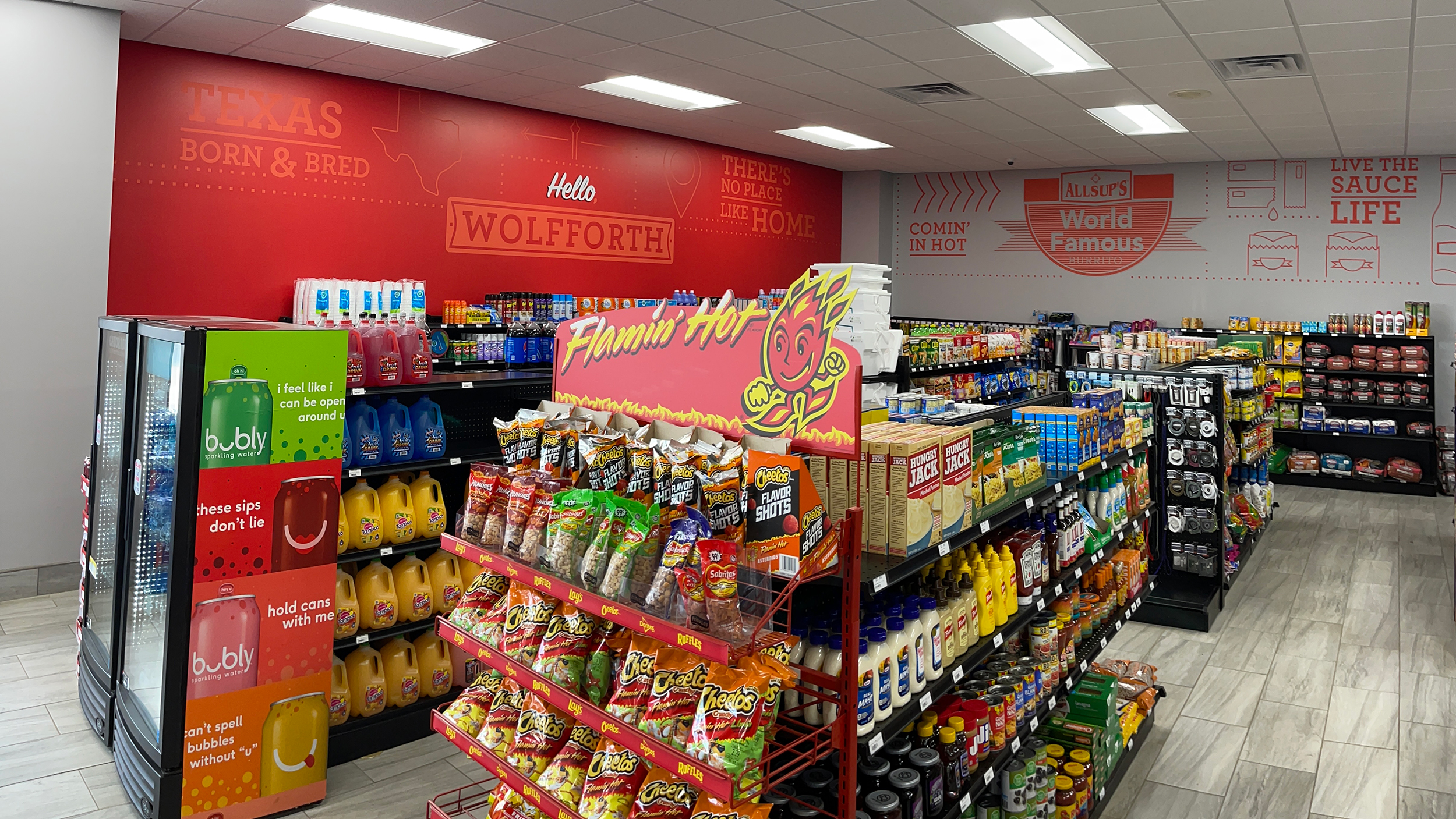 "C-stores have the unique opportunity to become a unifying agent for some of the most exciting consumerism trends of the future: health and wellness, electric mobility and sustainability," says Giri Agarwal, Chief Strategy Officer of Incisiv, which polled 128 C-store executives for its study. "If they can do that successfully, they would have smartly redefined 'Convenience 2.0' to be about more than the need for speed."
When it comes to chains at the forefront of innovation, industry observers often point to two Pennsylvania-based companies: Sheetz (Altoona), with its stately brick-and-canopy locales and made-to-order food and drink menu, and Wawa (Wawa), which was recently named to Placer Labs Inc.'s "Top 10 Retail Brands to Watch in 2023," based mainly on the quality of its food offerings. (No aging hotdogs on rollers there.)
Advertisement
Left: Updated signage and graphics was a huge part of the latest roll out for Allsup's line of c-stores.
But others are also pushing the envelope in C-store design, including Allsup's Convenience Stores Inc., which became a unit of Yesway (Fort Worth, Texas) in 2019. Combined, the two brands have more than 425 locales.
Advertisement
Yesway sees Allsup's as a major vehicle for growth, especially in the Southwest U.S. But to do so in today's hyper-competitive market, Yesway realized its acquisition needed to offer an inviting and memorable shopping experience.
The first step was to update the Allsup's store footprint (which generally ranges from 5500-6500 square feet) to include such popular features as a walk-in beer cave, a high-profile spot for selling its popular burritos, and dedicated areas for dairy and deli offerings. Despite those upgrades, the store felt unbranded, says Kraig Kessel, Co-Founder of Kraido (Tucson, Ariz.), whose retail design firm was brought in to help fill that void.
With more than 425 locales under its belt in combination with Yesway, Allsup's store footprint generally ranges from 5500 to 6500 square feet.
"We developed a new interior store concept based on the concept of friendly iconography, leveraging Allsup's truly local flavor," says
Kessel. "The new design features color blocking to identify merchandising sections, lively icons and brush stroke lettering to convey warmth and quality, and informal and neighborly language with the signage."
Some examples of the latter include such phrases as "The Coldest Game in Town" (for the beer cave), "Comin' in Hot" (for the brand's burritos), and "There's No Place Like Home" (to localize the messaging).
Advertisement
Advertisement
📷: James Brannon New, Clovis, NM
Kessel notes that the new branding package at each location features prominent local signage, including ones saying "Hello Breckenridge," or whatever the store's location.
Derek Gaskins, Yesway's CMO, agrees that one of the concept's stand-out features is the connection the signage works to create with each store's community. "Thus far, whether in New Mexico, Texas or Oklahoma, we directly call out and connect with the towns where the stores are located," he says. "We also have a community bulletin board on the front entry wall that further establishes that connection."
As a result, Gaskins says the Kraido design has become the company's go-to concept. "We have completed over 50 stores with the new look," he says. "With our aggressive growth, there will be dozens more as we work through new-builds, remodelings and raze-and-rebuild projects."
Project Suppliers
RETAILER
Allsup's, Fort Worth, Texas
DESIGN
Kraido, San Francisco
SIGNAGE/GRAPHICS
Kraido, San Francisco
Clovis Sign Service Inc., Clovis, New Mexico
PHOTO GALLERY
(45 IMAGES)


📷: James Brannon New, Clovis, NM

Advertisement
Advertisement
SPONSORED VIDEO
Embracing Whole-Brained Thinking in the Design Journey
Strategy needs creative, and creative needs strategy—yep, having both is really the only way of unifying all disciplines with a common vernacular with an eye toward building a strong creative vision that is foundational to the processes. Hear from Bevan Bloemendaal, former VP, Global Environments & Creative Services at Timberland, how to connect the dots between disciplines, claiming and creating a clear differentiation for the brand and ensuring that any asset (experience, product, ad, store, office, home, video, game) is created with intention.