Design Detail: Thalia Bookstore, Hagen, Germany
A pilot for the bookstore's European rollout, this renovated store design embraces simplicity and comfort to craft a fun, immersive literary environment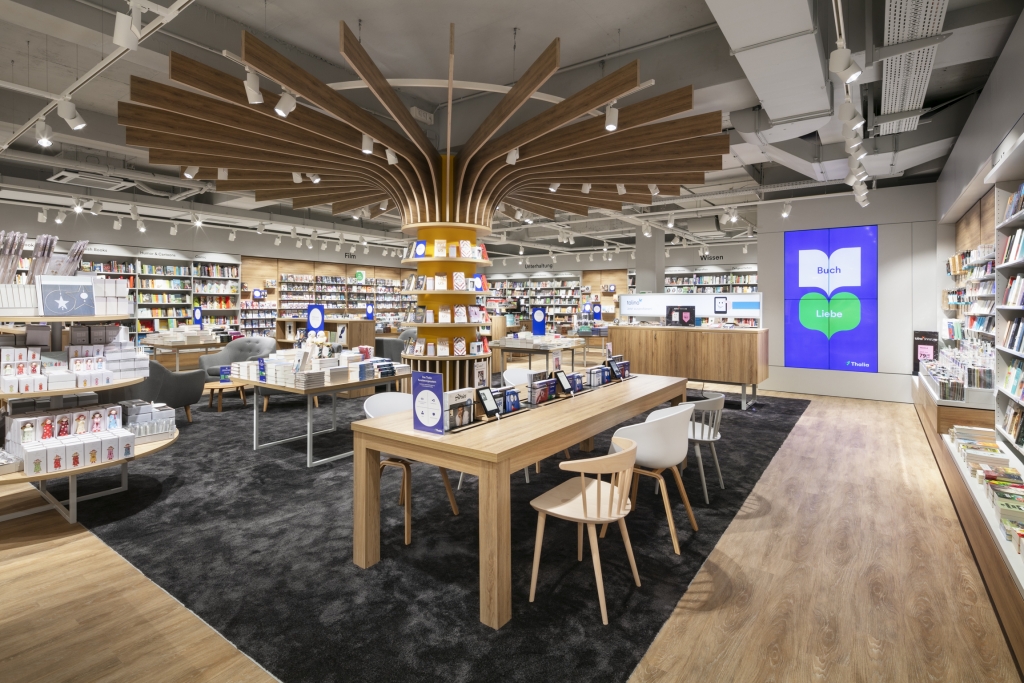 Concept: A pilot for the bookstore's European rollout, this renovated store design embraces simplicity and comfort to craft a fun, immersive literary environment.
1 Neat & Tidy
An open concept eliminates blind spots, a pain point in the retailer's former go-to store design. "We completely redesigned the space, making it easier to see all categories from both inside and outside the bookstore," explains David Rook, Director of Retail Design, JHP Design (London). Zones blend from one to the next thanks to thoughtful navigation.
2 Fine Tuned
Used in a variety of ways, track lighting proved most flexible in this space. Reading zones feature soft ambient lighting, while task-oriented areas use suspended track and downlighting. Warm LEDs with a 2700K color temperature create a moody environment that suits the rest of the location's aesthetic.
3 Out on a Limb
Adding to the concept's playfulness, a focal merchandising element features decorative slats that mimic the branches of a tree, metaphorically referencing the Greek goddess, Thalia, daughter of Zeus, who according to legend was transformed into a pine tree.
4 Mix It Up
Breaking up the space with textural variations, the flooring combines timber – a familiar material used in bookstores – and carpeting, which "provide[s] a psychological feeling of warmth and absorbs sound," says Carolina Comsa, Interior Designer, JHP.
Advertisement
5 Deep Dive
Interactive digital signage uses near-field communication (NFC) so users can engage with literature. "They can connect with the wall … and see passages from their favorite books 'magically' appear as they walk by," says Emma Louise Anderson, JHP's Design Head of Digital and UX. It also acts as a vessel for livestream sessions with authors and book characters.
Project Suppliers
Retailer
Thalia, Hagen, Germany
Design
JHP Design, London
Photography: Constantin Meyer, Cologne, Germany
Advertisement
SPONSORED VIDEO
Embracing Whole-Brained Thinking in the Design Journey
Strategy needs creative, and creative needs strategy—yep, having both is really the only way of unifying all disciplines with a common vernacular with an eye toward building a strong creative vision that is foundational to the processes. Hear from Bevan Bloemendaal, former VP, Global Environments & Creative Services at Timberland, how to connect the dots between disciplines, claiming and creating a clear differentiation for the brand and ensuring that any asset (experience, product, ad, store, office, home, video, game) is created with intention.