Holiday Windows, 2016: Part III
Seasonal displays of 2016 embraced the element of surprise to deliver an impactful experience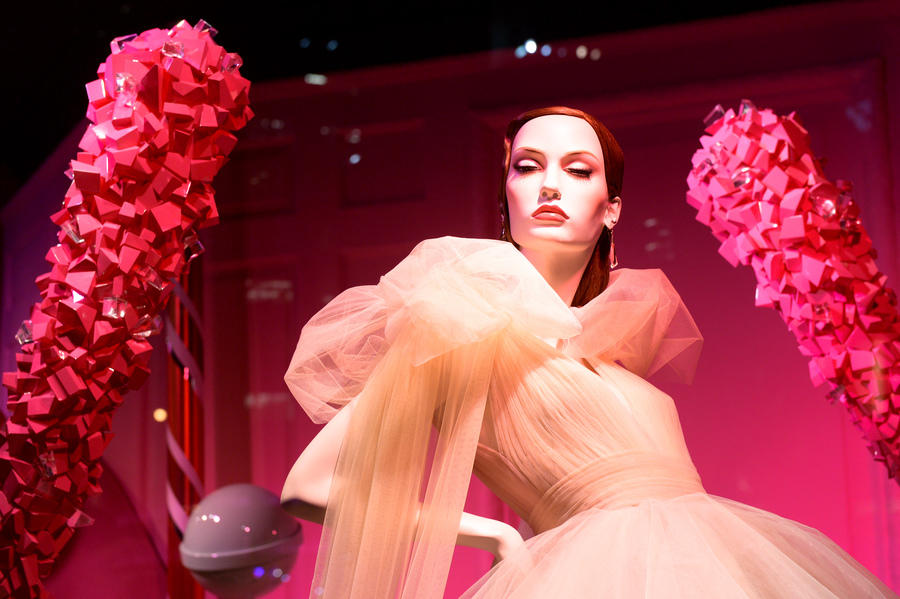 Retail has never been an industry that settles with the status quo, the to-be-expected or the ho-hum. (Isn't that why we love it?) This past holiday season was no different when it came to holiday window displays. Around the globe, retailers either ditched the standard Christmastime motifs altogether or infused a healthy dose of humor or avant-garde elements to captivate passersby. Browse the annual recap in the February 2017 issue of VMSD, and be sure to check back throughout the month of February 2017 for Parts II-V of this online review.
View other parts in this series:
Holiday Windows, 2016: Part I
Holiday Windows, 2016: Part II
Saks Fifth Avenue, New York – "Land of 1000 Delights"
Saks Fifth Avenue (New York) debuted its "Land of 1000 Delights" displays, informed by a "candy couture" theme. Capturing the hearts of all ages, its animated windows, titled "Nutcracker Sweet," told the story of the classic Christmas tale, but with a confectionary twist. "We took the traditional element – something like 'The Nutcracker' – but then turned it on its head from the point of view of candy. It's that infusion of tradition along with newness that I think is creatively – for the public – exciting to look at," says Mark Briggs, evp, creative, Hudson's Bay Co. (Toronto). A nightly, theatrical light show on Saks' Fifth Avenue façade glimmered with peppermint swirls and synced with orchestral holiday tunes to make a big impact. "There's nothing better, as someone who worked on the windows, than going out and standing there, not only watching the [light] shows, but looking at the public and listening to what they're saying and hearing their reaction – that's the most rewarding thing," Briggs says. • Design: Mark Briggs, evp, creative, Hudson's Bay Co. / Saks' in-house team | Photography: BFA for Saks Fifth Avenue, New York
Selfridge & Co., London – "Shine On!"
Selfridges' sixteen Oxford Street windows, viewed by more than 100,000 passersby daily, prominently featured Santa Claus in several unexpected, festive vignettes, including Santa boarding a private jet, Santa at an office party, and Santa hitting the slopes. The theme was meant as an open invitation to everyone to celebrate the season and party, says the company. • Design: In-house team | Photography: Elena Rustunova / Shutterstock (unless otherwise noted)
Torso, Columbus, Ohio – "Reclaimed X-mas"
Made up of more than 450 dip-died, reclaimed cedar shims, rustic Christmas trees, featuring eight shades of green, were crafted to trim the windows of Torso, in Columbus, Ohio. To reduce waste – the retailer's primary goal in executing its theme this past year – old plywood tree forms used in previous holiday windows (from 2015) were reused with hand-died cedar shims. • Design: Scott Rousku, owner, Torso; Doris Wesby, assistant, Torso | Photography: Scott Rousku, Columbus, Ohio
Advertisement
Uniqlo, New York – Heattech "Warm to the Core"
To promote Heattech's proprietary message "Warm to the Core," Uniqlo tapped design firm Mona Kim Projects to design its holiday window campaign. The goal was to interpret and express the message as an "experimental artistic spatial intervention," says Mona Kim, artist/artistic director, Mona Kim Projects. The campaign ran throughout the store as well as in its Fifth Avenue windows in SoHo. Kim implemented a colorful "spatial immersion" to convey warmth. The displays took advantage of the retailer's verticality in the store, rising along its façades and windows, encompassing product showcases as well as floors, staircases and 38-foot-tall columns. To achieve the design, Kim used two-dimensional materials such as standard vinyl, dichroic optical films and Lumisty view control film. "The concept based on rays or fields of color gradients was inspired by the sensorial power of color. It was also an opportunity to work with 'interactive' and sensual materials such as the Lumisty film, dichroic film – and even standard vinyl – in unexpected ways. Lumisty film hints at a presence which, as contradictory as this may sound, forces you to look more closely and incites intrigue to discover what else will be revealed in the showcase or the windows," explains Kim. • Design: Mona Kim, artist/artistic director, Mona Kim Projects; Shu Hung, Uniqlo global creative director of brand experiences and special projects / Joanna Chiarello, Uniqlo marketing manager / Colleen Fagan, Uniqlo global creative service manager | Photography: Charles Griffin, New York (unless otherwise noted)
Lord & Taylor, New York – "Enchanted Forest"
This year, Lord & Taylor's iconic holiday windows take customers on a whimsical winter journey through an Enchanted Forest. The five windows flanking Fifth Avenue depicted scenes of a winter wonderland filled with 34 hand-sculpted spirited holiday animals. More than 350 square feet of LED walls enhanced each vignette. The flagship's façade featured more than 9000 feet of mixed garland, foliage, twinkling lights and cheerful holiday music, completing the magical display. The "forest" included bunnies ice-skating, mice frolicking atop their bear friend who's covered in snow, a mother owl perched on her treetop nest to protect her newborns, peaceful foxes slumbering underground while dancing raccoons try to wake them, and a gaggle of geese in snowshoes making their way through the forest. • Design: Roe Palermo, dvp, merchandise presentation and store visual, Lord & Taylor; Denis Frenette, svp, merchandise presentation, Lord & Taylor / Hudson's Bay Co. Suppliers: GridCast Media Inc., Markham, Ontario; Spaeth Design, Wooside, N.Y. | Photography: Richard Cadan, Fairfield, Conn.
Bromwell's, Cincinnati – "A Gift They'll Be Talking About"
During a tumultuous election year in the U.S., Bromwell's approached its holiday windows with "a simpler way of looking at things" in mind. Its theme was inspired by Scherenschnitte (German scissor art). The window featured a "library" with a silhouette fireplace and ornate chair. Bookshelves were filled with Scherenschnitte-inspired objects and books to create a silhouette look. Gifts were arranged across the floor, with two classic portraits engaging in a stream of conversation, depicted by using speech bubbles which rotated continuously. Above the fireplace, a large sign wished greetings to all as another stream of words continuously changed the greeting. A black Christmas tree, decorated with white and silver ornaments and Scherenschnitte cards continued the theme, which was explained using a smaller shadowbox window and a revolving wheel of silhouette-style scissors. All props were produced and sourced in-house. • Design: Brent Hodge, director, merchandising and creative, Bromwell's | Photography: Brent Hodge, Cincinnati
Harney & Sons, New York – "Magical Holiday Winter Village"
To bring back a magical nostalgia of holiday windows of yesteryear, Window Director Polar Buranasatit set out to create a classic diorama scene with a running toy train set. The scene is set in a winter forest with deer in the foreground, with a magical winter holiday village in the center with a royal palace sitting on top of the snowy mountain where it has a tunnel for the Polar Express train to run through and around the village. All houses, shop houses, church, and castle are made of tea tins to incorporated products in the window scene. A tea pot sits on top of a tea tin to make it looks like a tea parlor with a great view of a frozen lake where people can rent skis and spot some deer milling around. Materials included artificial pine branches and foliage, sisal deer, chicken wire, joint compound, plaster tape, glitters, glass icicle ornaments and many others. All props were created in-house. • Polar Buranasatit, window director | Photography: Pavel Denisenko, New York
SPONSORED VIDEO
Embracing Whole-Brained Thinking in the Design Journey
Strategy needs creative, and creative needs strategy—yep, having both is really the only way of unifying all disciplines with a common vernacular with an eye toward building a strong creative vision that is foundational to the processes. Hear from Bevan Bloemendaal, former VP, Global Environments & Creative Services at Timberland, how to connect the dots between disciplines, claiming and creating a clear differentiation for the brand and ensuring that any asset (experience, product, ad, store, office, home, video, game) is created with intention.