First Place:

"Duroflex"
Submitted by: Four Dimensions Retail Design Pvt. Ltd., Bengaluru, India | Photography: Santosh Photography
2022 International Visual Competition FIRST PLACE: In-Store Home Goods Presentation
VISUALLY MERCHANDISING FURNITURE is usually not an easy feat – and that's especially true when it comes to mattresses.
For designers at Four Dimensions Retail Design Pvt. Ltd., part of the goal was to take the Bengaluru, India-based Duroflex's brand concept of a "Smart Sleep Studio" and implement a curated journey that could double as an empathetic, consultative guide for guests looking to make informed choices.
Overall, the visual merchandising strategy aimed to seamlessly organize the range of product categories from furniture to mattresses. Leading shoppers to four distinct "sleep stories," each zone is supported with a mattress display for customers to test and learn about its core features. Some areas, like the Sleep Lab, allow guests to discuss options with sleep specialists, and Pillow Talk houses a wall of sleep-related accessories. A window display highlights the "Why Duroflex?" narrative and features stylized copy paired with an art installation comprising mattress foam.
Advertisement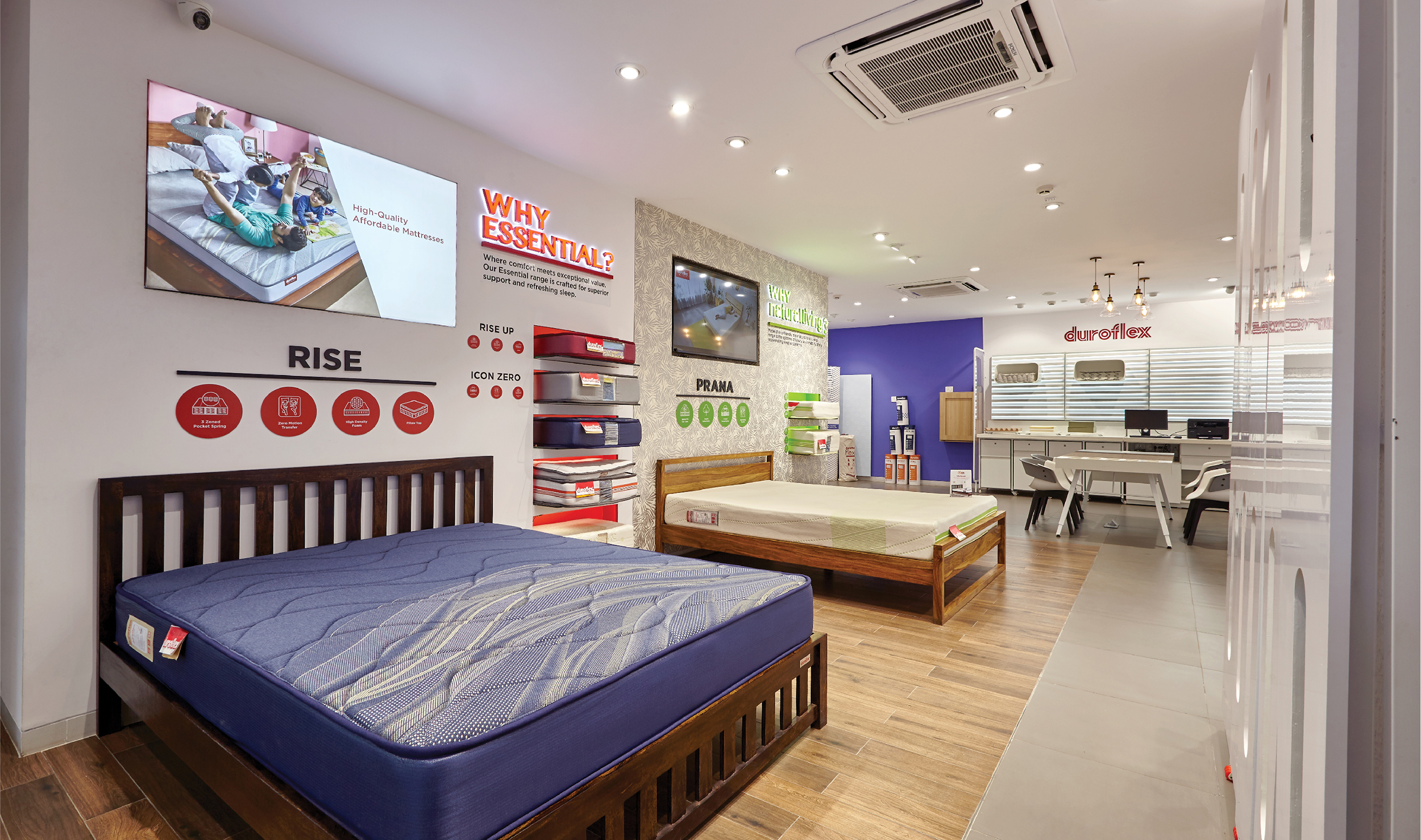 Advertisement
"One interesting challenge was to source waste mattress material from their factory to use for the wall installation," says Surender Gnanaolivu, a retail experience consultant who worked on the project. "[Another] challenge was to procure the right types and sizes to suit the composition.
"The store has reported a very positive response from customers in terms of attraction, appeal and engagement resulting in higher footfalls and conversions at the store," continues Gnanaolivu. "The [best] part of working on this project was the market study where we got very interesting insights into how this product category was perceived, and [purchased], by customers."
PHOTO GALLERY
(15 IMAGES)
SPONSORED VIDEO
Embracing Whole-Brained Thinking in the Design Journey
Strategy needs creative, and creative needs strategy—yep, having both is really the only way of unifying all disciplines with a common vernacular with an eye toward building a strong creative vision that is foundational to the processes. Hear from Bevan Bloemendaal, former VP, Global Environments & Creative Services at Timberland, how to connect the dots between disciplines, claiming and creating a clear differentiation for the brand and ensuring that any asset (experience, product, ad, store, office, home, video, game) is created with intention.