Karl's Fishing & Outdoor Casts New Line into Brick-and-Mortar
Designers allow shoppers to "choose their own adventure" in the first physical store from a brand revered by outdoor enthusiasts
ANGLERS OF ALL AGES, both novice and seasoned, have long turned to digitally native Karl's Fishing & Outdoors (Chicago) for all things related to fishing. Billed as the Internet's local tackle shop, the retailer has now opened its first brick-and-mortar store in WestBend, a 278,000-square-foot retail, office and dining destination in Fort Worth, Texas.
The location was carefully considered: In addition to satisfying logistical needs, WestBend sits on a fork of the Trinity River, and customers can literally walk out of the store and throw a line in the water.
Ross Gordon, Founder and CEO of Catch Co., Karl's Fishing & Outdoor's parent company, launched the brand with the mission of building meaningful and dynamic customer experiences, along with communities that celebrate fishing and the outdoors.
"Opening our first Karl's Fishing & Outdoors store takes our mission to the next level by creating a shared space for anglers and outdoor enthusiasts to connect, learn about new products and ultimately embrace their passion for the outdoors," says Gordon.
Advertisement
The timing was just right for entering the physical realm. According to Teeg Stouffer, Director of Retail Experience, Catch Co., "There's synergy between digital and brick-and-mortar, one is an extension of the other. We all lead digitally connected lives. Fishing is a natural physical experience: we cast, then catch. But today we cast, catch and pull out our phones, take pictures and post to social media."
Designed in partnership with Dayton, Ohio-based ChangeUp, a retail brand experience agency, the environment allows customers to choose their own adventure.
"If you're a beginner, you don't have to wade through the unknown to know where to start," says Stouffer.
Starting off, a welcoming fixture right at the entrance asks shoppers if they're "New to Fishing?" Product and "shopping experience cards" are positioned throughout the store, answering common customer FAQs like "Are you interested in power fishing? Are you taking a kid fishing?" In-store shopping guides also assist guests along their journey through the store.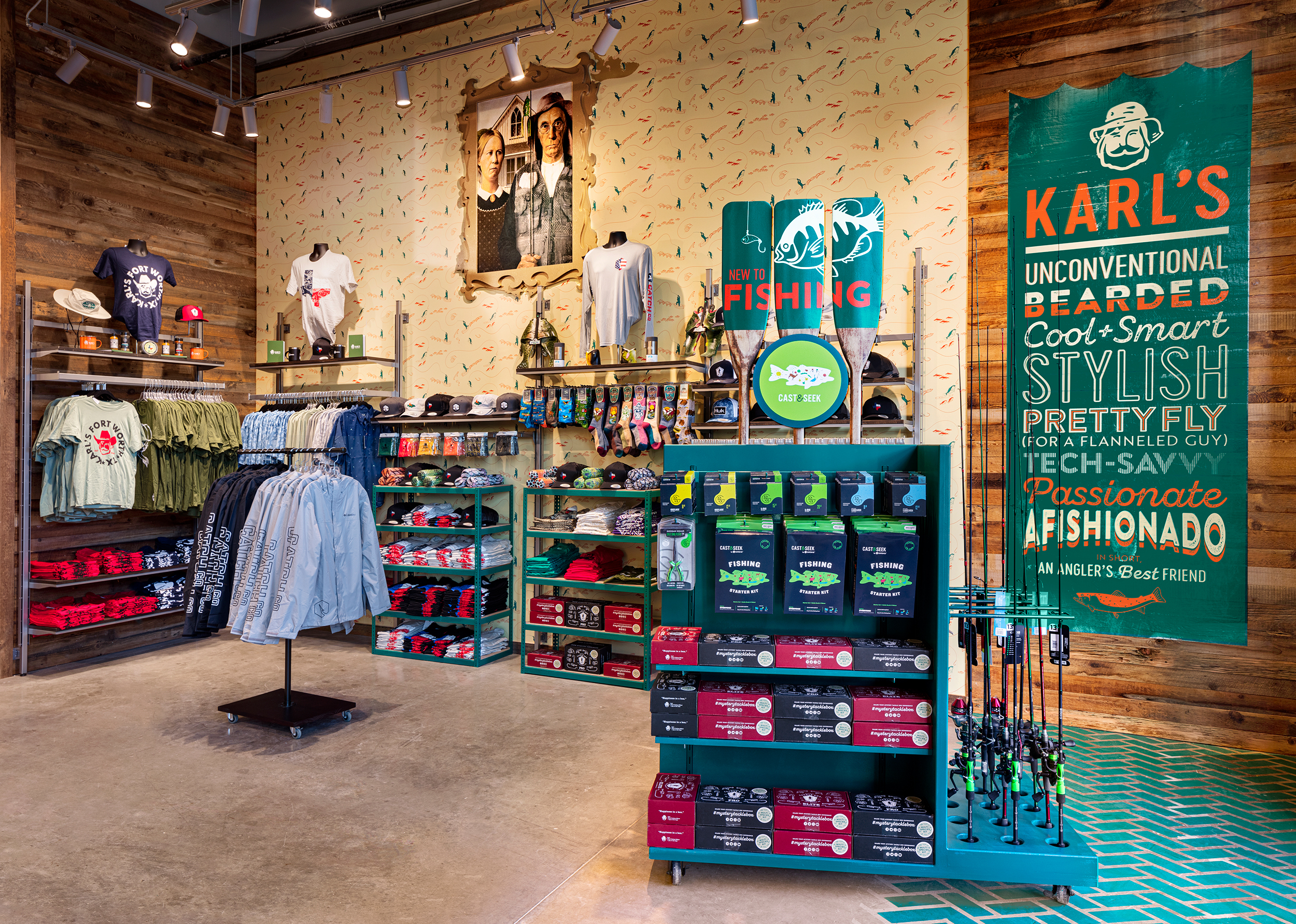 Advertisement
With the knowledge that selecting the right bait can be overwhelming, a centrally-positioned "Lure Wall" was designed as an interactive, educational and fun touchpoint. Removed from their packages, the lures are cleverly mounted on the wall allowing customers to touch and feel.
"There is art in the bait," says Ryan Brazelton, Chief Creative Officer, ChangeUp. "When the customer lifts the lure, a video monitor shows what the lure looks like underwater."
Adding to the digital connection is the "Wall of Fame," where anglers post images of their latest catches using their smartphones.
"Our overarching goal was to create an engaging environment that elevates the customer experience," Stouffer says. "The fishing industry is typically a high-testosterone, high-energy industry defined by boats splashing through water. We add fun, whimsy and creativity to the customer connection to fishing and to their journey through the store."
Project Suppliers
RETAILER
Karl's Fishing & Outdoors, Catch Co., Chicago
DESIGN AND ARCHITECHTURE
ChangeUp, Dayton, Ohio
Advertisement
GENERAL CONTRACTOR, FLOORING
CG Northern, Fort Worth, Texas
Lighting
Interactive Displays, Chicago
Fixtures
Opto, Chicago
Chicago Design Centrix, Chicago
signage/graphics, materials and wallcoverings
Colormark, Dallas
PHOTO GALLERY
(7 IMAGES)


📷: Mark Steele

Advertisement
SPONSORED VIDEO
Embracing Whole-Brained Thinking in the Design Journey
Strategy needs creative, and creative needs strategy—yep, having both is really the only way of unifying all disciplines with a common vernacular with an eye toward building a strong creative vision that is foundational to the processes. Hear from Bevan Bloemendaal, former VP, Global Environments & Creative Services at Timberland, how to connect the dots between disciplines, claiming and creating a clear differentiation for the brand and ensuring that any asset (experience, product, ad, store, office, home, video, game) is created with intention.