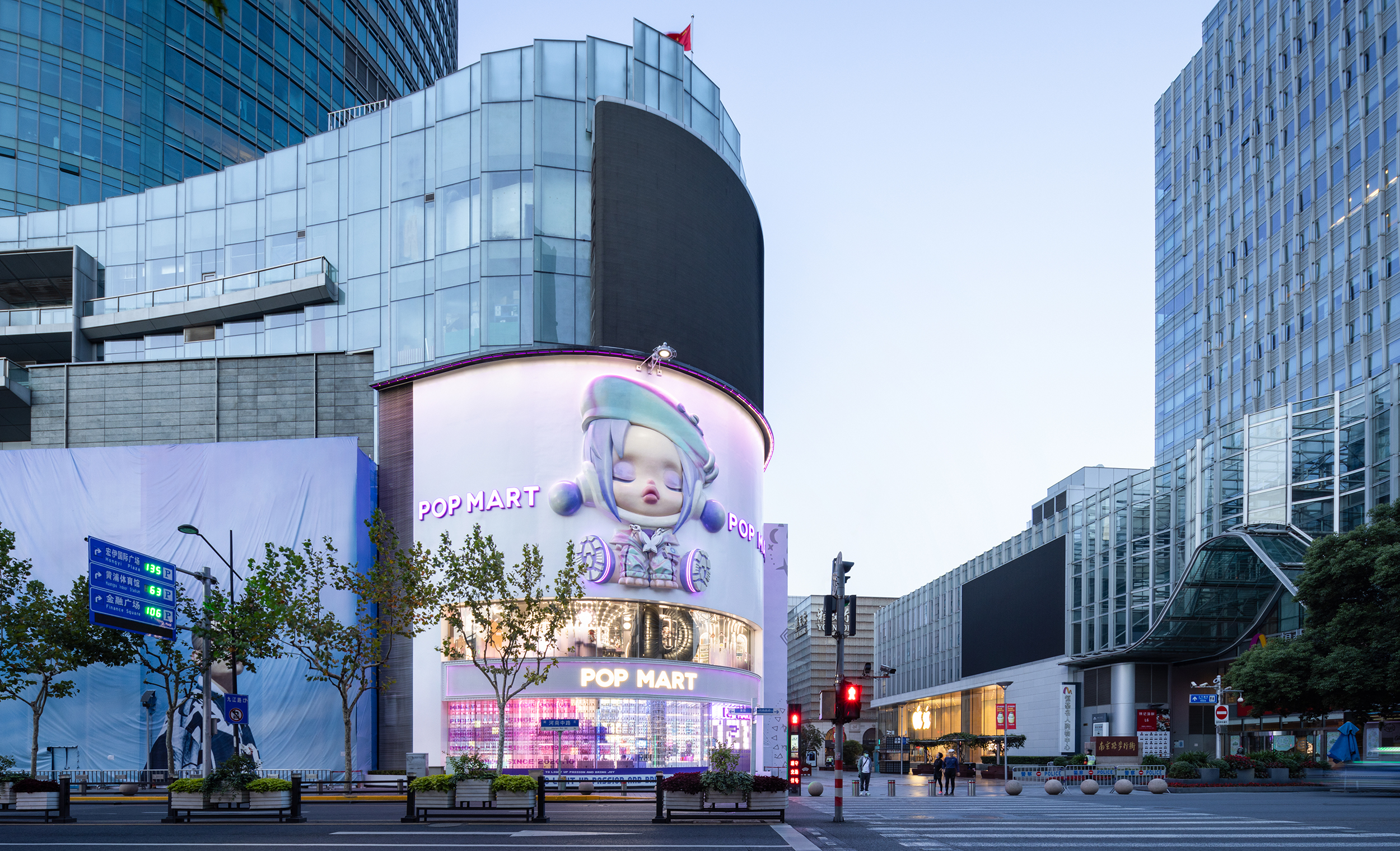 Pop Mart's New Shanghai Store Is Much More Than a Toy Shop
Retailer creates a shopper journey steeped in attention-grabbing visuals
A TOY SHOP PRIMARILY meant for Gen X (those born between 1965 and 1980) with a brightly lit four-story frontage and an internal area of 6458 square feet: This is what Pop Mart, a recently opened store on Shanghai's Nanjing Road East, is all about. And according to Shanghai-based X+Living, the local architectural practice that worked on the exterior and interior design, it is a store that caters to those interested in "art toy culture," as well as "attracting potential new customers."
X+Living has created a store that is a one-off flagship in which "experience plays a big part," says Li Xiang, Chief Creative Officer at X+Living. Practically, this means a two-floor interior with each level serving as a space for specific pop toys. These range from the first-floor individual manga-style toys, displayed in vividly colored, back-lit niches, to an entire level given over to Space Molly, one of Pop Mart's signature art toys.
A variety of colorful displays and environs offer visual surprises around each corner of the space.
For those who are none the wiser, Space Molly is, in fact, a doll in a space suit that comes in two sizes. The dolls are designed to be looked at rather than played with, with the attraction being that of a comic book brought to life. Access to this floor is via a staircase that prepares the visitor for what lies ahead by making the stairwell feel like leaving a spacecraft and stepping into another world.
Right: Toys for sale at Pop Mart are intended for an adult audience and are more like collector items than actual playthings.
This "world" turns out to be silver metallic in color and features a series of swooping curved fixtures with embedded screens that create the feeling of a retro sci-fi environment of the kind that might have found favor in the 1950s. Mirrors add to a general sense of disorientation and help to enlarge the floor.
For Li, this all adds up to a "reverence for novelty and the unknown." It's also worth noting that elements of the shopfit on this floor are the result of 3-D printing techniques.

THIS PAGE: Curved displays, mirrors and unusual hues provide a sense of discovery for patrons wandering the space.
In total, Pop Mart now offers the customer an experiential voyage into an environment depicted as the norm for the characters populating the shelves of this store. This is a lot more than a simple toy shop.
PHOTO GALLERY
(49 IMAGES)


📷: SFAP
SPONSORED VIDEO
Embracing Whole-Brained Thinking in the Design Journey
Strategy needs creative, and creative needs strategy—yep, having both is really the only way of unifying all disciplines with a common vernacular with an eye toward building a strong creative vision that is foundational to the processes. Hear from Bevan Bloemendaal, former VP, Global Environments & Creative Services at Timberland, how to connect the dots between disciplines, claiming and creating a clear differentiation for the brand and ensuring that any asset (experience, product, ad, store, office, home, video, game) is created with intention.