Portfolio:

Cabinette, Valencia, Spain
Drawing from 1960s and '70s motifs, this co-working concept features a retro yet luxe aesthetic.
WHEN YOU THINK OF the space where you work, the descriptors "luxe, fun and sexy" might not immediately come to mind. In the case of Cabinette, a co-working concept that recently debuted in Valencia, Spain, and designed by Masquespacio (Valencia, Spain), those adjectives aptly apply.
Owned by parent company Houtique, Cabinette gets its name — and many of its design influences — from the late 1960s French-Italian comedy "Playtime," which takes place in a futuristic Paris. In one scene in the film, the main character finds himself lost in a maze of office cubicles, or cabinette in French.
Between its designer velvet furniture and distinctly retro vibe, the roughly 2150-square-foot space features three meeting rooms, a kitchen, a terrace to catch a breath of fresh air and phonebooths for private conversations. Its bold colors and tactile materials aim to attract design enthusiasts and creative freelancers looking to work in an environment that's stimulating to the senses.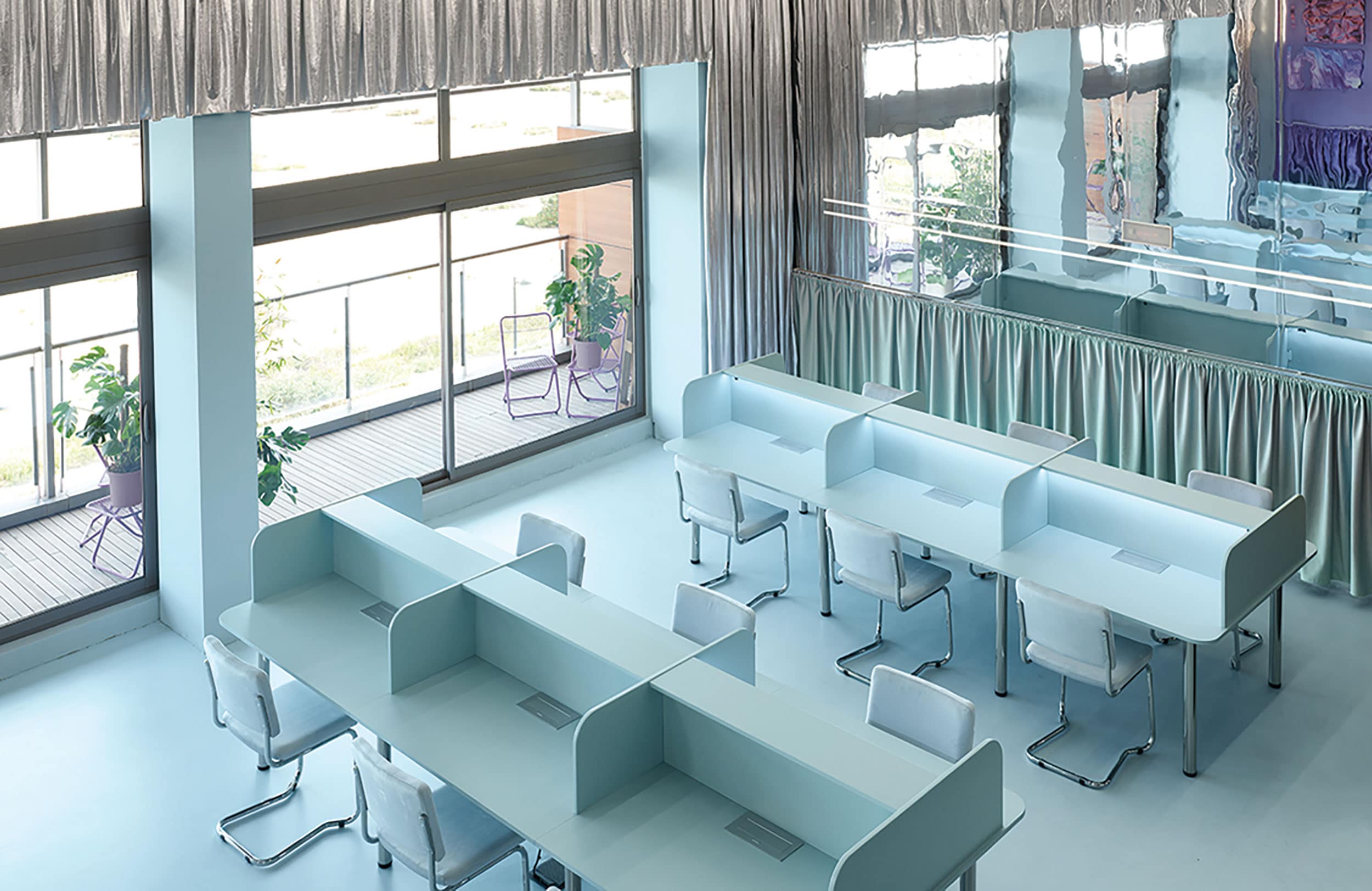 "The biggest challenge, without a doubt, was the fact that we needed to [use] some existing elements in the space to respect the budget. So we decided to maintain the ceiling and tried to make it part of the concept, connecting it with the color scheme of the new design," says Ana Hernández, Masquespacio's Founder and Creative Director.
"The space is not very big, so we needed to find a way to integrate the shared co-working spaces as well as a meeting room, some individual spaces for small meetings … and an open kitchen where people could disconnect from their work for a moment and chit-chat. It's like having all the features of a big, corporate co-working [concept] in a space of 200 square meters."
Upon entering, visitors are greeted by the open kitchen situated in front of the main co-working spaces, highlighted by a mixture of color and materiality. Expansive windows offer natural daylight and connect to the outdoor terrace. The remainder of the space consists of meeting rooms and the phonebooths.
Though the COVID-19 pandemic presented its own set of challenges to workspace design, the team circumvented those by installing bulkheads that further divide each individual workstation. Other safety measures taken include the regular cleaning and disinfecting of shared areas, reduced capacity and the introduction of single-use items in the kitchen, as well as the implementation of disinfection points.
SPONSORED VIDEO
Embracing Whole-Brained Thinking in the Design Journey
Strategy needs creative, and creative needs strategy—yep, having both is really the only way of unifying all disciplines with a common vernacular with an eye toward building a strong creative vision that is foundational to the processes. Hear from Bevan Bloemendaal, former VP, Global Environments & Creative Services at Timberland, how to connect the dots between disciplines, claiming and creating a clear differentiation for the brand and ensuring that any asset (experience, product, ad, store, office, home, video, game) is created with intention.