Portfolio: Old Spice Barbershop, Columbus, Ohio
Procter & Gamble's Old Spice brand opens an experiential barbershop.
PROCTER & GAMBLE — OWNED brand Old Spice (Cincinnati) is no stranger to irreverent ad campaigns or quirky brand activations, but its recent foray into brick-and-mortar retail — in the form of a full-service barbershop – is a first for the men's grooming label.
The 3500-square-foot space, just blocks away from The Ohio State University campus in Columbus' Short North neighborhood, is part learning lab and part content studio, with a thoughtfully designed barbershop at the heart of the space.
"We have six barber chairs and two wash basins. The barber chairs are of the highest quality," explains Old Spice Brand Director Leif Edgar. "We were very intentional in understanding barbering. Barbershop culture is kind of its own unique world, so we spent time with barbers, doing site visits and consultations, making sure that we were putting in the highest quality materials and services so that not only would a guest be satisfied, but a barber would be proud to work there."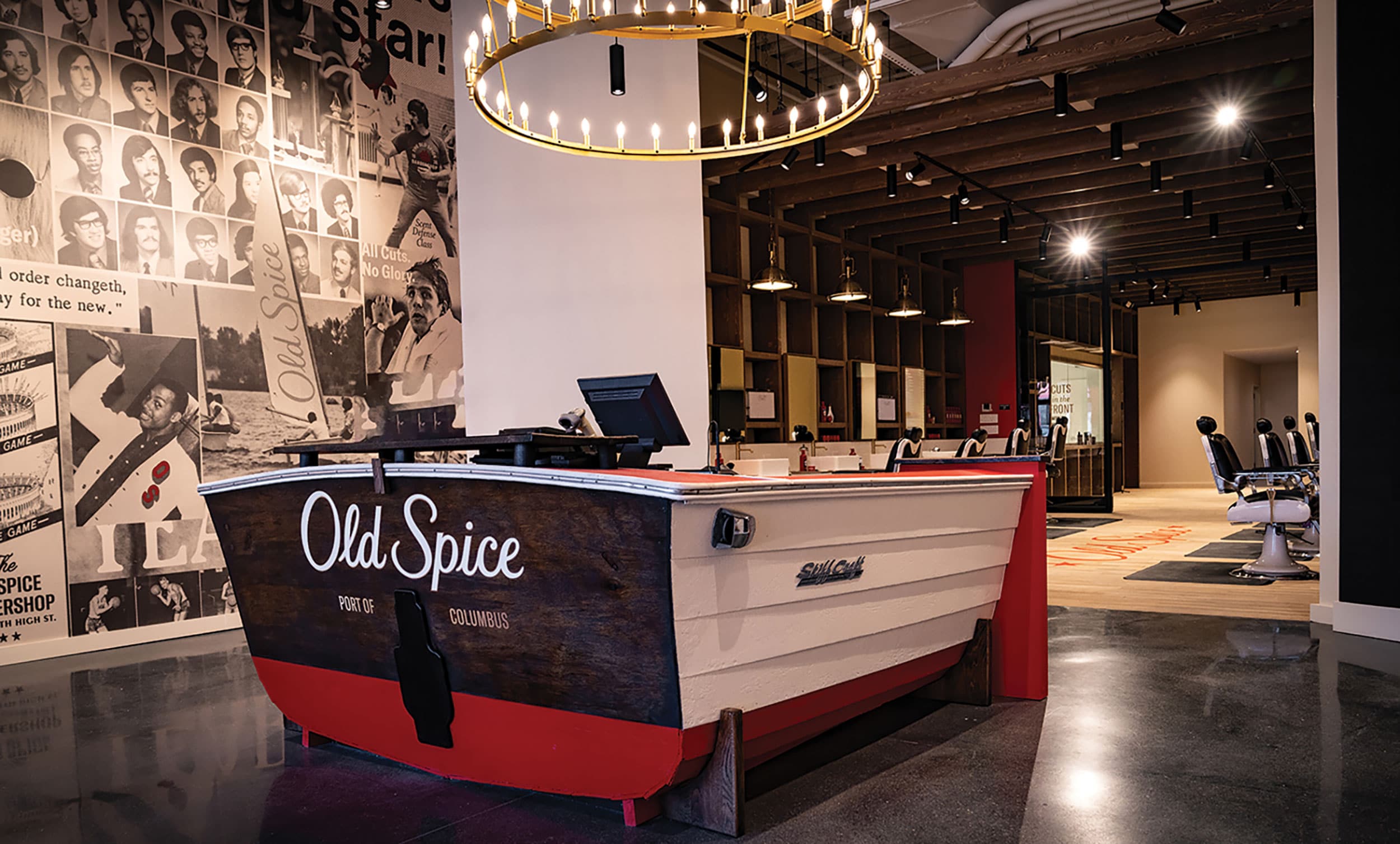 Throughout the space, the brand's clever humor and strong personality shine through. As guests enter, they're greeted by a large boat that the design team purchased on Craigslist, then unceremoniously sawed in half to repurpose as the cashwrap. A partnership with local roastery Brioso Coffee resulted in custom beans for the shop's coffee service, which along with comfortable sofas, encourages patrons to stay awhile.
"Part of the intent is to position us as a lifestyle brand. We took a lot of inspiration from brands like Glossier, which have created an entire experience around their showrooms at retail," says Edgar. "In the front section, it's much less, 'Hey, buy your shampoo or your pomade styling product,' and more about, how can we create interesting mashups?"
The third section of the space is what Edgar describes as a "Hollywood-quality" sound stage and content studio the brand will use to drive its influencer marketing and content development. "We want to use the shop as our space to film and create. It allows us to be much more real-time, more nimble, more agile and to produce content at the rate that guys are consuming it and expect it," says Edgar.
The brand team will work closely with R&D to leverage insights gleaned from interactions with customers into new product development along with real-time feedback from testing rapidly prototyped products in the retail portion of the space.
"We believe [this] is much bigger and broader than retail. Certainly, that's a big part of it, but we also see the opportunity as far as content capabilities and production and the new ways of building consumer marketing in this day and age," says Edgar. "This is just as much a learning lab on innovation as it is a barbershop."
SPONSORED VIDEO
Exclusive Webinar: Beyond Digital Signage Onto Digital Experiences - Vision Over History
Watch this exclusive webinar and join Epson on a journey to discover the ways in which the creative community is embracing projection technology and how projection is being used to transform spaces into immersive, magical and awe-inspiring experiences.