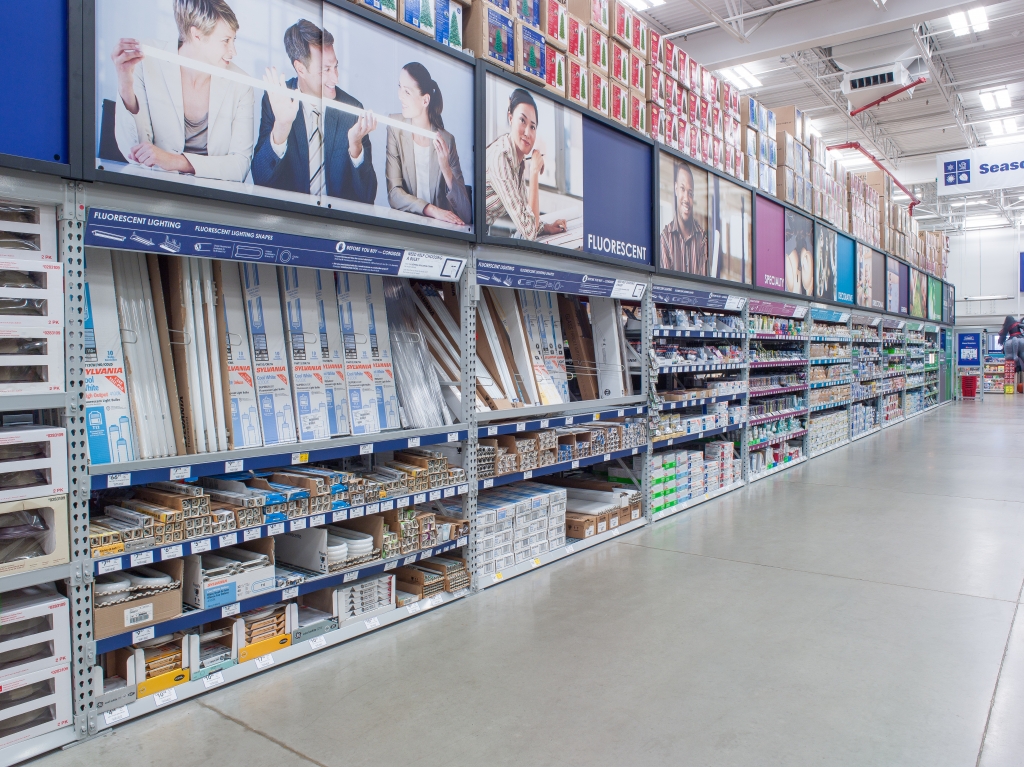 Problem: More lighting options to solve household problems, address needs and meet local energy codes end up leaving shoppers in the dark.
Solution: Lowe's Canada shines light on the confusing task of bulb selection with a redesigned product aisle and dedicated Education Center.
Just as in the U.S., legislation in Canada is mandating that consumers swap their incandescent bulbs for more energy-efficient options like LEDs and compact fluorescents (CFLs). Most consumers don't understand why they need to make the switch and they struggle with what to switch to – which bulb for which base for which function.
"Lowe's stores in Canada stock more than 440 light bulb options, taking up 10 bays – an entire aisle of the store," says Jeff Hastings, director of the retail studio at Pratt Visual Solutions (Indianapolis). "Consumers felt confused and overwhelmed, inundated by a sea of light bulbs."
Without enough information on the new bulb styles, shoppers were generally not buying the preferred LEDs and CFLs, which are also higher-ticket items. When Lowe's category merchants got together in 2011 to create a department planogram for the following year, they decided to address these issues. Pratt, which supplies signage for Lowe's both in the U.S. and Canada, was commissioned to do some problem-solving and strategizing.
"As the category grew and became more complex, detailed information would no longer fit on typical store signage," says Hastings. "Kelvin, for example, is a concept that cannot be explained in 10 words or less."
Pratt also did some in-store analysis, observing how long it took customers to shop the category. "It was apparent that they lacked the information needed to make an educated decision," says Amy Mainer, Pratt's design supervisor.
Pratt recommended distilling all the information into an interactive Education Center at the head of the aisle. The unit features a 32-in. monitor, which displays eye-catching promotional or product information, and an attached iPad with a custom app so shoppers can indicate their needs and, by answering a series of questions, be directed to the right lamp choices.
The risk for Lowe's was taking all merchandise out of the very first bay in the aisle. After all, says Rob Rizzi, Lowe's category manager for light bulbs, "We're in the business of selling product and there's no product in this bay." But in the long run, says Rizzi, "better educating consumers will lead to more sales and the education center will pay for itself."
Along the rest of the aisle, the bays are now organized by color-coded application – General, Directional, Decorative, Outdoor, Specialty, etc. – with one bay devoted entirely to Eco-Friendly. Shoppers can also find bulbs by size, shape and base.
"Canadians are very sensitive to environmental concerns," says Mainer. "We knew these shoppers would migrate to the LEDs and CFLs if we gave them enough information."
To further tap into consumers' environmental awareness, Pratt suggested moving the recycling bin for old bulbs – especially fluorescents – from the vestibule of the store to the Education Center in the lighting aisle.
"Many people bring their used bulbs with them as a way to match what they had to what they need," says Hastings. "This way, they can make their selection and then dispose of the old bulb, safely and legally."
Pratt worked with Rose Displays (Salem, Mass.) on creating the structure for the Education Center and with Kokley (Wellesley, Mass.) on the iPad software application development. While the shopping experience on the aisle became more streamlined and Lowe's Canada realized an uptick in LED sales, a major benefit came from an unexpected corner.
"Lowe's employees were delighted with the new installation," Mainer says. "There's usually no employee tasked specifically with light bulbs, so the shopper with a question will grab whoever walks by. But he may sell lawn mowers and may not know more than the customer about light bulbs. This way, the sales associates can direct the shopper to the Education Center, or use the center to educate themselves."
Project Suppliers
Retailer
Lowe's Canada, Toronto
Designer
Pratt Visual Solutions, Retail Studio, Indianapolis
Signage/Graphics
Holland & Crosby Limited, Mississauga, Ont.
In-Store Technology
Kokley (a division of Rose Displays Ltd.), Wellesley, Mass.
General Contractor
Apollo Retail Specialists, Tampa, Fla.
Photography: Nino G. Cocchiarella, Bloomington, Ind.
SPONSORED VIDEO
Exclusive Webinar: Beyond Digital Signage Onto Digital Experiences - Vision Over History
Watch this exclusive webinar and join Epson on a journey to discover the ways in which the creative community is embracing projection technology and how projection is being used to transform spaces into immersive, magical and awe-inspiring experiences.