Retail Designers Recall Their Earliest VM Memories
Plus, your peers name the industry movers and shakers who influenced their career paths
What is your favorite and earliest memory related to retail, window displays or interior design?
"My earliest memory being in visual was coming up with creative ideas and concepts that would incorporate humor, storytelling, a point-of-view and create customer curiosity. I remember using hundreds of small articulated wooden mannequins all wearing tiny construction hats, climbing all over mannequins wearing the latest fall fashions and [we] titled the window, 'Fall Fashion Construction.' Cheap and cheerful!" — Bess Liscio, Director, Retail Straetgy, GH+A

"Every Christmas, from the time I could walk, my grandmother took me to down Fifth Avenue in New York, from FAO Schwarz to Bergdorf Goodman's to Bonwit Teller and Saks Fifth Avenue to see the windows. If she had the energy, we'd walk all the way down to Lord & Taylor for their windows. The windows were magical!" —

Linda Cahan, Owner, Cahan & Co.

"This is going to seem not-so glamorous, but one of my favorite retail memories was the glass candy counter at a G.C. Murphy's store. Even at a young age, I was fascinated with how wonderful everything looked under the glass and lights. Of course, it may have just been that it was candy!" —

Dan Marihugh, VP, Store Innovation, Burlington Stores Inc.

"When I was little, in the Chicago area, my family would go to the Marshall Field's downtown store in December to have dinner and view the Christmas tree. We would always look at all the retail window displays along State Street and Michigan Ave. Fond memories." —

Don Bona, Lead Store Designer, AT&T
What is something you learned early when you started working in the retail industry that you've carried through your whole career?
"One of the most important things I learned when I started working in the retail industry were the merchandising standards at The Gap in the '80s. This is where I learned to fold an array of apparel from blue jeans to chunky sweaters. Our assistant manager was relentless when it came to precise folding, sizing, vertical merchandising and more. These valuable lessons on the importance of good basic merchandising skills have stayed with me throughout my career." —

Joe Baer, Co-Founder, CEO, Creative Director, ZenGenius Inc.

"In the early days of my career, I very quickly learned that there is no room for 'subjectivity' in retail design! There is reason and strategy behind every decision we make throughout the customer journey and touchpoints." —

Mardi Najafi, VP, Retail Strategy and Design, Figure3

"I have carried the art of storytelling: Whether it's the way we brief our internal design team on a new project or present a new concept to a client. It's the narrative from beginning to end that encompasses art, science and business strategy." — Bess Liscio, Director, Retail Straetgy, GH+A

"It's all about quality and customer service in every aspect." —

Sandra Garrett, Founder, SG Design LLC

"Believe in yourself, work hard, keep an open mind, watch and listen, follow your instincts." —

Jodi Ellis, Owner/Manager, Butterfly Beach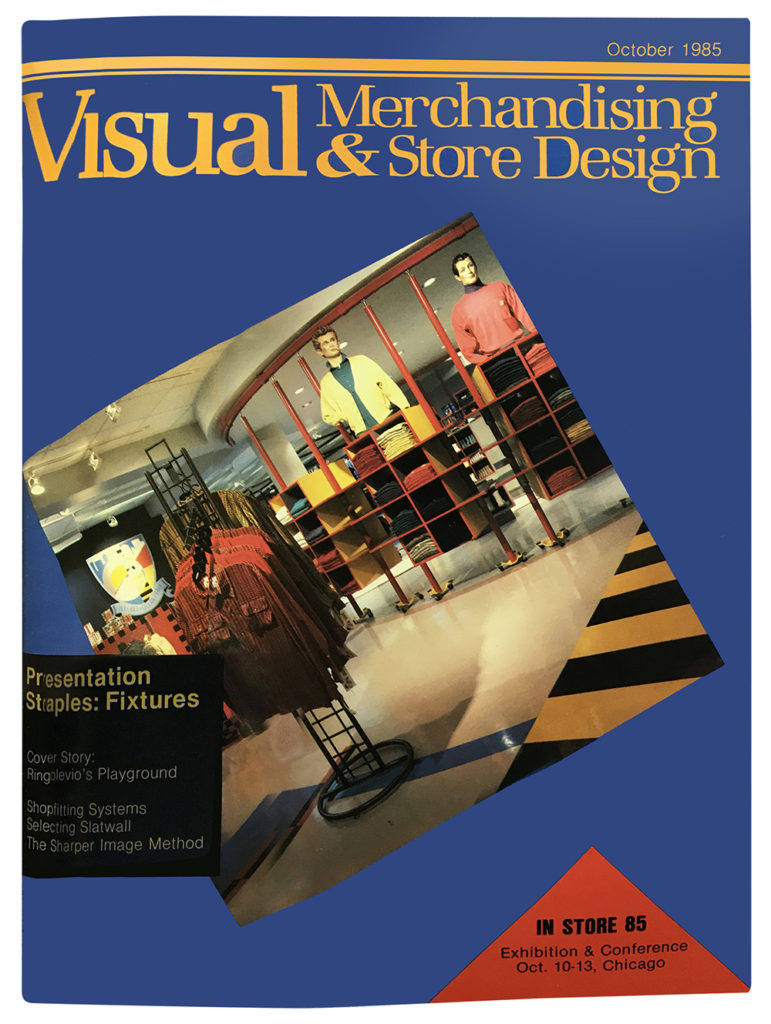 When was the first time you read VMSD magazine? What was your favorite thing about it?
"My team at Belk Corporate anxiously awaited every issue of VMSD in the '70s and '80s. So many great ideas from world renown retailers, we'd discuss every photo amongst ourselves. VMSD spoke directly to VM people. No other magazine did that back in the '70s and '80s. They covered the stories that meant something to us all. And because our team only went to New York visual markets and spent the remainder of the year remodeling and opening new stores, VMSD kept us 'in the loop.' All the great New York display windows, all the newest prop innovations…" —

Richard Brunning, Principal, Owner, Brunning VM

"I started reading it in 1973 and have enjoyed every copy, every year since!" — Linda Cahan, Owner, Cahan & Co.

"Probably around 1996/1997. At the time, to discover new retail concepts, you had to travel or rely on the editorial skills of specialized publications such as VMSD, Metropolis or Wallpaper. That is where I would be exposed to store designs from other areas of the continent … department stores in Houston, Niketown or Levi's flagship stores in San Francisco, Old Navy in New York…" — Stephane Bernier, Director of Retail Strategy and Innovation, Ædifica

Advertisement

"The year 2000, just after I moved to the U.S. to work as Director of Design for Victoria's Secret with Limited Brands. Apart from the spreads on new retail designs, I always enjoyed the short bios, questionnaires and fun facts with designers on the inside back page." —

David Milne, Director, Architecture and Design, Inspire Brands

"Let's just say it was a long time ago. And my recollection … it was a window to the potential of design and how I can be part of it. It offered insight (and still does) on how concepts were conceived and brought to life." — Eric Kuhn, Associate, Design Practice Leader, Bergmeyer
Talk about your start in the industry. Who were some movers and shakers who influenced you or your path in retail design/visual merchandising?
"I was fortunate to work for Michael Weiss at Express in the '90s. Back then, it was Weiss and Mickey Drexler at The Gap. Michael felt that talented visual leaders had the ideal combination of 'the eye, the hand and the mind.' I will always be grateful for the teams working together under his leadership that helped form me to become a master merchant." —

Suzi West, Principal, Suzi West Consulting

"Judy Neidermier. Judy was a retail icon. She demanded a lot and pushed her design team and craftsmen to push the limits of retail design." —

Dan Marihugh, VP, Store Innovation, Burlington Stores Inc.

"Previously, I was a pure architect and had my first taste of retail working for OK Bazaars in South Africa, designing supermarkets and shopping centers. I was always fascinated with the designs of Rodney Fitch. I was fortunate enough to be up against him in a limited design competition for Wangfujing Department Stores in Beijing, China. My team won! The next year, I met Rodney in Singapore, and he took me to dinner because he wanted to know how I beat him. After that we became firm friends and we would sometimes meet up when he visited the Fitch office in Columbus, Ohio." —

David Milne, Director, Architecture and Design, Inspire Brands

"John Dougan and Mike St. Pierre, VM Directors at Dayton's. And later Andrew Markopoulos, SVP at Dayton's. Also vendors/mentors like Sam Chernoff and Wayne Sullivan for their very fatherly career advice." —

Chuck Luckenbill, Owner, Luckenbill Retail Solutions
What's the Brain Squad?
Don't let FOMO get the better of you. … Join our new focus group of retail design and visual merchandising professionals, the VMSD Brain Squad. Now open to visual merchandising and retail design executives working at retail organizations and their agency partners at design and architecture firms, Brain Squad members are contacted monthly via email for opinions, ideas, insights and experiences. We publish the best responses in feature articles on vmsd.com. Join today!
SPONSORED VIDEO
Embracing Whole-Brained Thinking in the Design Journey
Strategy needs creative, and creative needs strategy—yep, having both is really the only way of unifying all disciplines with a common vernacular with an eye toward building a strong creative vision that is foundational to the processes. Hear from Bevan Bloemendaal, former VP, Global Environments & Creative Services at Timberland, how to connect the dots between disciplines, claiming and creating a clear differentiation for the brand and ensuring that any asset (experience, product, ad, store, office, home, video, game) is created with intention.