Retailing in India: Serving Sweet Emotions
The indomitable culture of family and community celebrations in India is helping revive demand for and the growth of the Indian sweets and snacks industry in today's challenging times
SWEETS HAVE BEEN a part of Indian history, right from the point at which the Indus Valley civilization invented the art of refining sugar 8000 years ago. Interestingly, the English word "sugar" comes from a Sanskrit word sharkara, meaning refined sugar. Since then, the Indian subcontinent has created more than 500 types of sweets – reportedly the most in the world.
In India, traditional sweets, known as mithai, are an integral emotional part of its social, religious and cultural existence, signifying prosperity, happiness and love. No celebration or special occasion is complete without the sharing of mithais with family, friends and community. More than 50 festivals and millions of celebrations in India ensure sweet shops in the country are busy all year long. According to Indiaretailing.com, the Indian sweets and snacks market is worth about $15 billion USD, with sweets contributing $9 billion USD, and growing at a compounded annual growth rate of 7 to 8 percent. Only 30 percent of this is contributed by organized retailers, with the balance 70 percent delivered by local sweet shops supplied from over 200,000 manufacturing units employing approximately 10 million people.
According to the Federation of Sweets and Namkeen Manufacturers of India, the Indian sweets and snacks industry incurred 35 percent revenue loss in the last financial year, owing to reduced production due to limited manpower and celebrations. However, the lifting of lockdowns and increase in vaccination is reviving celebratory sentiments and gaining momentum in demand. Having learnt from the lockdown period, retailers are now focusing on enhancing experience in their physical stores, developing omnichannel competencies and innovating products to appeal to and stay relevant to new normal consumer expectations. Here are a few who have been successful in doing just that.
Rich Taste of Heritage
Sri Krishna Sweets, established in 1948 by Shri N K Mahadeva Iyer as a professional catering service, is a leading family-owned south Indian sweet manufacturer with more than 70 stores in India and the Middle East. Over and above their offerings, they have gained respect for their community outreach programs run for under privileged children, senior citizens, infrastructure development, restoration of water bodies and promotion of regional art and culture.
They have three kitchens that churn out sweet innovations of which the world-famous mysurpa, a soft Indian sweet delicacy, is one. Despite being rooted in tradition, they have kept their experience updated with an omnichannel shopping experience and social media engagement.
Recently, they reimagined their rich heritage of specialization in premium sweets and snacks in a new retail environment concept that endeavored to keep the brand relevant and appealing. The concept signature is inspired from traditional south Indian Chettinadu architecture and kollam, a form of traditional decorative art that uses a palette of traditional engraved stone, solid polished wood, brass and wood pattern inlays. Storytelling is delivered using digital content in the traditional setting.
Advertisement
Transforming the Traditional
Almond House, a family-run business, was started by chemical engineer Nagarjuna Muppala in 1989. His son Chaitanya took over the business after 20 years and transformed it from a traditional sweet shop into a modern enterprise that resonated with the Millennial generation by focusing on product development, the brand's social media presence and its online and offline experience. Incidentally, they went online during the dotcom boom in India to enable Indians living abroad to gift sweets to friends and family back home in India.
The brand operates one of India's first experiential commercial kitchens, where customers, connoisseurs and student groups are invited to get a hands-on sweets-making experience. Popularity with the younger crowds was gained with innovative local flavors like pav bhaji (bread with vegetable curry) fondue and ganna (sugarcane) juice sorbetto. The brand has invested seriously in food tech, store design and its online channels to get the attention of and appeal to the new generation. The store environment is blends its legacy and tradition in a contemporary expression using a palette of rustic wrought iron forms, gold embellishments and traditional patterns in modern forms and materials.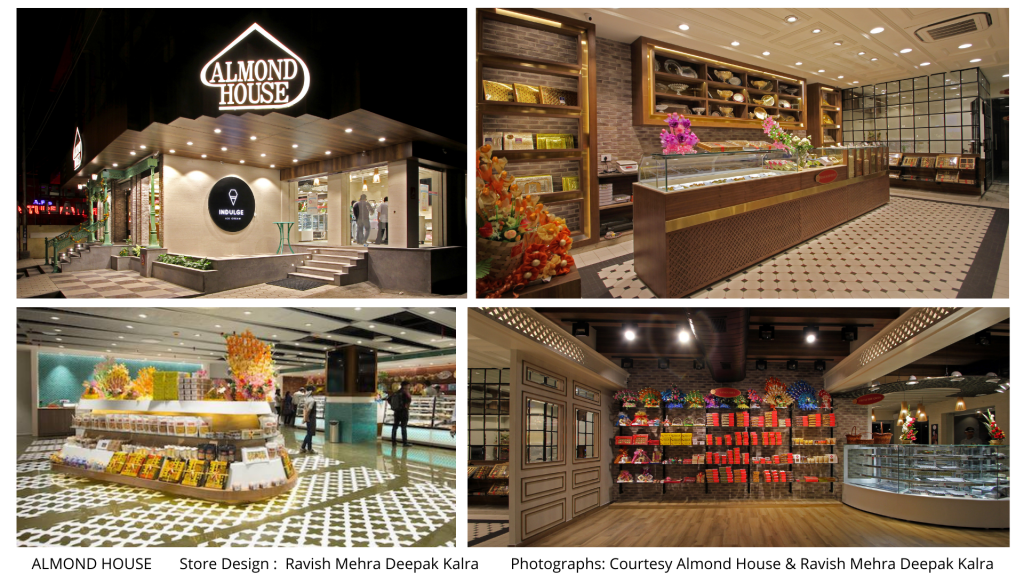 Offering a Large Serving
Haldiram's was founded in 1937 by Ganga Bhishen Agarwal, fondly known as Haldiram. Starting as a small Indian sweet and snacks shop in Bikaner, Rajasthan, today it is India's largest snack company with a turnover that has doubled in the last four years to more than $1 billion USD. Eighty percent of the revenue is generated from packaged products and the rest from its food service business. It offers a portfolio of over 400 products, comprising Indian sweets, Western snacks and pickles, sold across 80-plus countries. They have five manufacturing plants and 50-plus exclusive stores and restaurants in 11 cities in India that consume about 3.8 billion liters of milk, 80 million kilograms of butter, 62 million kilograms of potatoes and 60 million kilograms of pure ghee each year.
Halidram's was the first company in India to introduce branded and packaged Indian snacks, called namkeen. This started a trend of setting up comfortable hygienic environments, their dine-in and fast-food restaurants, to enjoy traditional Indian street food. Offering "work from home essentials," customized sweet boxes and specialized festive products driven by a loyalty program and responsive logistics has helped drive sales across their large customer base in the pandemic. A marketing strategy augmented with tie-ups with the Bollywood industry has helped them gain tremendous mass appeal and competitive advantage.
Advertisement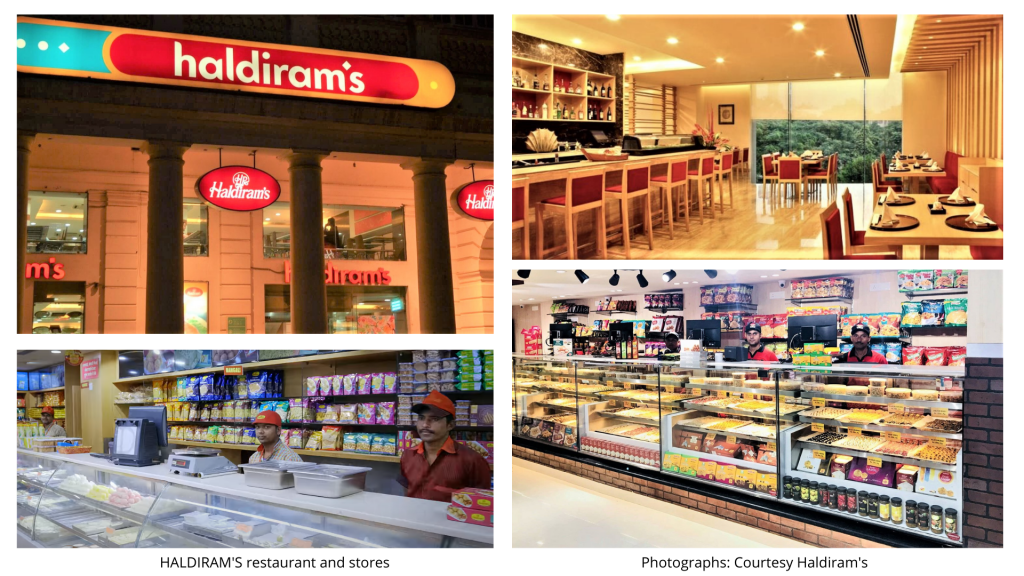 Sweet Servings to Come
The culture of family and community celebrations in India is expected to drive demand for sweets and snacks and help the industry overcome the impact of the pandemic sooner than predicted. Lessons from the pandemic have compelled this tradition-rooted industry to acquire new omnichannel competence to serve the "new normal" expectations of the unlocked consumers of today and tomorrow. The impact of this is sure to help Indian sweets- and snack- loving consumers to be served better products as per their choice of channel and convenience, and add positively to their emotional well-being and happiness in these challenging times.
PHOTO GALLERY
(3 IMAGES)
SPONSORED VIDEO
Embracing Whole-Brained Thinking in the Design Journey
Strategy needs creative, and creative needs strategy—yep, having both is really the only way of unifying all disciplines with a common vernacular with an eye toward building a strong creative vision that is foundational to the processes. Hear from Bevan Bloemendaal, former VP, Global Environments & Creative Services at Timberland, how to connect the dots between disciplines, claiming and creating a clear differentiation for the brand and ensuring that any asset (experience, product, ad, store, office, home, video, game) is created with intention.