Retailing in India: Stores Are Adapting to These Tech-Driven Times
As the pandemic compelled India to depend more heavily on technology, retailers evolved from selling devices to selling lifestyles
SMARTPHONES HAVE PLAYED a significant role in keeping the social and cultural traits of India connected through the pandemic. The adoption of smart devices for video calling friends and family, working from home, taking online classes, playing games and streaming movies has driven the demand in India to become one of the largest smartphone markets in the world.
As per a survey conducted by Statista, a German consumer research agency, in August 2020, smartphone users in India spent 20 percent of their overall time chatting or using VoIP (Voice over Internet Protocol) services, and 15 percent of their time streaming video, out of an average of about three hours daily. They also reported that the penetration rate of smartphones in India is estimated to reach 66.21 percent in 2022, and expand to 96 percent by 2040. In 2021, the volume of smartphone users in India was estimated to be 492.78 million, second globally to China.
This has triggered the collateral increase in demand for consumer durables and appliances, including those that can be controlled by the smartphone. The impact of this has been the widening of product portfolios to smart consumer durables and the evolution of in-store experiences to transform traditional "display galleries" into engaging "experience centers." Leading brands and retailers have significantly upped their service with investments in store design, visual merchandising and intuitive tech-enabled services.
According to Statista, Chinese Xiaomi (ranked 3 globally) leads the pack with a share of 21 percent market share followed by Samsung (ranked 1 globally) at 19 percent; Chinese-based brand Realme has 17 percent as of the last quarter of 2021. Interestingly, the top five brands account for about 81 percent of the overall revenues. Apple (ranked 2 globally) has a modest 4.4 percent share but is looking at gaining ground by opening more company owned flagship stores and using aggressive marketing initiatives.
In the recent past, experiential architecture, engaging in-store journeys and intuitive, interactive communication have helped transform this category visibly. The top players in this segment have been seen to give significant focus on brand experience transformations in order to grab the attention of potential buyers and hold the interest of loyalists.
Future of Smart Living
Xiaomi, with over 3500 stores and looking to double that number in the next two years, recently changed its positioning from a "smartphone" to a "smart lifestyle" enabling brand. Its store design concept was updated to allow customers to experience smart living devices. Its large product portfolio was organized into solution clusters. The Connect zone features all their phones, laptops and travel accessories, followed by the IoT zone in the heart of the store that demonstrates this capability in a cluster of products. The Service zone includes an omnichannel station, coffee, a chat area and billing. The Entertain zone presents smart TVs in a living room-inspired setting. The Smart Me zone highlights smart luggage, personal accessories, apparel and footwear presented on stylized mannequins. The Smart Home zone positioned in the rear was designed to draw visitors interested in smart lighting, home appliances, air purifiers and other work-from-home essentials.
Advertisement
Big Boulevard
Popular Chinese smartphone-maker OnePlus, with over 13,000 points of sale and 100 retail stores in India, has positioned itself as an affordable premium smart devices brand. To make the Indian market take notice, it has recently unveiled its largest experience center in the world in Bangalore, called OnePlus Boulevard, which is spread over 39,000 square feet and two levels. Striving to be a community hub for its users, the concept incorporates natural and earthy elements and biophilia, showcasing the aesthetic similar to a leisure park. A collection of ceramic artworks sourced from artists across India add an interesting artsy vibe to the potentially overwhelming space. The ground floor houses touch-and-feel counters for OnePlus phones, televisions, digital watches and accessories supported with smart digital information built into the fixtures. A TV experience station, dedicated gaming zone, product discussion zone and an unboxing table, help deliver a complete experiential journey. The first floor houses a OnePlus community café with a reading space and a mini-theater for interaction with OnePlus engineers. The experience center was designed to be a testament towards the brand's commitment to provide the best user experience through all its offerings.
Gadgets of Desire
Launched in 2006, Croma, owned by the Tata group, was the first corporate multi-brand digital gadgets and home electronics store chain in India. It operates more than 150 stores across 40 major cities of India. To cater to the growing needs of personal electronics across India, the brand launched a new format dubbed "Gadgets of Desire." After seeing success in about 27 Gadgets of Desire shop-in-shops across Croma megastores, they launched an exclusive standalone format. The store design was conceptualized to enable shoppers to enjoy an interactive experience of trying and playing with its products. Customers could evaluate over 70 types of speakers at the audio kiosks, create their own personal light show, test connected devices at the IoT zone, or go "wider-than-store" through its omnichannel pods, helping shoppers make very informed decisions across the store. Each zone, with customer-centric technology, is curated to deliver an enjoyable journey of exploring, trying, selecting, buying and unboxing the product at the store.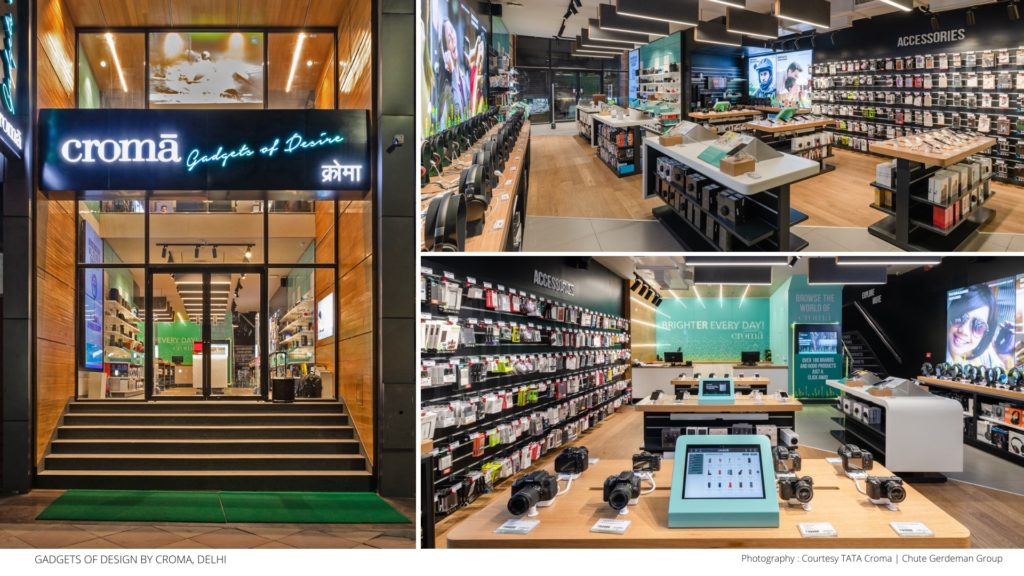 Uploading positivity for the future
According to "techARC India Smartphone Trends Report 2021," the Indian smartphone market is expected to return to growth in 2022 with shipments reaching 167 million units. The market, valued at $139 billion USD in 2021, is expected to grow with a CAGR of 10 percent and reach $281 billion USD by 2028. Indian markets have shown encouraging growth in demand to which brands and retailers are responding with innovative products and experiential buying channels, which in turn is positively uploading happiness and improved quality of life in every Indian.
Advertisement
PHOTO GALLERY
(3 IMAGES)
SPONSORED VIDEO
Embracing Whole-Brained Thinking in the Design Journey
Strategy needs creative, and creative needs strategy—yep, having both is really the only way of unifying all disciplines with a common vernacular with an eye toward building a strong creative vision that is foundational to the processes. Hear from Bevan Bloemendaal, former VP, Global Environments & Creative Services at Timberland, how to connect the dots between disciplines, claiming and creating a clear differentiation for the brand and ensuring that any asset (experience, product, ad, store, office, home, video, game) is created with intention.