Stuart Weitzman, New York
Form and function combine into a new showroom space for Stuart Weitzman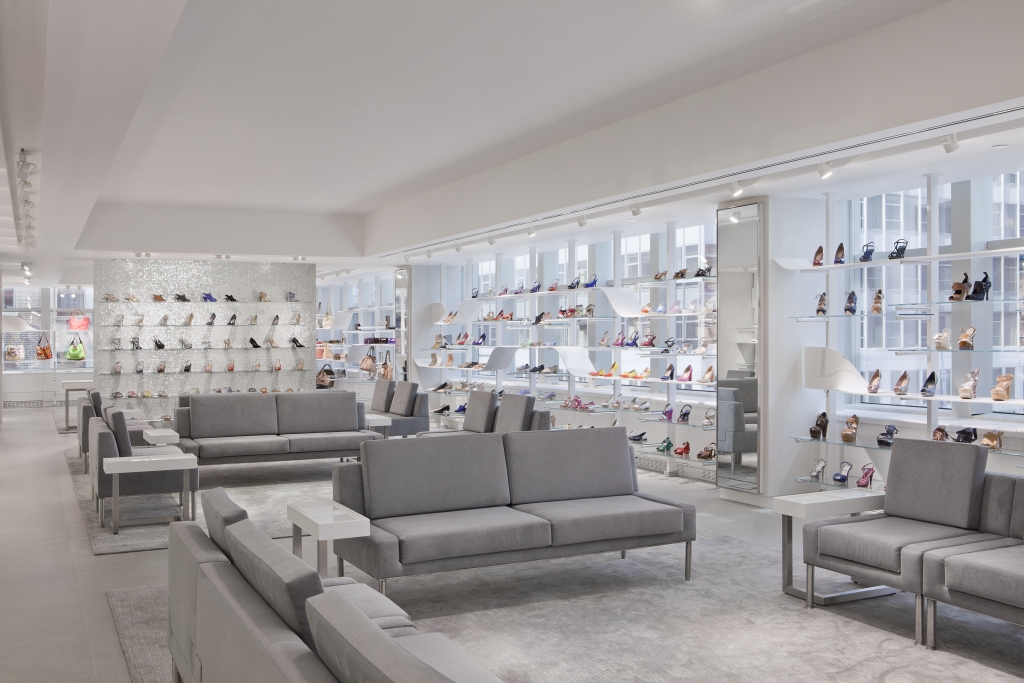 A woman can never have too many pairs of shoes but she can certainly not have enough space to store them. Such was the case for high-end shoe company Stuart Weitzman, which had outgrown its showroom space on West 57th Street in New York. Over the years, as the staff and company had grown, the business was spread to four separate floors and shoes were stacked one next to the other on showroom shelves.
Now, thanks to a new 15,000-square-foot showroom and global headquarters on Madison Avenue, designed by TPG Architecture (New York), the brand has room to grow. "They had retained Italian designer Fabio Novembre to develop their store concept, the most striking feature of which was a ribbon-like Corian display shelf that moves fluidly through the store," says James Phillips, principal in charge, TPG Architecture.
Inspired by that signature element, designers created a new display system that seemingly floats in front of the glass showroom walls. Made of white solid surfacing, the ribbons run along long walls with glass shelves floating between them. The materials palette further unifies the space and taps into the brand's colors, including columns and walls finished in Venetian plaster, porcelain tile flooring and signature purple accent color. Edward Fields rugs help define the seating areas, which are anchored by custom tables. "[They] all cross over from the store concept," says Phillips.
A flexible layout means that multiple SKU presentations can go in the larger showrooms, while VIP clients can be taken into private presentation rooms. A multi-purpose cafe and conference area divides the showroom and office environments, and can accommodate events as well as staff breaks and informal meetings. This space also houses the executive chairman and designer's next passion after shoes: table tennis.
"Mr. Weitzman will challenge you to a match at your first meeting," says Phillips. "At their prior office, a conference room was set up with a regulation table tennis that doubles as a conference table. This tradition continues as a feature of the new office as well as a ping pong ball feature wall in the new reception area."
A design win for all.
Advertisement
PROJECT SOURCE LIST
Retailer: Stuart Weitzman, New York – Stuart Weitzman, executive chairman and designer; Wayne Kulkin, Vice Chairman; Gary Rissler, Director, Store Planning, Construction and Facilities; Suzanne Anderson, Project Manager, Store Planning, Construction and Facilities
Design: TPG Architecture, New York –James Phillips, Principal in Charge; Alec Zaballero, Design Director; Diana Revkin, Account Executive; Carly Jacobson, Project Designer; Fredmy Mejias, Project Architect
General Contractor: Shawmut Design and Construction, New York
Audio/Visual / Telecommunications: Robert Derector Telecommunications, New York
Fixtures, Custom Millwork: Vision Woodworking, Fridley, Minn.
Advertisement
Flooring: Bentley Prince Street, City of Industry, Calif.; Edward Fields, New York; Stone Source, New York
Mosaic in showroom area: Innovative Stone, Hauppauge, N.Y.
Outside Consultants: MG Engineering, P.C., New York (MEP Engineer); Robert Derector Telecommunications, New York (Audio Visual / Telecommunications); Lighting Management Inc., Sloatsburg, N.Y. (Lighting Designer); Vision Woodworking, Fridley, Minn. (Millwork Contractor);OLI, New York (Furniture Dealer)
Photography: Peter Margonelli Photography, New York

SPONSORED VIDEO
Embracing Whole-Brained Thinking in the Design Journey
Strategy needs creative, and creative needs strategy—yep, having both is really the only way of unifying all disciplines with a common vernacular with an eye toward building a strong creative vision that is foundational to the processes. Hear from Bevan Bloemendaal, former VP, Global Environments & Creative Services at Timberland, how to connect the dots between disciplines, claiming and creating a clear differentiation for the brand and ensuring that any asset (experience, product, ad, store, office, home, video, game) is created with intention.