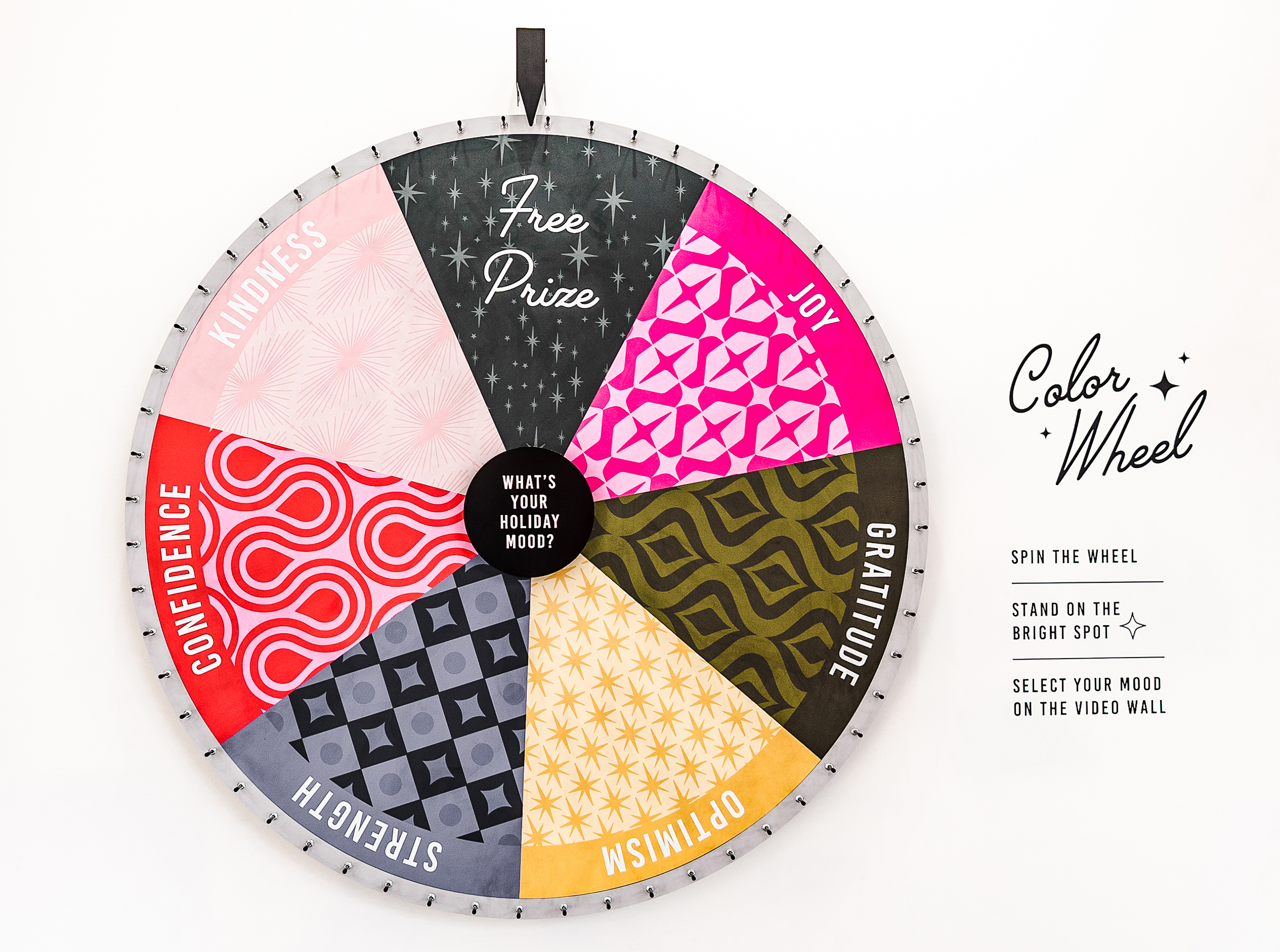 First Place:

"TENSPACE x BAN.DO"
Submitted by: Tenfold, Columbus, Ohio | Photography: Caleb Hunt, Columbus, Ohio
2022 International Visual Competition FIRST PLACE: Temporary/Pop-Up Retail Space
LOCATED IN THE SHORT North neighborhood of Columbus, Ohio, Tenspace is an ever-changing space meant for online or DTC brands to open IRL retail experiences. Each "show" lasts eight weeks in the interior owned and operated by design firm Tenfold, also based in Columbus.
Last year, due to supply chain issues and Covid, the brand lined up for the space's holiday 2021 run pulled out last minute. Luckily, the DTC brand ban.do (Los Angeles) – known for its quirky and stylish office accessories, home goods and apparel – was able to step in.
"Ban.do has a mental health platform to their brand and we found a lot of inspiration in that," says Rachel Friedman, Founder + CEO, Tenfold. "We felt like we could weave a philanthropic element into the show, recognizing that holidays are great for some and terribly difficult for others. In recognizing we don't all experience the holidays in the same way, and being cognizant of mental health, we came up with the theme of 'Making Spirits Bright.' "
Going beyond the traditional Christmas consumerism and Santa Claus aesthetic usually associated with the holidays, the store highlighted six sentiments from the brand's Good Intentions necklace line: Strength, Kindness, Confidence, Optimism, Gratitude and Joy.
Advertisement
Advertisement
One attraction included the Kindness Bar where patrons could write letters and advice to their younger selves. "It was amazing to us, as soon as people heard what that experience was like, they sat right down and started writing. It was very inspiring," Friedman says.
Not everything went off without a hitch, however. Several days before the scheduled opening, a fire broke out at one of Tenspace's fabrication partner's facilities, leaving some of their soon-to-be-installed elements irreparably damaged. Thankfully, Friedman says, some of their other fabrication partners were able to step in and save the day.
In the end, Friedman says, customers responded positively and were immersed with the touchpoints in store. "At Tenspace, we seek to create these emotional connections to create more intimacy, especially for these online brands that really lack that intimacy, and when we're successful it creates this sticky bond," Friedman says. "It's memorable, 'craveable,' likeable content."
PHOTO GALLERY
(13 IMAGES)
Advertisement
SPONSORED VIDEO
Embracing Whole-Brained Thinking in the Design Journey
Strategy needs creative, and creative needs strategy—yep, having both is really the only way of unifying all disciplines with a common vernacular with an eye toward building a strong creative vision that is foundational to the processes. Hear from Bevan Bloemendaal, former VP, Global Environments & Creative Services at Timberland, how to connect the dots between disciplines, claiming and creating a clear differentiation for the brand and ensuring that any asset (experience, product, ad, store, office, home, video, game) is created with intention.