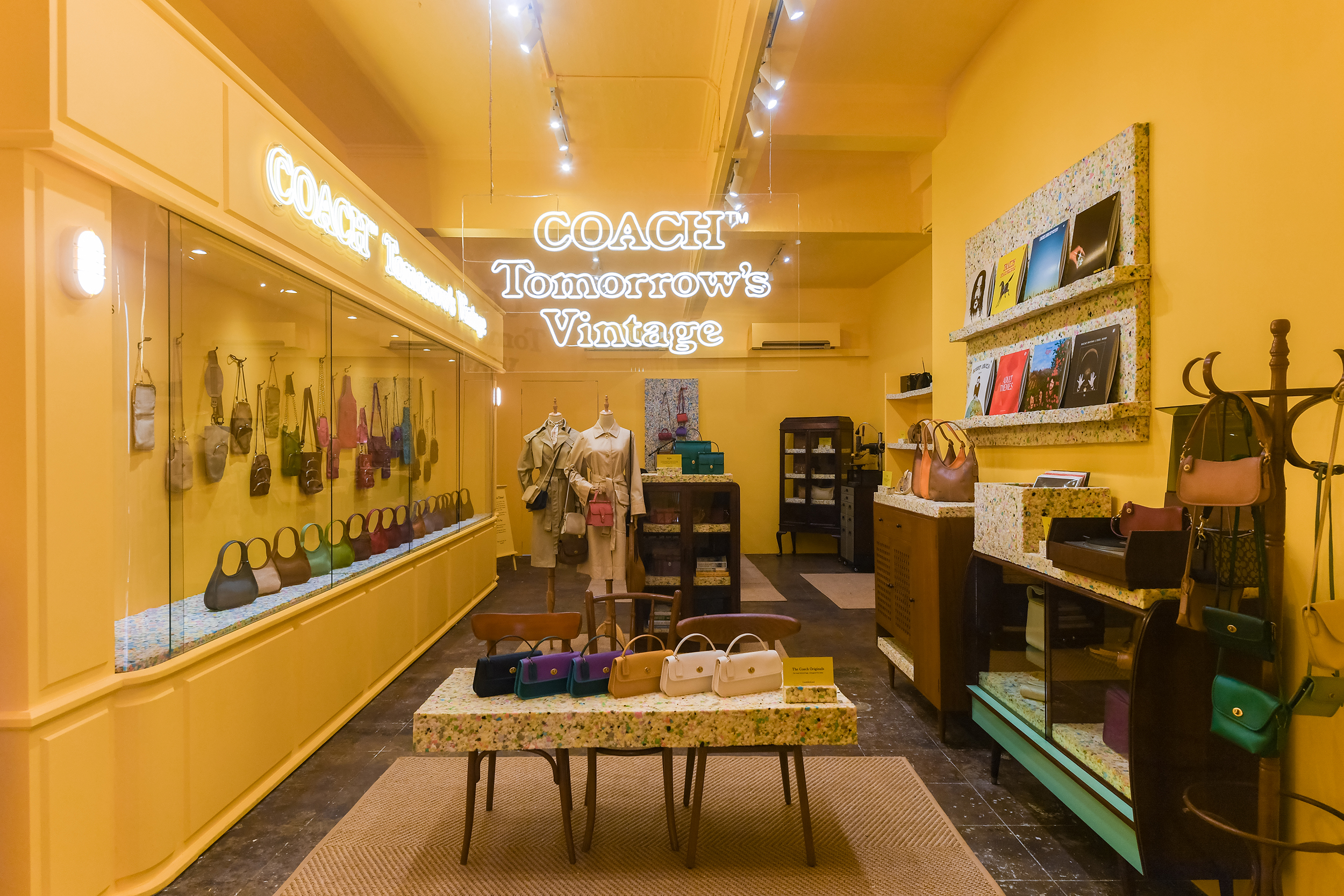 First Place:

"Tomorrow's Vintage/Coach (Re)Loved: Singapore and Korea"
Submitted by: Coach, New York | Photography: (Korea) Mr. Seokjoo Shim, Seoul, South Korea; (Singapore) Ashley Mak, Singapore
2022 International Visual Competition FIRST PLACE: Temporary/Pop-Up Retail Space
IN THE SPIRIT OF one of the brand's mottos – "Wear It, Love It, Pass It On" – these Coach (Re)Loved pop-up stores directly reference designs from the luxury retailer's first ever New York store, commemorating the company's 80-year anniversary.
The experiences inside both locations highlighted in this competition – one in South Korea and the other in Singapore – intended to explore the brand's past, present and future, according to Rachel Harding, Set Design and Art Direction, Coach. "Vintage has always been a very important part of our brand's story," she says. "At Coach, we love the idea that our bags can be worn, loved and eventually passed down. Because of this, we often say that 'Today's Coach is Tomorrow's Vintage.' We wanted to bring this story to life and to recreate an authentic New York City thrift store for our customers around the world."
A mix of vintage and modern elements, all sourced locally, decorated the interiors. For the Singapore location, designers repurposed existing space in the city's Chinatown neighborhood, aiming to preserve construction materials and drawing additional inspiration from the building's aesthetic. For its South Korea locale, a multi-story space was split into small, curated rooms emphasizing the "story and life" behind items, including purchasing, customization, repairing and repurposing.
Advertisement
"A challenge was to keep the experience cohesive for our customers across different regions," explains Harding. "However, we found that tailoring our pop-ups to different localities was very inspirational. Using elements specific to each region left each pop-up with its own special look and feel and created a genuine connection with the locality."
Creating an environmentally responsible design was key to the project, Harding says, so furniture in both spaces was rented from vintage stores or borrowed from local artists, and other materials like recycled foam and timber were also used throughout. At the conclusion of the pop-ups' run, all materials were either reused or recycled.
"Our customers particularly enjoyed seeing rare and exceptional vintage bags from our Coach archive on display, and learning more about Coach's unique history," explains Harding. "What we hadn't expected was that the pop-up would be a very strong commercial success, with many of our vintage bags selling out. I think that this pop-up really brought the world of Coach alive for our customers in an authentic way."
PHOTO GALLERY
(30 IMAGES)


Korea and Singapore Location
SPONSORED VIDEO
Embracing Whole-Brained Thinking in the Design Journey
Strategy needs creative, and creative needs strategy—yep, having both is really the only way of unifying all disciplines with a common vernacular with an eye toward building a strong creative vision that is foundational to the processes. Hear from Bevan Bloemendaal, former VP, Global Environments & Creative Services at Timberland, how to connect the dots between disciplines, claiming and creating a clear differentiation for the brand and ensuring that any asset (experience, product, ad, store, office, home, video, game) is created with intention.