Getting Personal
From a curated, self-care-fueled concept to technology-driven, made-to-order skincare, personalized retail experiences deliver consumer engagement and community in a post-pandemic world.
ACCORDING TO A 2021 report dubbed "Next In Personalization," by global management consulting firm McKinsey & Co. (New York), 71 percent of surveyed consumers expect a personalized shopping experience. What's more, 76 percent are frustrated when companies fail to deliver on that. Thanks to the pandemic, "personalization matters more than ever before," reads the report, and reaching shoppers across all channels is viewed "as the default standard for engagement."
Take for example San Francisco-based Levi Strauss & Co., which invested heavily in its e-commerce channels and even turned its temporarily shuttered stores into mini distribution centers at the height of the pandemic. "We had to build, very, very quickly, capabilities like order online, pick-up curbside," the retailer's president and CEO Chip Bergh explained at a Fortune Brainstorm Tech Conference last fall. Now, the brand is looking toward personalization, whether that's offering in-store tailor shops to customize purchases or collecting data from its loyalty program to curate its digital experience.
Beyond apparel, other retail concepts are following suit with personalized experiences: At Manifest, a recently opened lifestyle concept in Washington, D.C., a customer can get a haircut in the barbershop, sip on a cold brew in the coffee shop, or even order a cocktail at the 30-seat speakeasy.

And according to K.J. Hughes, who dreamt up the self-care-focused, membership-preferred concept with partners Brian Merritt and Susan Morgan, it's not about selling a tangible good, but rather selling an experience. "This idea of exchange is one of our critical pillars," Hughes says. "When you come in, you're taking part in this experience. You're leaving with something of value beyond a physical good, information that you didn't know, or a brand or piece of conversation that you weren't aware of."
Advertisement
Manifest's curated journey unfolds across 3900-square-feet and four levels and features an elevated barbershop concept, retail store, coffee shop, speakeasy and a soon-to-open bookable, top-floor residence with a retractable glass roof door to take in views of the nearby Washington Monument. Its design, implemented by New York-based firm Snarkitecture, creates unity among the different offerings via continuous curves and arches. Terrazzo details and mixed patterns throughout lend a sense of depth. The overall aesthetic is intentionally welcoming and intended to invoke conversation, which, according to the McKinsey report, is key: "[Shoppers] respond positively when brands demonstrate their investment in the relationship, not just the transaction."
"A lot of businesses are trying to sell 'things,' " Hughes explains, "and we're selling memories. I want people to walk into this space and feel like it was built for them."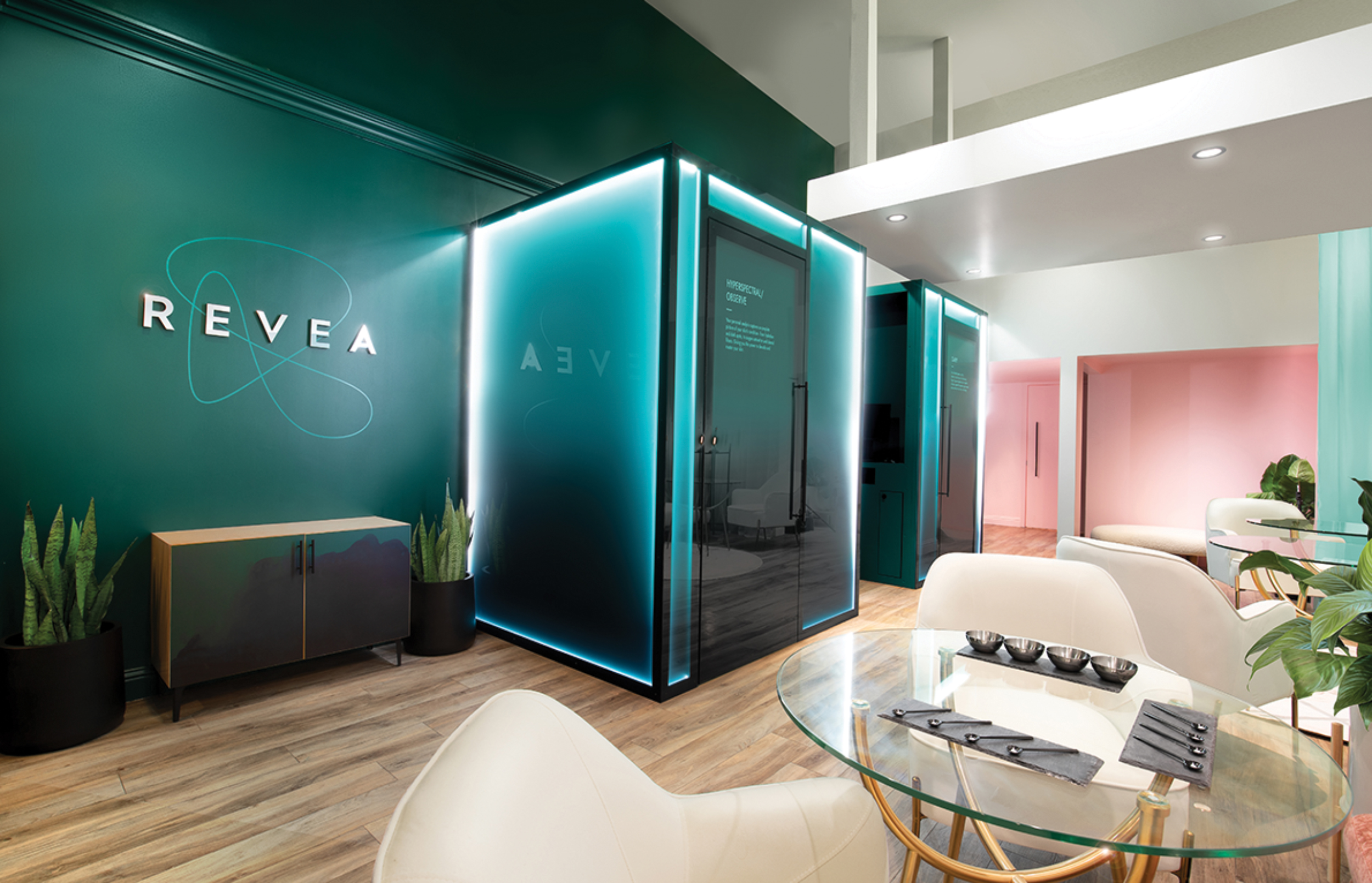 FOR YOUR FACE ONLY
San Francisco-based skincare brand Revea relies on science and technology to treat its customers to a truly personalized and precise skincare experience. In its 800-square-foot shop, designed in partnership with retail brand experience agency ChangeUp (Miamisburg, Ohio), guests sit for a one-on-one consultation while A.I. technology and scientific diagnostics analyze customers' dermal layers to determine overall skin health. Using those results, Revea creates a tailored trio of potions to address specific concerns, thus skipping the need to browse a store full of hit-or-miss products, which it doesn't really stock anyway – the personalized formulations are made to order.
"There's a lot of smoke and mirrors around 'customization' in the skincare industry, with brands typically pooling from a small bucket of options," says Amanda McAllister, ChangeUp's Creative Director. "Revea, however, can make more than 3300 different formulations." An in-house chemist working in a back-of-the-house lab crafts the formulations. (Revea plans to bring its technology to mobile this spring.)
PHOTO GALLERY
(13 IMAGES)


📷: Michael Grant | Karston Tannis, New York | Changeup

Advertisement

Advertisement
SPONSORED VIDEO
Embracing Whole-Brained Thinking in the Design Journey
Strategy needs creative, and creative needs strategy—yep, having both is really the only way of unifying all disciplines with a common vernacular with an eye toward building a strong creative vision that is foundational to the processes. Hear from Bevan Bloemendaal, former VP, Global Environments & Creative Services at Timberland, how to connect the dots between disciplines, claiming and creating a clear differentiation for the brand and ensuring that any asset (experience, product, ad, store, office, home, video, game) is created with intention.