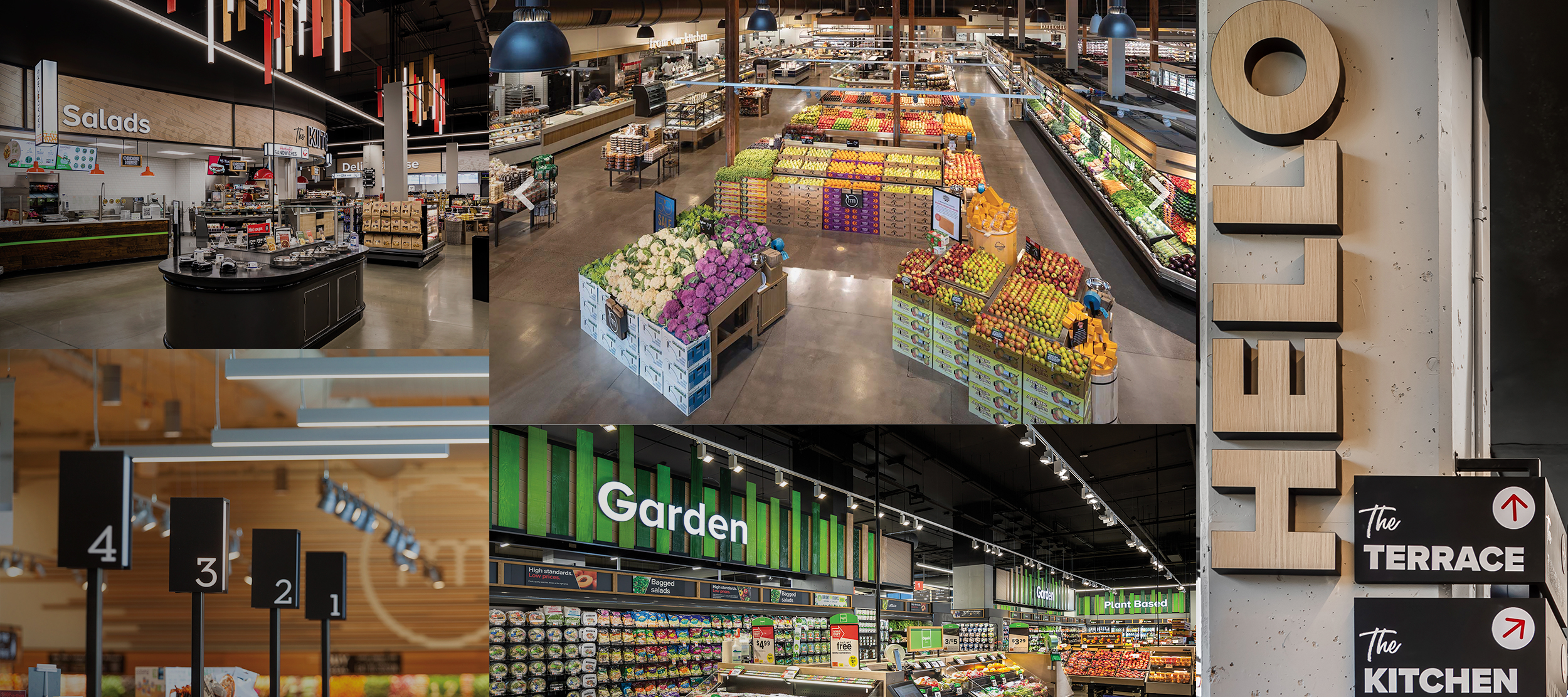 These 3 Upscale Supermarkets Are Changing the Way We Think About Grocery Store Design
A trio of cutting-edge, upscale supermarkets feature enriched environments and merchandise mixes
GOURMET GROCERY STORES typically don't compete on price with their conventional counterparts. Instead, they rely on curated offerings and pleasing presentations or environments to bring customers through the doors.
What follows are the designs of three recent examples of the latter principles in action – one apiece on opposite coasts of the U.S., and the other halfway around the globe, in India. Despite their geographic dispersion, they all follow the same basic strategy: provide an elevated in-store experience that will keep people coming back.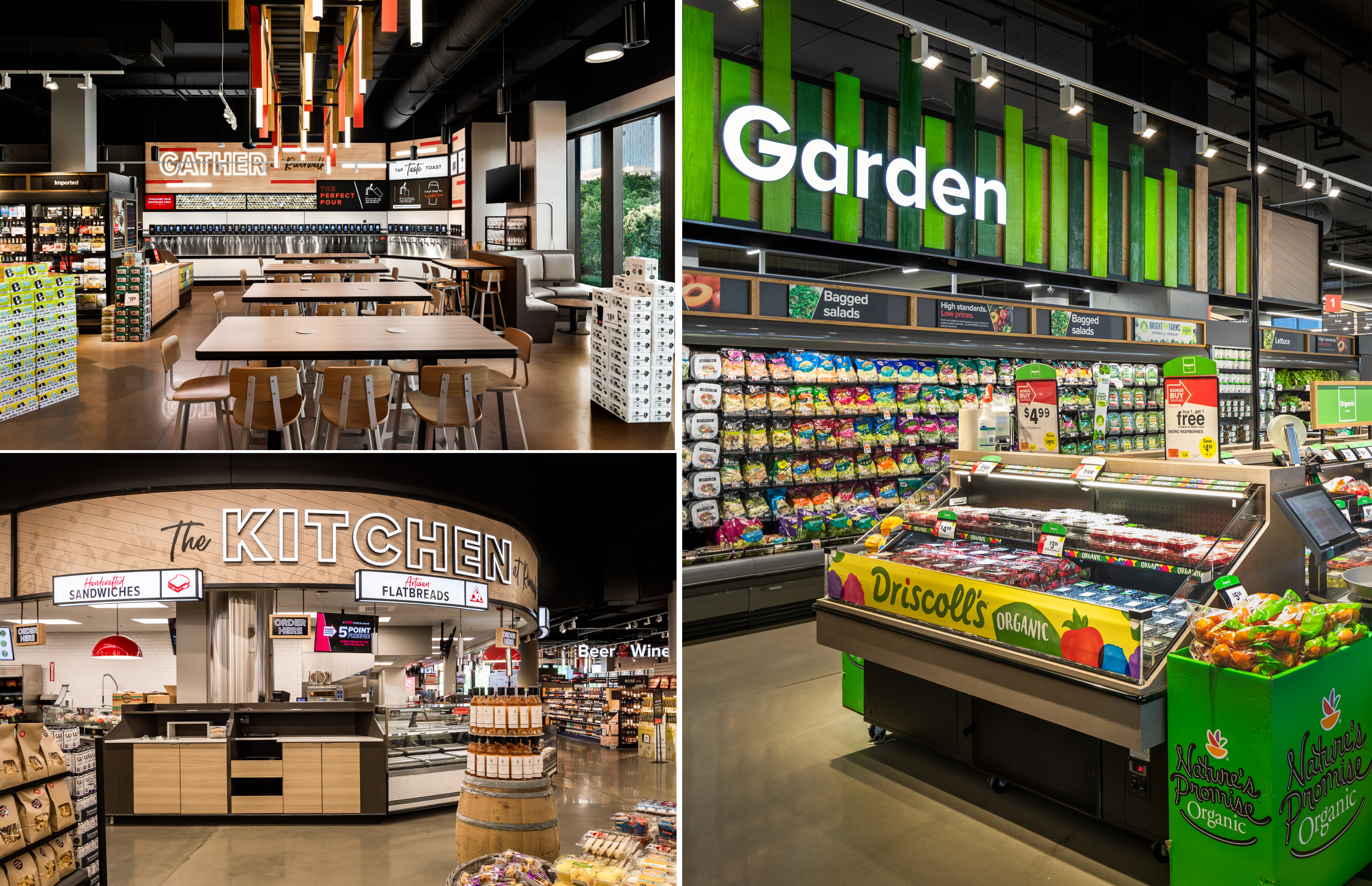 GIANT RIVERWALK

Philadelphia
With 65,000 square feet of space spread across two levels, this new-build space gave designers from Giant's in-house team and Chute Gerdeman (Westerville, Ohio) plenty of room to create a distinctive destination in downtown Philadelphia. Located in a mixed-use development on the eastern bank of the Schuylkill River, the design of the latest Giant carries "A Reason to Gather" as its central theme, says Maxwell Miller, Chute Gerdeman's Manager, Marketing and Brand Strategy.
"That motif means accessibility is everything in the store," Miller says. "For that reason, the store's ground-level floor is home to a Giant Direct station, where customers can do such things as pick-up groceries ordered online, along with a beer garden with a self-serve tap wall and a first-for-the brand food hall that offers a variety of high-quality dishes served up at a variety of tables."
The second floor, which is reached by an escalator, "is devoted to health-conscious food options available in abundance," Miller says. Serving as the level's centerpiece is a section called the garden, which is devoted to locally grown plant-based products and produce. Key areas on the selling floor are highlighted with natural lighting, wood materials and custom light fixtures. To add even more local flavor, works from area artists are also part of the scene.
The overall result, says Giant president Nicholas Bertram, is "the perfect blend of modern sophistication and surprise."
Advertisement
METROPOLITAN MARKET

GIG HARBOR, WASHINGTON
The newest Metropolitan Market, in Gig Harbor, is the 10th locale of a chain that describes itself "the leading progressive independent grocer in the region." Situated about 50 miles south of Seattle (where the chain got its start in 1971) Gig Harbor is the name of both a bay on Puget Sound and a city on its shore.
The new Metropolitan – housed in a 1980-era building that was formerly home to another grocery brand – reflects a "food-as-focus" construct, says Project Manager, Kara Eberle, at Cushing Terrell (Seattle).
"The Gig Harbor store's design leverages that concept to mimic a dining and restaurant experience centered on encounters with foods and flavors, while incorporating the characteristics of the brand and the surrounding community," Eberle explains. "That includes fresh ingredients featured alongside a vast array of prepared foods, and an island service station that includes a cooking kiosk enabling food-prep demonstrations."
Advertisement
Because there is water, water everywhere in Gig Harbor, the store's interior uses warm woods complemented by blue nautical tones that reflect the area's connection to the bay and its maritime history.
SUPER MARCHE

LUDHIANA, INDIA
The first luxury gourmet grocery store in the northern Indian city of Ludhiana, this new-build space seeks to provide "a unique and memorable shopping experience to the customer," says Bhavuk Jain, Architect/Planner/Interior Designer at Sync Design Studio (Gurgaon, India).
Noteworthy elements of that approach include an arched, glass façade, a double-height chandelier just inside the store's entrance, an adjoining 20-foot-high mirror wall and an exposed ceiling accentuated by rafters and mirrors. Visually interacting with those mirrors is flooring adorned with a dynamic, striped pattern.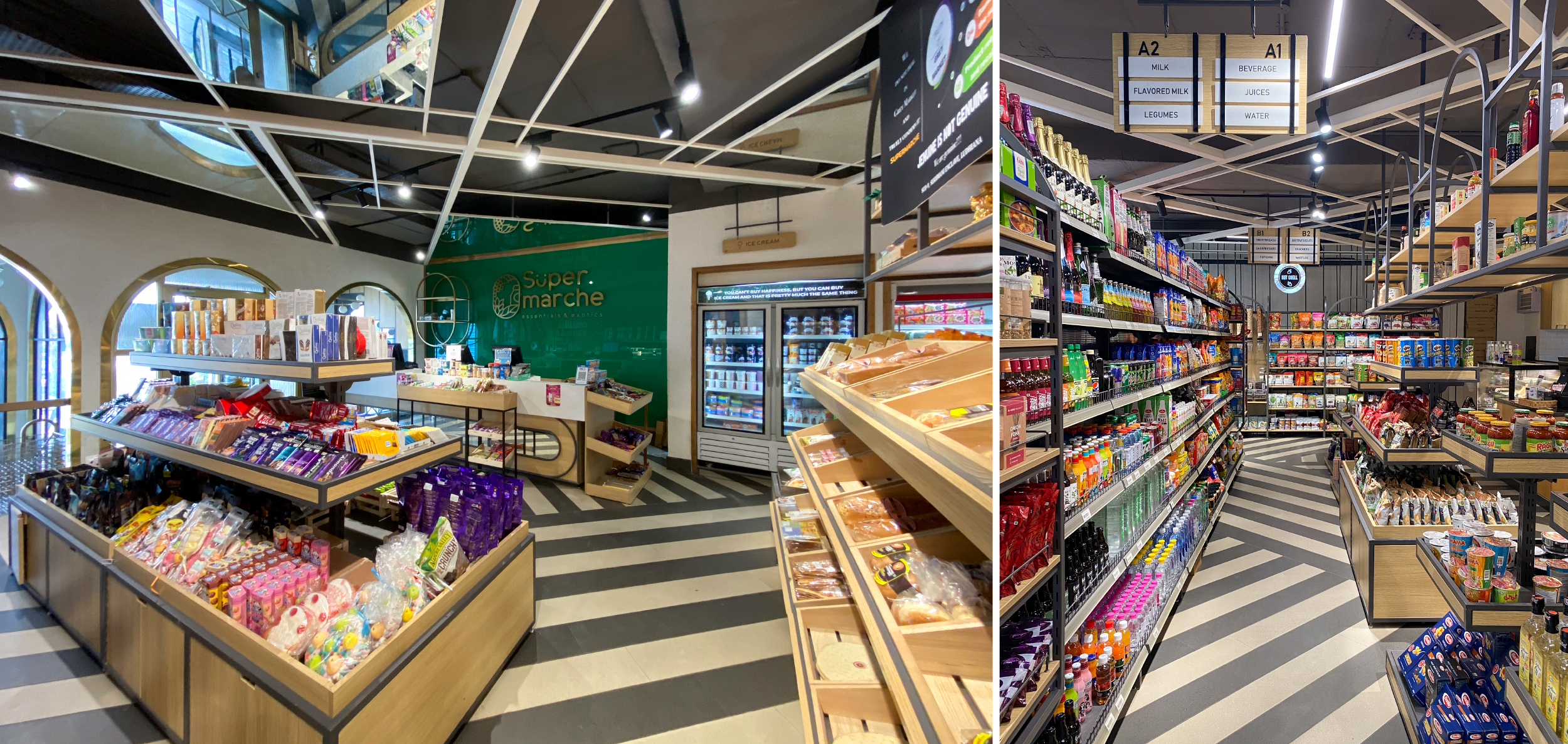 Advertisement
"Tying those two elements together brings cohesion and harmony to the space," explains Jain.
In addition, designers sought to "bring some normalcy to the space in a way the is reminiscent of the pre-Covid era," he says, "by introducing a barista to provide coffee to shoppers."
Editor's Note: Due to an editorial oversight, Metropolitan Market was styled incorrectly as "metropolitanmarket." This has been updated to reflect the correct styling. The quotes in the write-up for Metropolitan Market should have also been attributed to Project Manager Kara Eberle (Architect and Associate Principal) for Cushing Terrell. These attributions have also been updated to reflect the correct source. We sincerely apologize for the editorial error.
PHOTO GALLERY
(46 IMAGES)


📷: Chute Gerdeman | Cushing Terrell | Sync Design Studio

Advertisement
SPONSORED VIDEO
Embracing Whole-Brained Thinking in the Design Journey
Strategy needs creative, and creative needs strategy—yep, having both is really the only way of unifying all disciplines with a common vernacular with an eye toward building a strong creative vision that is foundational to the processes. Hear from Bevan Bloemendaal, former VP, Global Environments & Creative Services at Timberland, how to connect the dots between disciplines, claiming and creating a clear differentiation for the brand and ensuring that any asset (experience, product, ad, store, office, home, video, game) is created with intention.