This Ice Cream Shop Is a Treat on the Eyes
The store's minimalist interior is packed with pastels and a vibrant mural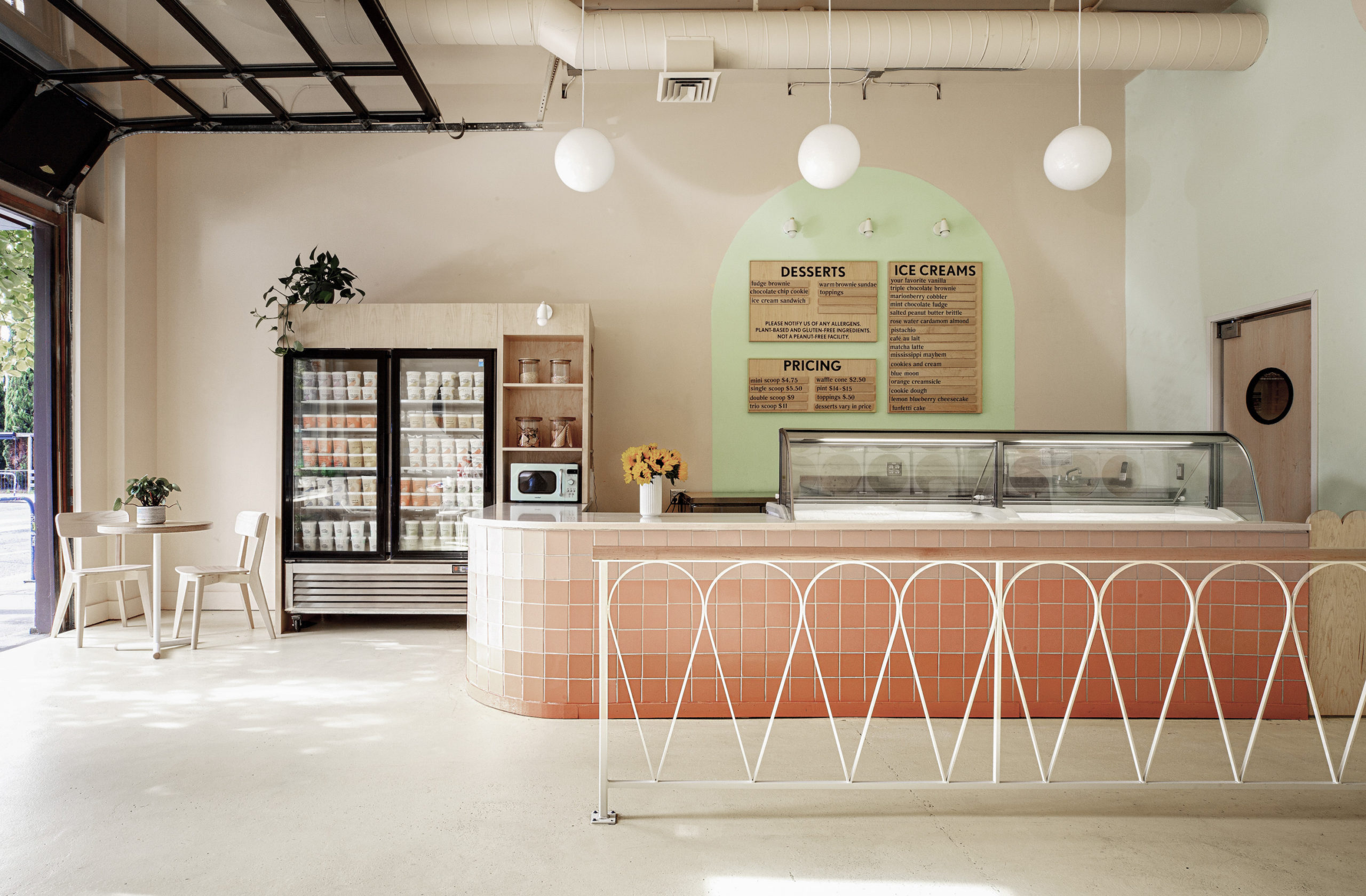 INSPIRED BY HER dairy conscious younger sister, Founder of Kate's Ice Cream Katelyn Williams recently established a permeant residence for her growing plant-based and gluten-free ice cream business on S. Mississippi Avenue. In collaboration with Casework Interior Design (Portland, Ore.), the resultant space is inviting yet minimalistic, and packed with pastels.
The storefront welcomes customers to enjoy their sweet treats by first visiting the bright ombre counter upon entering, which includes seven layers of peachy and sorbet inspired color selections.
In an effort to complement the locally sourced ingredients found in Katelyn's ice cream, the store features works from local artists and designers. Along the back wall, a mural by Lynzee Lynx (a local artist and friend of Katelyn) brings a level of vibrancy as well as dimension to the space. A variety of white oak furniture designed by Casework provides a comfortable space for customers to enjoy their ice cream or simply relax.
PHOTO GALLERY
(7 IMAGES)


📷 Audra Rhodes
SPONSORED VIDEO
Embracing Whole-Brained Thinking in the Design Journey
Strategy needs creative, and creative needs strategy—yep, having both is really the only way of unifying all disciplines with a common vernacular with an eye toward building a strong creative vision that is foundational to the processes. Hear from Bevan Bloemendaal, former VP, Global Environments & Creative Services at Timberland, how to connect the dots between disciplines, claiming and creating a clear differentiation for the brand and ensuring that any asset (experience, product, ad, store, office, home, video, game) is created with intention.