Tommy Hilfiger Flagship to Add 40-Seat Cinema
It's part of a renovated space aiming to deliver a new shopping experience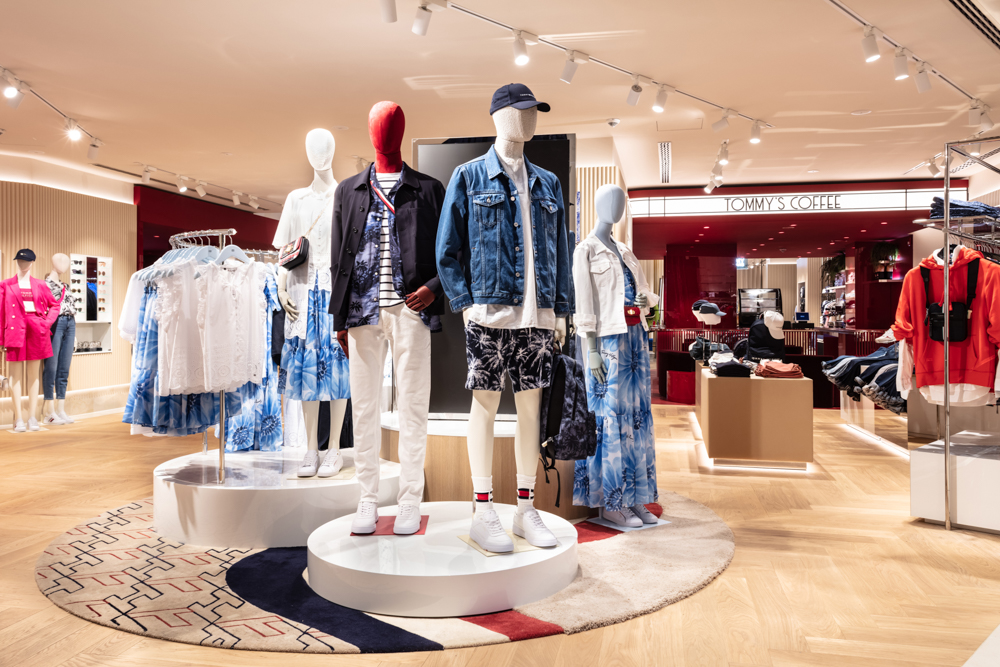 TOMMY HILFIGER'S (AMSTERDAM) Berlin flagship has undergone an expansive renovation and expansion to add a Tommy's Coffee, and in the near future, a 40-seat cinema. The 476-square-meter space, reimagined by rpa:group (Ashford, U.K.), is located on Kurfurstendamm in Berlin's city center and reopened at the end of June.
In keeping with the brand's commitment to sustainability, EcoVero viscose, recycled polyester and Lyocell fabrics were specified for the fixtures and fittings. The maritime essence of the brand is reinforced through wood accents, minimalist white-lacquered details and polished steel elements, along with a soft oak floor.
Tommy Hilfiger's iconic brand colors – red, white and navy – are reflected in the custom-made carpets which feature a TH jacquard and chevron. A digital flat screen communicates branded content and offers a path to the brand's e-commerce side.
While the overhead store lighting is kept a warm, neutral white, the product is accented by cool-toned fluorescents to capture the effortlessly cool nature of the Tommy Hilfiger brand.
Tucked away in the back of the store but certainly not out of site, a bold and daringly monochromatic section that houses the new coffee bar (and will eventually be home to the cinema) features red walls and luscious red furniture.
PHOTO GALLERY
(16 IMAGES)


📷: Saleub Nowicki, Poland

Advertisement
SPONSORED VIDEO
Embracing Whole-Brained Thinking in the Design Journey
Strategy needs creative, and creative needs strategy—yep, having both is really the only way of unifying all disciplines with a common vernacular with an eye toward building a strong creative vision that is foundational to the processes. Hear from Bevan Bloemendaal, former VP, Global Environments & Creative Services at Timberland, how to connect the dots between disciplines, claiming and creating a clear differentiation for the brand and ensuring that any asset (experience, product, ad, store, office, home, video, game) is created with intention.