Victoria's Secret Drops a "Bombshell" Pop-Up
PORTFOLIO:

The captivating project drew 93,000 visitors and an unannounced visit of a pop star

IN TIME FOR THIS Mother's Day, Victoria's Secret dropped a bombshell on The High Line this spring – a 10,000-square-foot pop-up devoted to its Bombshell product, its best-selling fragrance launched in 2010.

Running May 3-9, Victoria's Secret Bombshell Gardens transformed a 500-foot space (from 14th to 16th streets) into a high-energy experience with fresh-cut florals and greenery, special events and music in New York City's elevated park.
Victoria's Secret collaborated with The Lionesque Group (New York), an MG2 (Seattle) studio, on design, development and build out. The fruity floral fragrance itself served as inspiration. Taking a cue from Bombshell's peony middle note, designers incorporated 58,000 fresh stems, half of them Shangri-la peonies with softball-sized blooms, in oversized bouquets, flower beds, structures and swags.
According to Melissa Gonzalez, Founder of Lionesque Group, the team started work last December in order to open by early May and obtain the necessary permits to secure The High Line. To do that, she says, "We had to have design concept pretty well locked-in by the of end January in order to pursue approvals for NYC parks department and permitting."
Advertisement
Advertisement
With okays in place, the team sourced fresh-cut floral as well as 150 pounds of greenery, 525 feet of LED neon and 1350-square-feet of vinyl in Victoria's Secret signature pink. Of course, the sensorial experience included a well-placed and welcoming sales area.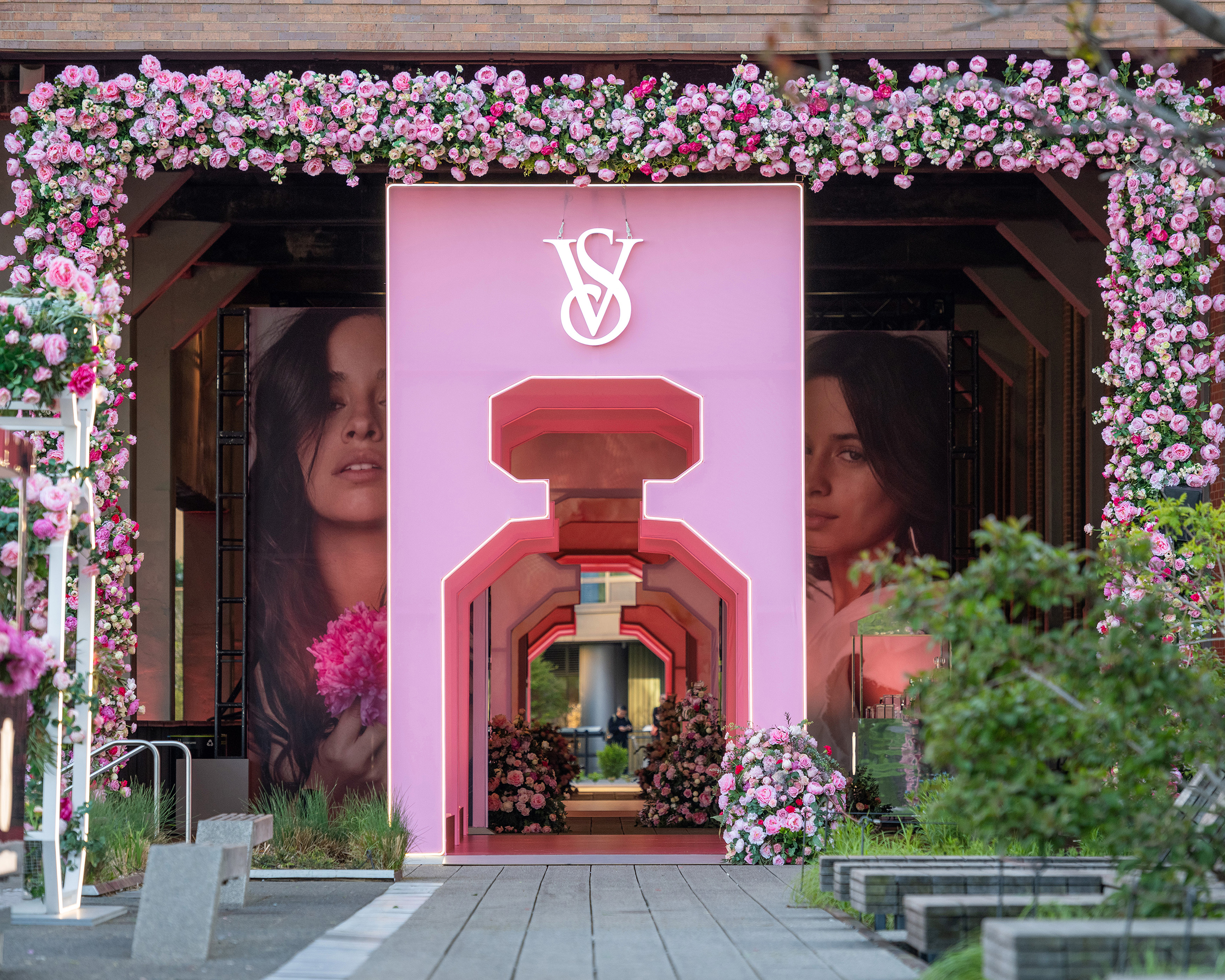 To mark the Gardens' entrance, designers reimagined Bombshell's emerald-cut bottle as a portal. Walking through the trellis-like structure, visitors passed several bottle-shaped, Instagram-worthy selfie stations (#LikeABombshell). Brand ambassadors stationed at a series of mirrored floral carts greeted all with free blooms and fragrance spritzes. Visitors could then enter an enclosed, pink "infinity tunnel" – again echoing the octagonal bottle – to upbeat music and the voice of pop star Camila Cabello. Cabello, Bombshell's current face, could be heard sharing her thoughts on the word "bombshell."
Another bombshell moment? An unscheduled visit by Cabello. Victoria's Secret Albert Gllkey, SVP, Store Design & Construction, says, "Camila surprised us when she came by and connected with the audience signing autographs and taking photos with customers … The (public) reaction was beyond our imagination."
From the estimated 93,000 visitors to four reported marriage proposals to significant social media impressions, Gilkey says, "It was a surprise and delight every single day."
Advertisement
PHOTO GALLERY
(10 IMAGES)


📷 Adrian Wilson, New York
SPONSORED VIDEO
Embracing Whole-Brained Thinking in the Design Journey
Strategy needs creative, and creative needs strategy—yep, having both is really the only way of unifying all disciplines with a common vernacular with an eye toward building a strong creative vision that is foundational to the processes. Hear from Bevan Bloemendaal, former VP, Global Environments & Creative Services at Timberland, how to connect the dots between disciplines, claiming and creating a clear differentiation for the brand and ensuring that any asset (experience, product, ad, store, office, home, video, game) is created with intention.