We're Not Done Yet
NEXT UX:

The next boom in design, space and experience is already here.

I'VE JUST RETURNED from Washington, D.C., where I attended SEGD's Experience Design Summit. While in the nation's capital, I did deep-dive visits to the Navy Pier area and The Wharf. Months ago, I did something similar while in London with a visit to the Battersea Power Station. These destinations showcased fantastic architecture, gleaming new restaurants and busy retail outlets.

But aren't shopping centers "dead"? Or at least the traditional shopping mall? Not exactly, but the three projects represent where most of our opportunities to design, supply and live will be for decades. All three have something in common – something that finally dawned on me while listening to speakers discuss the future of experience design during SEGD's Summit: They are all surrounded by landmarks teeming with history. They're also located in waterfront settings.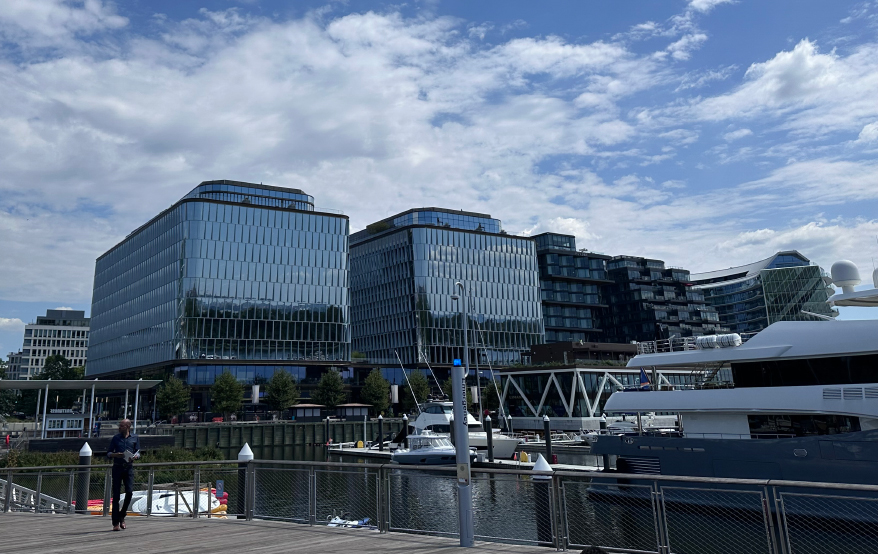 I don't mean a feature fountain that used to be an icon of many mall properties. Though not all properties can be so fortunate to include an iconic riverfront, it does show the importance of "scenery space," where parks or other neutral zones allow customers to relax and enjoy the view. It's also imperative to make sure to honor the history of a place: No matter how much you place furniture in the common areas – thinking you're creating a sense of place – the customer knows better.
In 2017, CNN Business reported that according to a study by Credit Suisse, between 20-25 percent of American malls would close by 2022 (reportedly, an average of 1170 shopping malls closed each year between 2017 and 2022). Business Insider reported, as of 2022, that 700 malls are left in the U.S., down from 2500 in the 1980s. Business Insider also predicted that within nine years, there will only be 150 malls remaining in the U.S.
Sounds bad, doesn't it? But don't buy all the negative headlines! So many projects around the planet have major retail, hospitality and F&B anchoring residential and office space.
Advertisement
The Yards in Washington, D.C., is an amazing testament to what can be done in a brownfield environment. Formerly a "nothing" area that was populated by urban blight, today, it's a very different story.
The so-called Capitol Riverfront and The Yard have brought a new urban oasis to a city short on buildable space. The 42-acre site sits on the Anacostia River and was part of the Washington Navy Yard. It now contains 2800 residential units and 2.2 million square feet of office space, hospitality and retail/restaurant space. It's also home to the Washington Nationals Major League Baseball team. It's a perfect example of a space becoming a destination for working, playing and eating, blending great architecture anchored into historic structures left over from the U.S. Navy.
The Wharf is worth an architectural walking tour as stunning buildings populate it. Hoffman & Associates, along with Madison Marquette, are still at work finalizing what is now a prime destination amongst some stiff competition in Washington, D.C. Why is it working? Its waterfront promenade is simply stunning and alluring to experience: It's density against nature, paired with affording views of Virginia and some of the famous D.C. monuments. New York-based Limani is opening a new signature mediterranean seafood restaurant there in September. Its three floors are designed to provide patrons with a front-row seat to the waterfront while sampling Greek specialties.
U.K.'s Battersea Power Station on the banks of the Thames in London was master planned by Rafael Viñoly Architects for London-based developer WilkinsonEyre, with an estimated cost of £8 billion (about $10 billion USD). It was a 30-plus year journey to turn this massive, 8-million-square-foot project into a new destination for the Battersea neighborhood.
Advertisement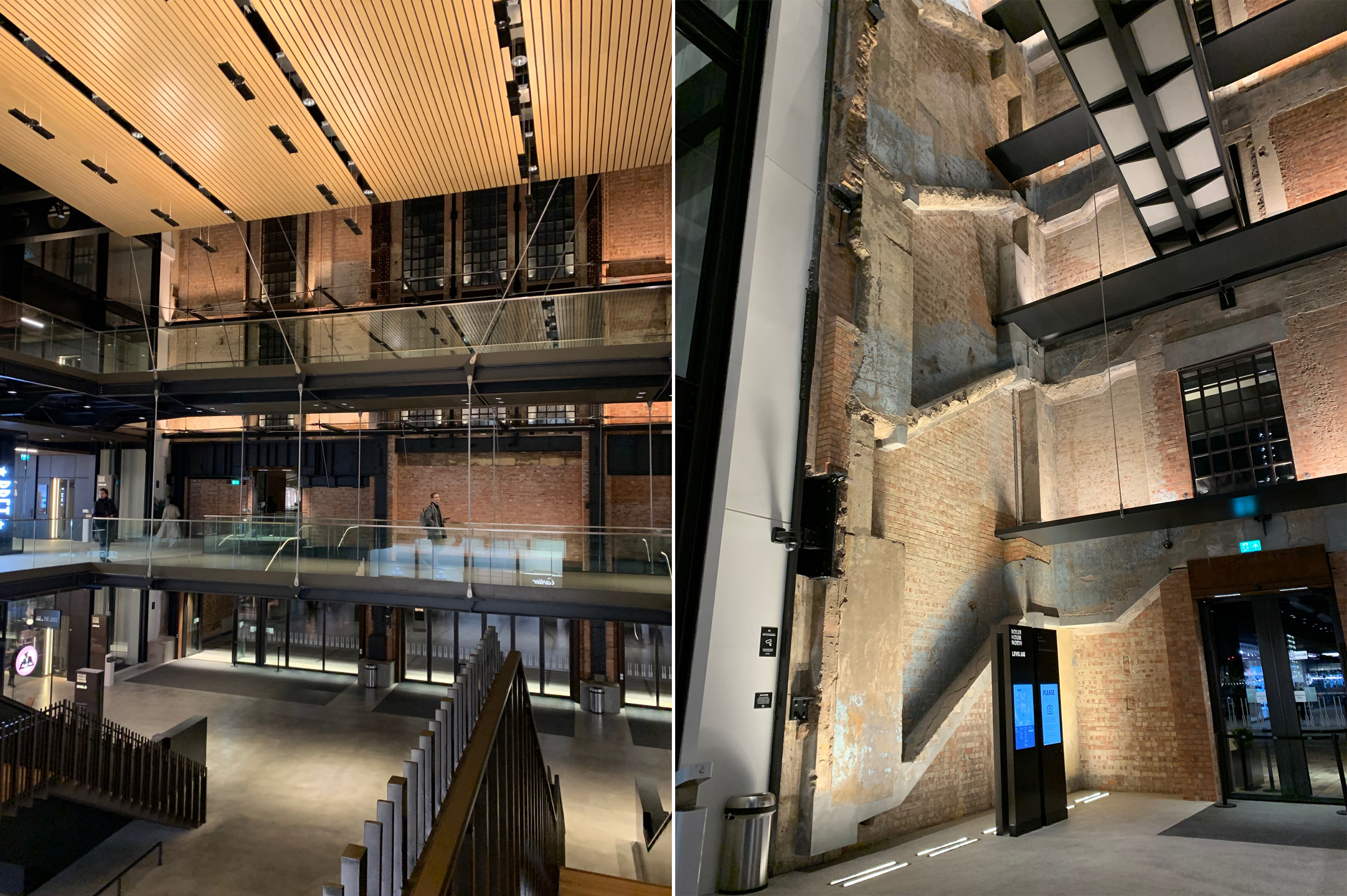 Imagine this ugly, old powerplant being reimagined into a must-visit retail center housing more than 100 shops. I can tell you firsthand that this is now a key stop for national and international brands in a town of countless great high streets. Even Apple selected the plant for its new offices spanning six floors. There are great examples of brands here, such as Adidas, Breitling, Lego, Levi's, Nike and Rituals.
Advertisement
There is also a hidden jewel there called Petit Pli, a modern fit-for-purpose childrenswear apparel brand featuring clothes that expand and contract to grow as your child grows. Avoiding clothing waste is a marketing positioning that addresses a global problem, and the brand has won numerous awards from Red Dot and Dezeen, as well as the James Dyson Award. Landini Associates designed the Battersea location with an extraordinary interactive window display that uses a mechanical system to showcase how the clothing can transform seven sizes.
Back in the U.S., in Texas's booming Dallas-Fort Worth region, another multi-billion-dollar development called The Mix in Frisco is coming. A 20-acre open, green space will be one of many highlights for this new walkable community in a state well known for its traffic and car culture. Current programming will have 375,000 square feet of retail, including a grocery anchor. Three million square feet of residential will also be included, meaning a constant flow of customers.
My former home in San Diego is planning a $3.5 billion project that will change the waterfront. It will reportedly span the waterfront and replace the Seaport Village that was once a tourism stop. This project likely won't be complete for another four or five years. Still, it'll become a national destination and future retail and restaurant zone catering to millions of annual visitors.
📷 BRIAN DYCHES
In the end, change is good. In our case, we have much to design, merchandise and create for decades to come. As this column's title suggested, we're not done, and I can't wait to be an active voice in creating the hundreds of experiences to come. Don't believe we've lost the battle for one minute – we're just working with new rules.
In keeping with change, this article shall serve as my last one, and I look forward to my Ensemble colleague Sharon Lessard penning the Next UX article for VMSD's upcoming November/December issue. I will continue to serve our industry from New York and Milan as I transition to new places and challenges. Thank you to our readers for your support, and I hope to see you at a future industry event as we all seek to continue evolving and discovering what's next.
Advertisement
PHOTO GALLERY
(30 IMAGES)


📷 BRIAN DYCHES

Advertisement
SPONSORED VIDEO
Embracing Whole-Brained Thinking in the Design Journey
Strategy needs creative, and creative needs strategy—yep, having both is really the only way of unifying all disciplines with a common vernacular with an eye toward building a strong creative vision that is foundational to the processes. Hear from Bevan Bloemendaal, former VP, Global Environments & Creative Services at Timberland, how to connect the dots between disciplines, claiming and creating a clear differentiation for the brand and ensuring that any asset (experience, product, ad, store, office, home, video, game) is created with intention.