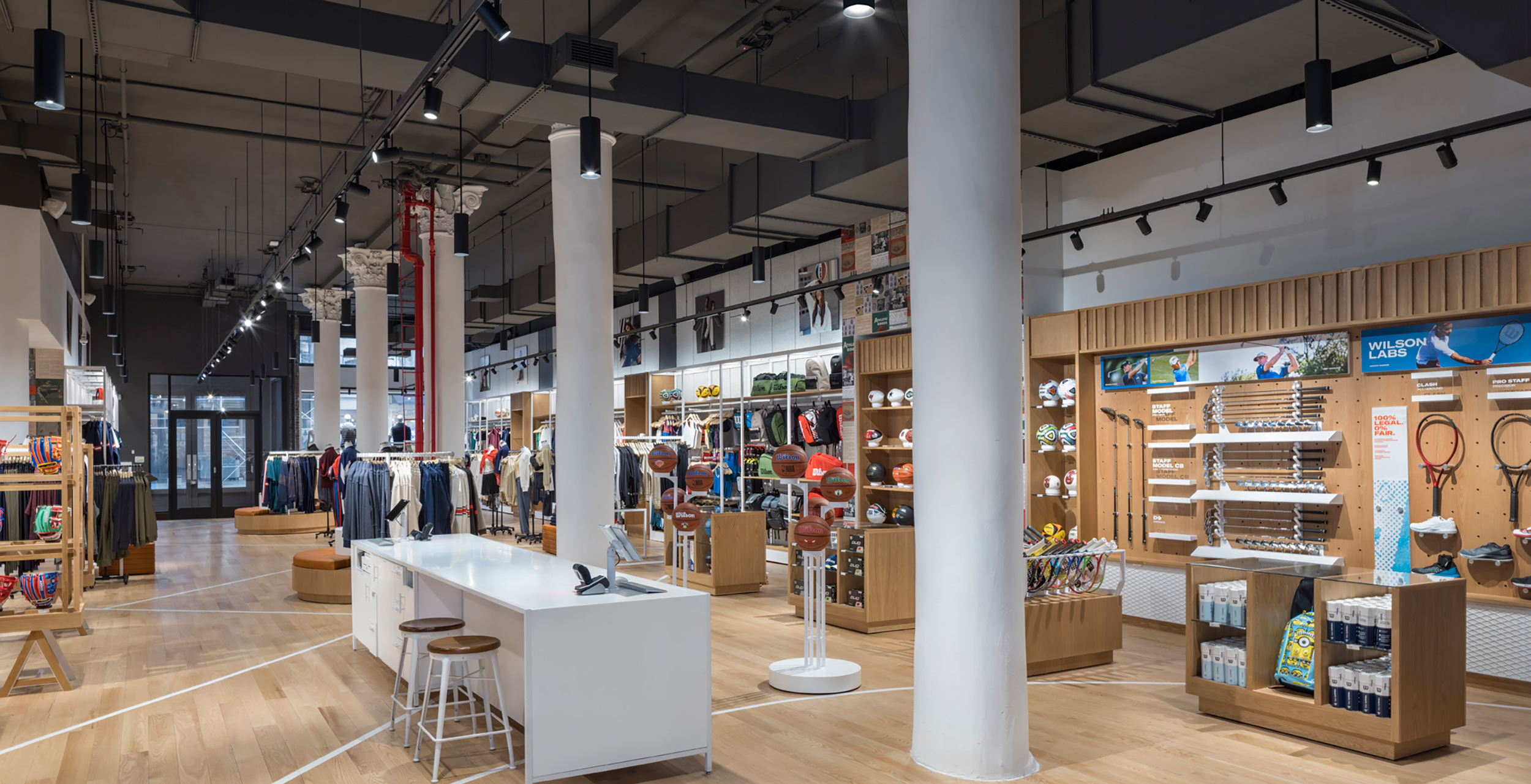 Wilson Sporting Goods Turns First Physical Stores into Ultimate Urban Playgrounds
The brand is putting its heritage on full display to connect with shoppers
FOR MANY BRANDS, brick-and-mortar stores are often the first touchpoints from which all other channels radiate. Not for Wilson. The sporting goods retailer has existed for elite athletes as a wholesale brand for more than 100 years, being the "official ball of everything" from tennis to golf. For aspiring sportspeople, Wilson products existed on a par with everything else in department stores and retailers like Dick's Sporting Goods. But no longer.
Beginning with a pop-up store and "tennis museum" in New York in 2021, Wilson has now opened its first physical flagship stores as part of an immersive rollout that "connects customers with the brand in a way you just can't achieve through another channel," says Eric Kuhn, Associate, Design Practice Leader, Bergmeyer (Boston), who worked intimately on the Wilson projects. "Wilson has an incredible heritage and these stores tell the story. It was a chance to control the brand narrative beyond wholesale and put Wilson products in context."
Advertisement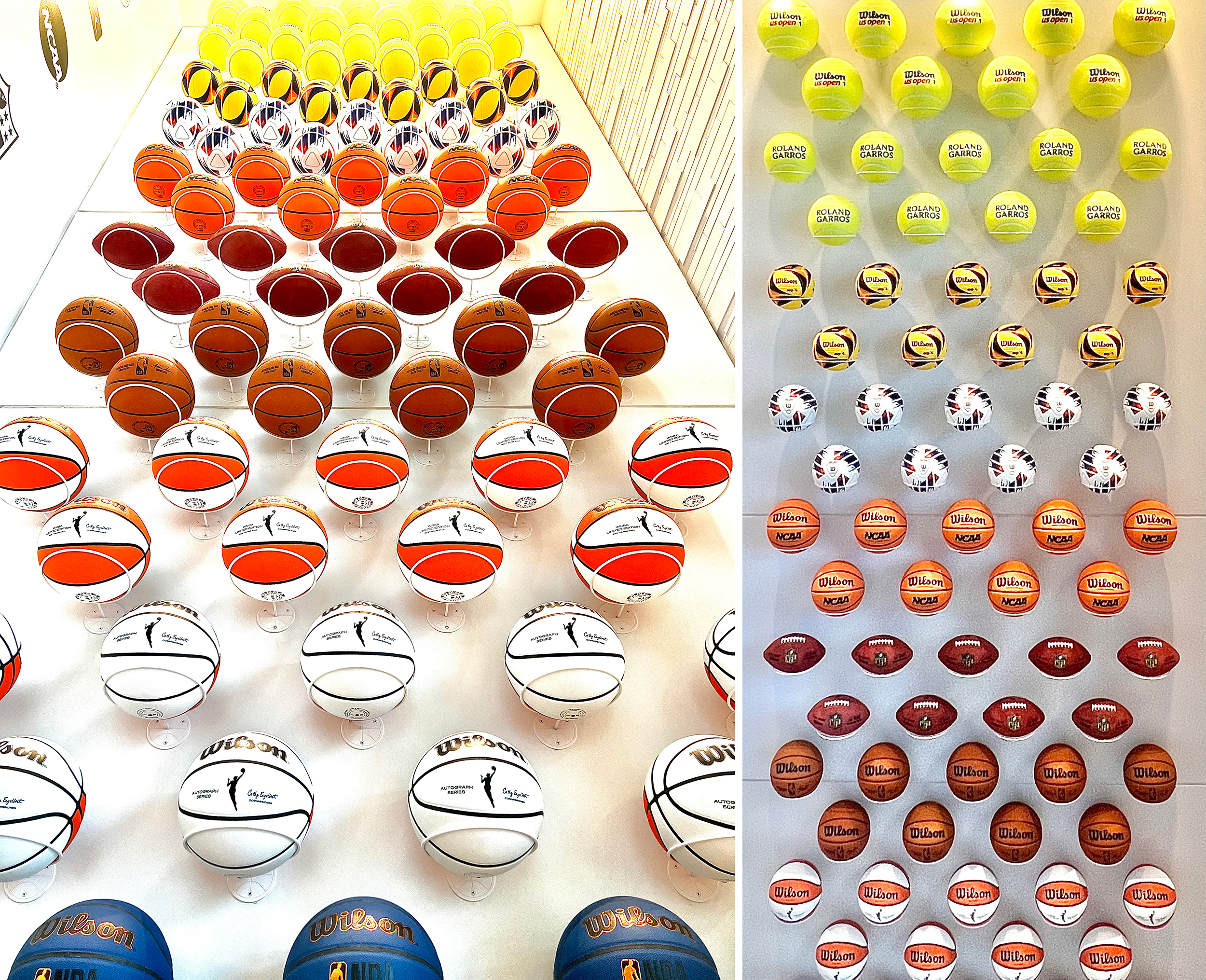 The new stores in New York (SoHo and Columbus Circle) and Chicago all marry the brand's century of history with cutting-edge innovation. In the flagship location on Broadway in SoHo, a feature wall dotted with baseball gloves allows customers to grab product and test it out, while the entirely new lifestyle apparel line showcases the brand's recent street-meets-sport ethos.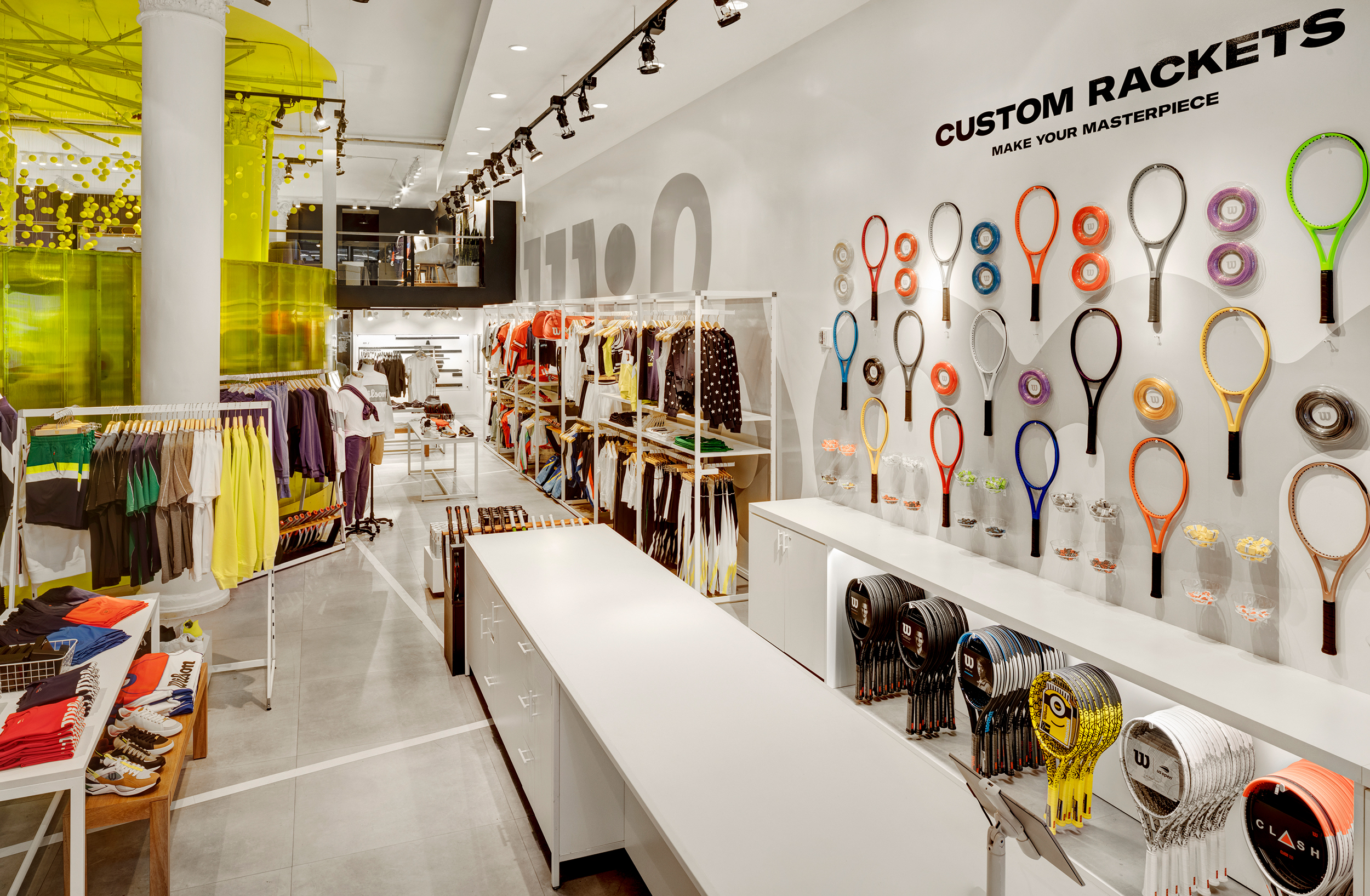 Advertisement
"The design's fluidity was key to addressing Wilson's seasonality; there's constant shifting of specific sports features and associated apparel," Kuhn says. Under spotlights in a four-story atrium is an interior courtyard or "Urban Playground," offering a basketball half-court and tennis practice wall for moments of play. Flanked by columns of basketballs, rackets and footballs, alongside a mural designed by a local artist, this truly unique space brings street sports indoors for special events and community hangouts.
Advertisement
Hands-on interaction with the brand extends to the hometown store in Chicago. If the NYC flagship is all about innovation, the Chicago location speaks to heritage. "We leaned into a traditional aesthetic for this store," says Kuhn.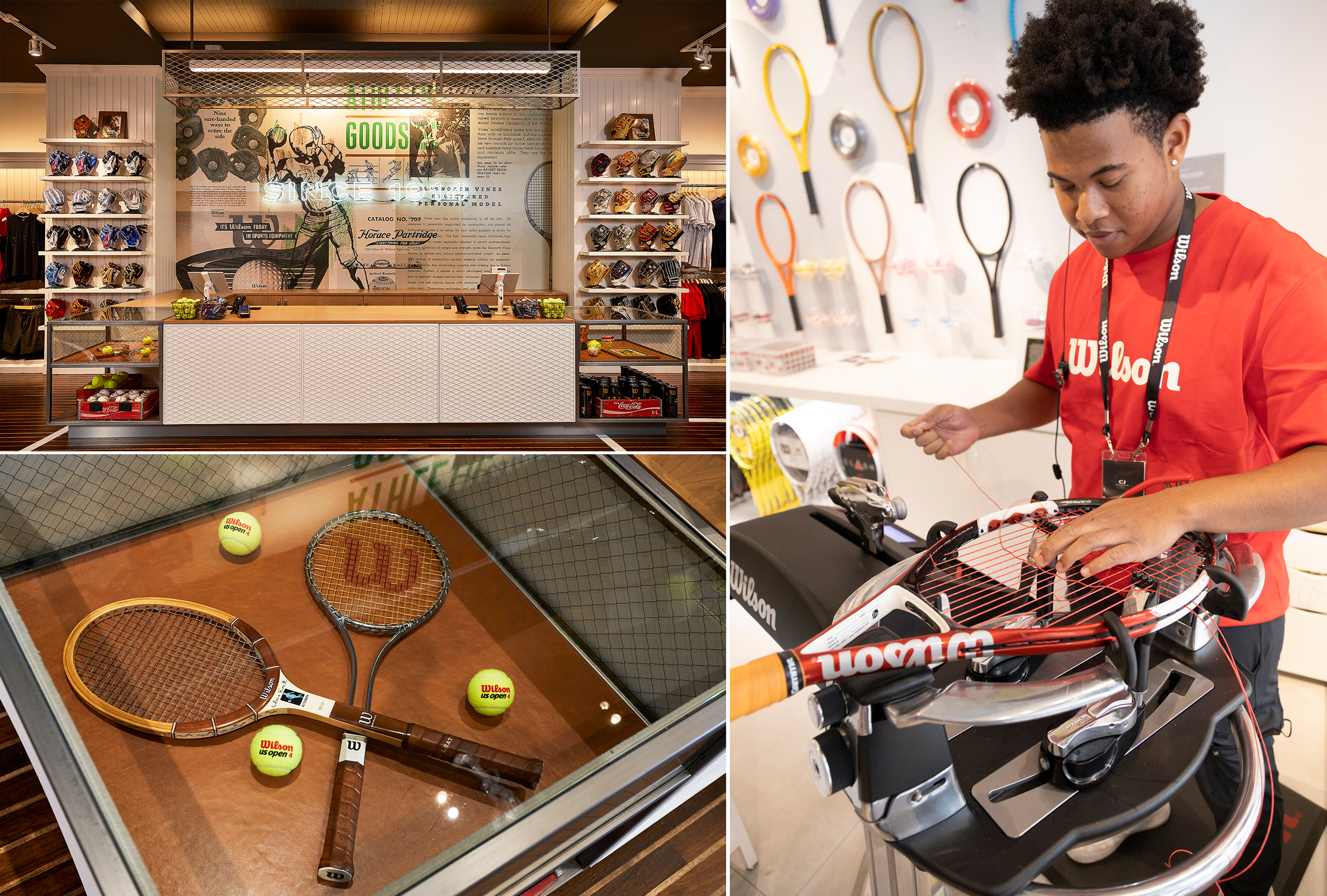 The graphics have a vintage quality, while archival photos and old catalog covers line the walls and dark wood flooring is reminiscent of retro gymnasiums. Alongside a curated collection of signature products, shoppers are able to customize rackets and gloves in-store. "Critical to a definitive Wilson experience is the store's ability to promote engagement with the products. An invitation to play," says Kuhn.
It's this tangible, interactive experience that Wilson has integrated into each of its locations, making the successful step from wholesale to immersive retail. Wilson's new stores do more to put its long-trusted sporting goods into everyone's hands.
Advertisement
PHOTO GALLERY
(56 IMAGES)


📷 Wilson New York| Columbus Circle | Pop-Up & Museum
SPONSORED VIDEO
Embracing Whole-Brained Thinking in the Design Journey
Strategy needs creative, and creative needs strategy—yep, having both is really the only way of unifying all disciplines with a common vernacular with an eye toward building a strong creative vision that is foundational to the processes. Hear from Bevan Bloemendaal, former VP, Global Environments & Creative Services at Timberland, how to connect the dots between disciplines, claiming and creating a clear differentiation for the brand and ensuring that any asset (experience, product, ad, store, office, home, video, game) is created with intention.