Wurth Opens First 24/7 Self-Checkout Store in Canada
Frictionless format is the brand's first on this side of the Atlantic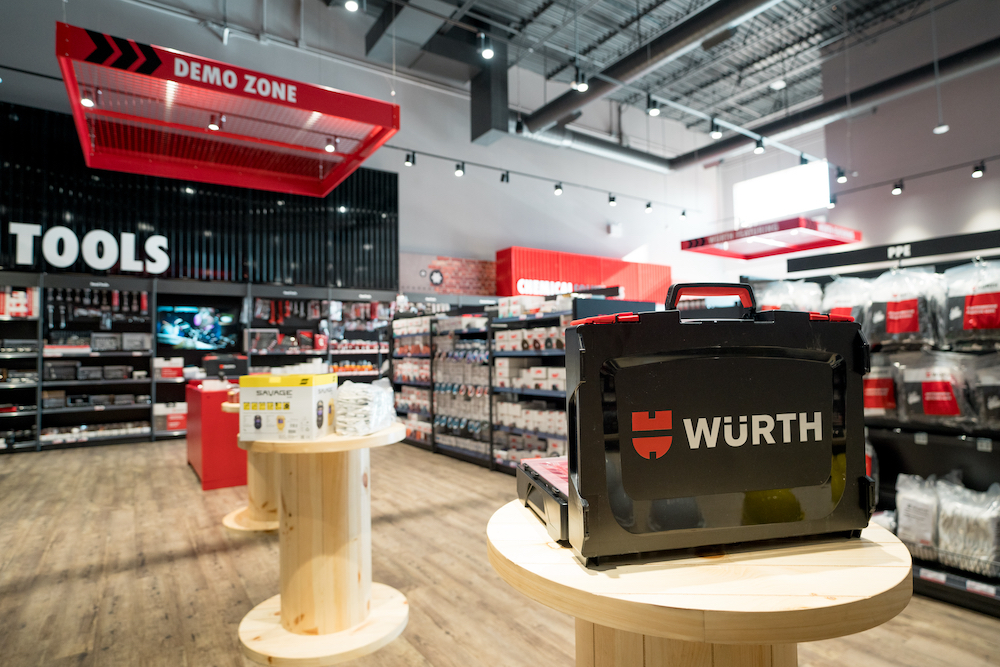 Wurth (Leipheim, Germany), a hardware retailer with stores and operations spread throughout the U.S. and Canada, has opened a new 24/7 self-checkout concept in Canada, the brand's first such store in North America.
The frictionless format gives customers the flexibility to shop around the clock via a Wurth eShop account. The store was developed in partnership with Wanzl, which is responsible for the back-end technology in the Canadian 24/7 store.
To access the store, customers log in to their eShop account and request a QR code. They scan the code at the outer store entrance to enter the building, and a second time inside at the eGate entrance system. Once on the retail floor, shoppers can browse products for up to one hour.
To purchase, the customer scans the QR code at the exit gates, then accesses a self-checkout station through a Wanzl Galaxyport. Merchandise is then scanned, and purchases are automatically debited from the customer's eShop account.
Worth offers more than 4,000 products at the 24/7 store, include hardware, hand tools, chemicals, electrical supplies, abrasives and PPE.
Advertisement
SPONSORED VIDEO
Embracing Whole-Brained Thinking in the Design Journey
Strategy needs creative, and creative needs strategy—yep, having both is really the only way of unifying all disciplines with a common vernacular with an eye toward building a strong creative vision that is foundational to the processes. Hear from Bevan Bloemendaal, former VP, Global Environments & Creative Services at Timberland, how to connect the dots between disciplines, claiming and creating a clear differentiation for the brand and ensuring that any asset (experience, product, ad, store, office, home, video, game) is created with intention.