Winding Staircase Claims the Spotlight at Luxury Watch Retailer's New Store
A clean, contemporary aesthetic was designed with the clientele in mind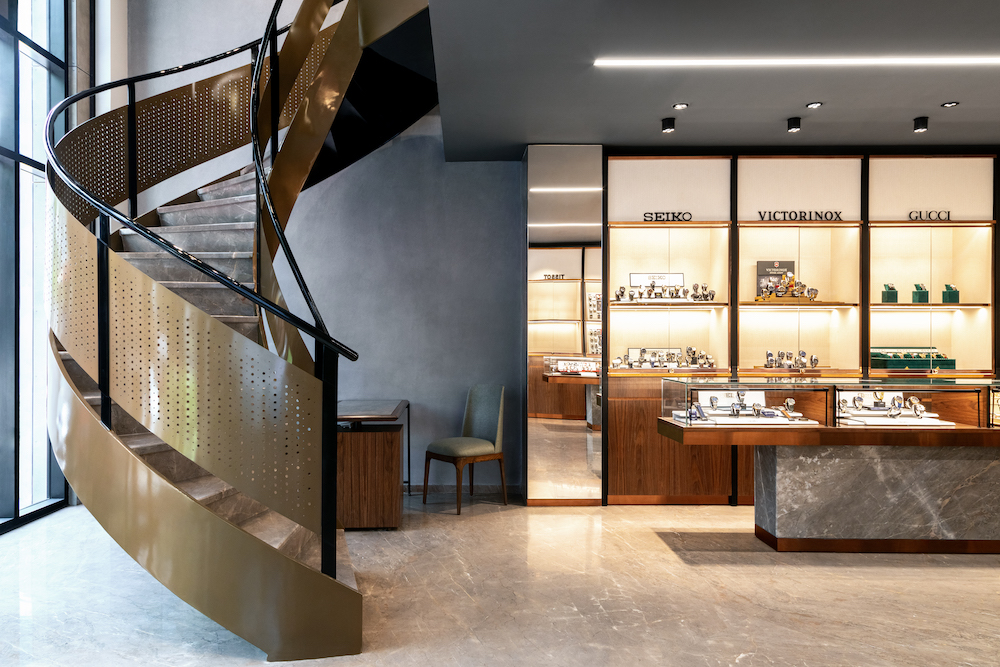 ZIMSON WATCHES' LATEST Bengaluru locale is centered on a bold and sophisticated design, implemented by FRDC, aiming to match the characteristics of the retailer's clientele.
Upon entering, shoppers are transported from the bustling outside world to the clean and contemporary look within, beginning with an LED sign, drawing attention from the street. Just beyond an elegant, winding staircase in a muted gold color, Zimson's watches are on display, housed in wooden display cases, backlit with warm-toned lighting. Surrounded by gray ceilings and floors, the wood in the fixtures helps extenuate the product.
Luxury brands, such as Gucci, are housed on the ground floor, and the second floor offers high-end premium brands. Both areas offer tailored cashwrap stations to fit the needs of their respective clients.
PHOTO GALLERY
(14 IMAGES)


📷: Ravi Asrani, Bengaluru
SPONSORED VIDEO
Embracing Whole-Brained Thinking in the Design Journey
Strategy needs creative, and creative needs strategy—yep, having both is really the only way of unifying all disciplines with a common vernacular with an eye toward building a strong creative vision that is foundational to the processes. Hear from Bevan Bloemendaal, former VP, Global Environments & Creative Services at Timberland, how to connect the dots between disciplines, claiming and creating a clear differentiation for the brand and ensuring that any asset (experience, product, ad, store, office, home, video, game) is created with intention.