The Cotton Store
Sydney, Australia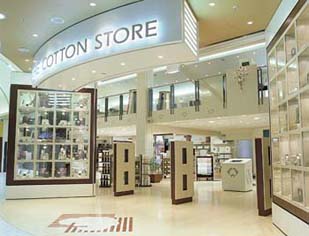 The Cotton Store showcases selected companies and manufacturers whose products are based on the use of Australian Cotton. The store blends showcase retailing with an educational program to promote Australian cotton. Cotton Australia, an organization funded by 1500 Australian cotton growers, has invested $2 million in the store, which is expected to pay for itself through retail sales.
The two level store features a retail ground floor with Australian cotton brands such as Bonds, Sheridan and Tandou, as well as a range of Cotton Store branded product like cooking oils, candles and bath accessories. A video wall provides the link to the second floor, which serves as an information and education center, with interactive computer terminals and a theaterette.
The lime-washed timber floors, contrasting blond and dark timbers, and crisp lines of glass and metal promote the premium quality of the Australian product and help to create a retail environment of international stature.
Design: Saunders Design, Sydney, Australia
Photography: Courtesy of Saunders Design
Advertisement
SPONSORED VIDEO
Embracing Whole-Brained Thinking in the Design Journey
Strategy needs creative, and creative needs strategy—yep, having both is really the only way of unifying all disciplines with a common vernacular with an eye toward building a strong creative vision that is foundational to the processes. Hear from Bevan Bloemendaal, former VP, Global Environments & Creative Services at Timberland, how to connect the dots between disciplines, claiming and creating a clear differentiation for the brand and ensuring that any asset (experience, product, ad, store, office, home, video, game) is created with intention.