IRDC 2022 Delivers a Hands-On Experience for Retail Design Pros
Winners were crowned and attendees learned there's no crying in visual merchandising at VMSD's 22nd annual conference in Columbus, Ohio
BETWEEN A VIBRANT retail scene and a plethora of sights and sounds, Columbus, Ohio, was the engaging setting for VMSD's 22nd annual IRDC. This year's event, taking place Oct. 26-27, featured more hands-on workshops and interactive sessions alongside our first guided offsite tours since IRDC 2013 in Vancouver, British Columbia.
IRDC was also co-located with the Shop! Ideation Conference and Retail Challenge this year, featuring a crossover event Tuesday, Oct. 25 – a welcome reception hosted by IRDC Supporting Sponsor Piddi Design in the 402 Lobby Bar at the host hotel – where attendees from both conferences were able to meet and mingle. (You can read more about this year's Shop! Ideation at shopassociation.org.)
A BEAUTIFUL BEGINNING
After opening statements by Murray Kasmenn, VP Group Brand Director, Publisher, VMSD, and Carly Hagedon, Managing Editor, VMSD, and Co-Chair, IRDC, the conference officially kicked off with keynote speaker Ruth Zuckerman, the Co-Founder and former CEO of SoulCycle and Flywheel, and author of "Riding High." Sharing her inspirational story of "starting over" late in her career as well as the importance of embracing change, Zuckerman left the audience with the notion that reinvention is possible at any age.
After the opening keynote, attendees moved into two hands-on workshops. "Fake it Till You Make It," led by Chuck Palmer, Retail Strategist, and Stephanie Bair-Garant, Director of Visual Merchandising, ZenGenius Inc., was improv-driven and mixed and matched attendees into a number of impromptu groups to get those creative juices flowing.
"Next Top Retail Concept," facilitated by Jay Highland, EVP Creative, and Jody Wasbro, SVP Strategy & Experience Design, WD Partners, challenged attendees with recreating a modern-day vision for the now-defunct department store Lazarus in a timed creative sprint. Teams were judged by a retail panel: Jamie Schisler, Chief Comfort Officer, Upwest; Heidi DeMers, Director, Store Design, Target; and Geoff Painter, Managing Director, Store Design, Starbucks.
Advertisement
Following the workshops, two sessions focused on the importance of customer experience, sustainability and practicing what you preach. "Purpose Beyond Profit: How Company Purpose Drives Brand Success from the Inside Out," featured Katherine Cousins, Global Brand President, Sperry; Elizabeth Drori, Chief Marketing Officer, Sperry; and Bevan Bloemendaal, Chief Creative and Brand Officer, NELSON Worldwide, and focused on Sperry's mission of bettering lives and improving society through its purpose-driven efforts.
"Tackling the Food Desert: The High-Tech, High-Touch Story of Nourish + Bloom Market," was a panel presentation featuring Nourish + Bloom Market Co-Founders Jilea and Jamie Hemmings as well as James Margrave, Director, Autonomous Store Technology, UST, and moderated by Stuart Armstrong, Managing Director/Founder, AAG Consulting. (You can read more about the first African American-owned autonomous grocery store concept which opened in a notorious food desert in VMSD's June 2022 issue.)
Following the breakouts, lunch was served: VMSD's New York Editor, Eric Feigenbaum, gave a special lunchtime presentation on the history of VMSD magazine and its 125th anniversary in print. The compact presentation took a deep dive into the publication's history and featured a plethora of archival imagery (check out Eric's VMSD timeline on pg. 42).
The educational sessions ended for the day with a fireside chat between Columbus's own Jeni Britton, Founder and Chief Creative Officer of Jeni's Splendid Ice Creams and VMSD's Carly Hagedon. The chat focused on the importance of branding and customer experience.
Following the fireside chat, attendees were able to go on a guided offsite tour of the vibrant Short North Arts District, facilitated by the Ohio Chapter of the Retail Design Institute and sponsored by WD Partners. Equipped with their handy guides, guests visited several local retailers throughout the district, including Tenspace, the rotating-IRL-experience for brands to test out physical concepts.
Advertisement
The 16th annual Iron Merchant Challenge featured a "food and fashion theme." A secret ingredient was revealed onsite for the teams to utilize in their displays.
Advertisement
NO CRYING IN VISUAL MERCHANDISING
The first evening of IRDC welcomed the 16th annual Iron Merchant Challenge, co-hosted by ZenGenius Inc., and emceed by Joe Baer, Co-Founder, CEO and Creative Director, ZenGenius. This year's "All Star Challenge" pitted last year's winners – the Blue Team, led by Jay Highland of WD Partners – against other past Iron Merchant winners, including longtime reigning champs Bevan Bloemendaal of NELSON Worldwide and David Kepron of NXTLVL Experience Design. Each team was also equipped with 1-2 students from The Ohio State University and the Columbus College of Art and Design, identified by PAVE.
Starting with the VMSD staff dressed as characters from "The Wizard of Oz" – a direct reference to our founding editor L. Frank Baum – and led by Joe Baer (appropriately dressed as the Wizard), a PAVE-themed cake was wheeled into the ballroom in honor of the organization's 30th anniversary. During the opening presentation, teams were then allowed to choose at random a box containing a (cake) flavor of Jeni's Splendid Ice Cream, which would become the theme of their display. Corresponding fabric created by the Columbus Fashion Alliance was paired with each flavor so teams could dress their gender-fluid mannequins in diverse skin tones (donated by Fusion) in the fabric or use it throughout their faux window. VMSD's Carly Hagedon unveiled this year's secret ingredient – a small, articulated Sasquatch – by popping out of a giant cake brought onto the floor from behind the stage during Baer's opening remarks.
Using displays created by Axis Display Group – and this year, illuminated by Amerlux – teams had an hour to create their window using all of the components and the secret ingredient.
And what goes better with cake than ice cream? In addition to cocktails, onlookers were served Jeni's ice cream while they watched the creative chaos unfold.
Advertisement
In addition to keynote speakers and general sessions, this year's event featured a range of hands-on workshops, educational sessions and interactive panel presentations.
EDUCATION SENSATION
The final day of IRDC kicked off with a sponsor case study breakfast presentation by NELSON Worldwide, which led into our opening general session, "How Retail Saves the World," presented by Bergmeyer's Christian Davies. Davies examined the role retail has to play in saving our planet, presenting a number of concrete ways to make a difference – from a focus on prioritizing refurbished physical spaces over new construction, to using organic cotton.
Advertisement
A few breakout sessions were next on the docket. One featuring Rick Neira, VP Visual Merchandising, Merchandise Operations, Petco, and Daniel Montaño, Partner & Retail Design Principal, Little Diversified Architectural Consulting, showcased how Petco created a new flagship store in New York for its Reddy private label brand in "Reddy, Pet…Co! The Importance of Creating a Brand Presence and Facilitating Immersive Design."
Meanwhile, other attendees were treated to a presentation by Richard Lems, Director of Format and Design, Rituals Cosmetics, focusing on the success story of the B-Corp brand Rituals, a Netherlands-based brand with a strong commitment to sustainability; Lems also reminded the audience about the importance of "slowing down" and how that philosophy is translated into the brand's physical stores.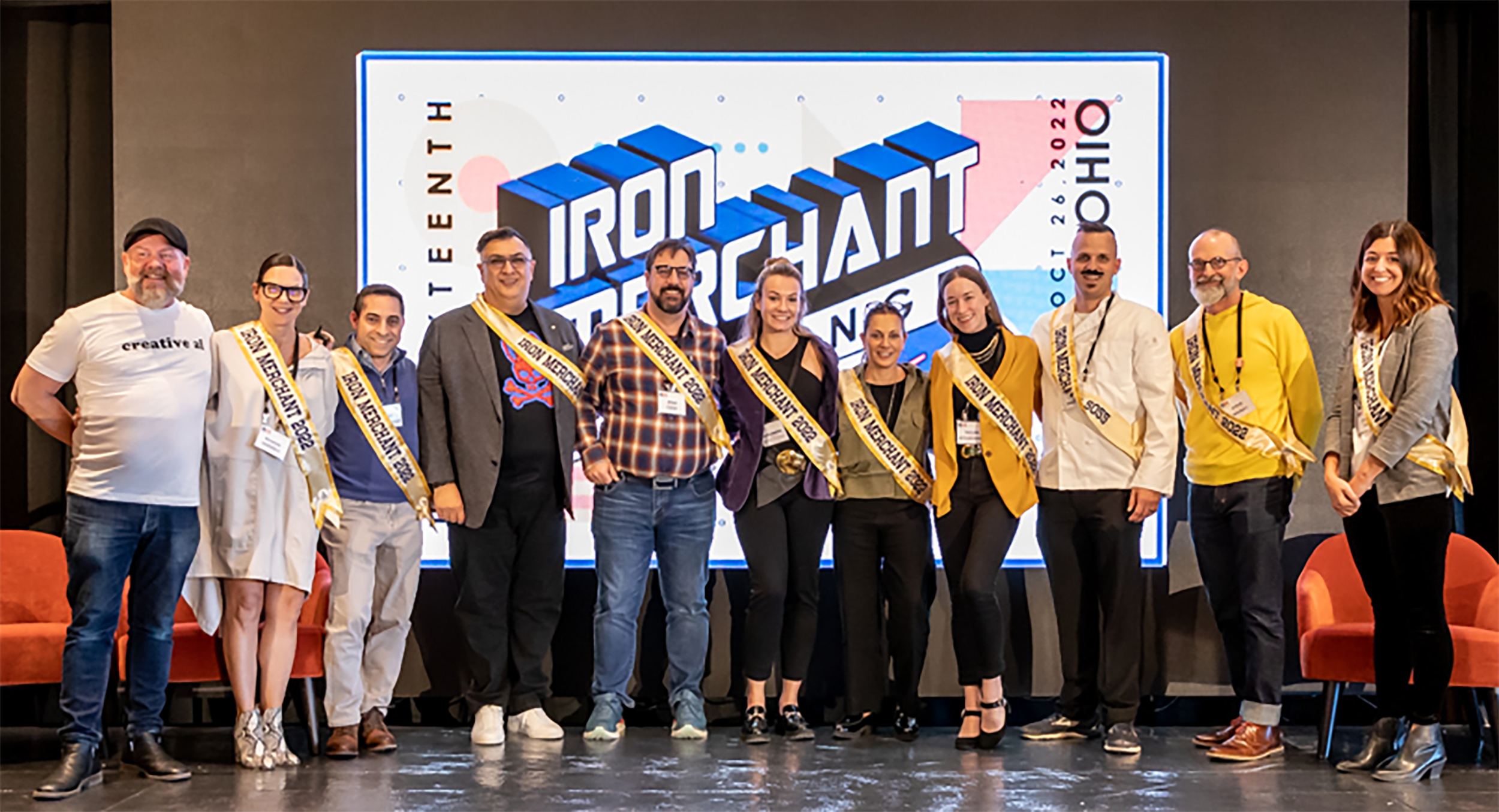 WINNER, WINNER
Between the morning's presentation and afternoon's full-audience interactive workshop, Networking Roundtable Lunches transitioned into VMSD's annual Awards Luncheon Thursday afternoon. The luncheon recognized winners from our 2022 Designer Dozen, Retail Renovation Competition and International Visual Competition, as well as the 2022 VMSD/Peter Glen Retailer of the Year – Dick's Sporting Goods – also featured in our October 2022 issue. Toni Roeller, SVP of Store Environment, Dick's Sporting Goods, took to the stage to accept the coveted award which is named in memoriam after VMSD's longtime columnist Peter Glen.
The winning team of the 2022 Iron Merchant Challenge was also unveiled during our Awards Luncheon: The Orange team, led by Sharon Lessard, Chief Creative Officer, Ensemble Business Group, took home the winning sash this year, beating former 2021 returning champions, the Blue Team.
FINAL COUNTDOWN
Following the luncheon, it was time for a full audience workshop: "Retail Gets Weird" gave our attendees mystery boxes (created and donated by D|Fab) filled with curious items, which were used to develop a quick retail concept. Facilitated by The Retail Duo, Karen Kritzer and Diane Spiridoulias, VMSD's Murray Kasmenn was beckoned to the stage to be blindfolded and stick his hands into mystery boxes, announcing the themes for each team in the room to work with – from a cauldron of warm spaghetti to a toilet brush. Following the session, materials were donated to the Childhood League of Columbus, Ohio.
Prior to the closing keynote, two breakout sessions took place. In "A Better Future: What Retailers Can Do to Reduce Their Impact on the Planet," Melanie Moody, Store Experience, Fixture PM, Sr., REI and Christen Soares, Principal, Field Paoli Architects, examined what retail solutions that can move us beyond a "culture of consumption," and explored real-life examples with the audience.
In "Redefining Pop-Ups: Designing for Omnichannel," attendees learned about how soda brand Olipop's collaboration with Columbus-based Tenspace made waves for the growing beverage brand. Moderated by Tenfold's (the firm behind Tenspace) Creative Director, Brand Culture, Amanda Raines, other panelists included Rachel Friedman, Founder and CEO, Tenfold, Faith Huddleston, Director of Creative Activation, Tenfold, and Olipop's Director of Business Insights Ed Kolovson. During the presentation, Olipop was distributed to attendees so they could taste the product firsthand.
IRDC's closing keynote was delivered by Gregory Cohen, Founder and Owner, Lofty Pursuits. Cohen, a candymaker and popular YouTuber, did a live demonstration of candy making while he discussed his passion of Victorian-era candy making. It also highlighted how his forward-thinking marketing decisions have allowed his small candy business in Tallahassee, Fla., to punch well above its weight. With interactive moments, the audience was engaged until they got a sweet treat at the end of the presentation.
SEE YOU AGAIN SOON
To cap off the event, the IRDC closing party was held at The Revery space at North 4th Corridor, a glass-enclosed space with wraparound patios featuring a backdrop of the downtown Columbus skyline. Attendees and speakers took in the city sights from the rooftop as they mingled and dined the night away. In the coming months, we'll soon be announcing IRDC's 2023 location, so stay tuned to irdconline.com and vmsd.com for updates. As attendees of this year's event will tell you — you'll want to be there!
THANK YOU TO OUR 2022 SPONSORS
DIAMOND
Alpolic Metal Composite Materials
NELSON Worldwide
EMERALD
AGI
Axis Display Group
The Bernard Group
D|Fab
Epidaur Digital
Econoco
OPTO Intl.
Visual Creations
Visual Elements
WD Partners
SUPPORTING
Amerlux
Bergmeyer
Columbus College of Art & Design (CCAD)
Fusion
Little Diversified Architectural Consulting
NORR
Piddi Design
Rainier Display
IDW
Sky
iService Nation
Ædifica
EWI
OnQ
STRATEGIC PARTNERS
Shop! Association
Retail Design Institute
PAVE Global

To see all the photos from IRDC 2022, visit here.
PHOTO GALLERY
(14 IMAGES)


📷 Ray Lavoie, Columbus, Ohio
SPONSORED VIDEO
Embracing Whole-Brained Thinking in the Design Journey
Strategy needs creative, and creative needs strategy—yep, having both is really the only way of unifying all disciplines with a common vernacular with an eye toward building a strong creative vision that is foundational to the processes. Hear from Bevan Bloemendaal, former VP, Global Environments & Creative Services at Timberland, how to connect the dots between disciplines, claiming and creating a clear differentiation for the brand and ensuring that any asset (experience, product, ad, store, office, home, video, game) is created with intention.