Wag Hotels Retail Store
Fido gets the royal treatment in this cosmopolitan San Francisco pet boutique.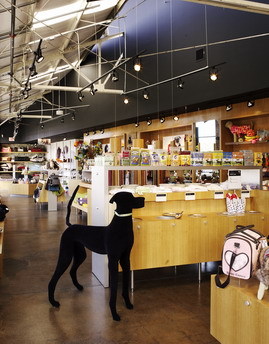 So much for chewed-up tennis balls as the toy de rigueur. It's estimated that American pet owners spend over $7 billion per year on their pets. So lucrative is this business that hotels, boutiques and spas for pampered pooches and finicky felines have begun popping up everywhere.
Wag Hotels is a chain of modern kennels with a retail shop offering clothing, accessories, toys and just about anything else a "pet parent" could want. The boutique's design, a partnership between Goren Architecture + Design (San Francisco) and Ritu Raj, co-founder of Wag Hotels, preserves the building's original structure, including brick walls, stained concrete floors, open ceilings, steel trusses and skylights.
The design challenge existed within the store's merchandise – a colorful assortment that design architect Leora Goren says "had to be accommodated without overwhelming the customer."
To maintain a simple, modern-luxury look among open ceilings and concrete floors, designers used a palette of black and copper with oak, aluminum and frosted acrylic fixtures. Custom fixtures by B&N Industries (Burlingame, Calif.) complement the minimalist design and allow for a variety of merchandise display options.
"The style, while somewhat industrial," Goren notes, "needed to be high-end enough to appeal to the cosmopolitan flair of San Francisco pet owners."
Advertisement
Client: WAG Hotels Retail Store, San Francisco — Ritu Raj, owner and creative director
Design/Architect: Goren Architecture + Design, San Francisco — Leora Goren, principal
Design: Allyson Kovas Design, San Francisco — Allyson Kovas, principal
Architect of Record: Oris Design, San Francisco
General Contractor: Wag Hotels, Sacramento, Calif.
Advertisement
Graphic Design: Studio Picotee, San Francisco — Heather Landers, principal
Outside Design Consultant: Flack & Kurtz, San Francisco (lighting design)
Audio/Visual: Sentry Alarms, Oakland, Calif.
Ceilings: Armstrong Commercial Ceilings, San Francisco
Fixtures: B&N Industries, Burlingame, Calif.; Five Star Fixtures, Oakland , Calif.
Flooring: RP Coatings, Hayward , Calif.
Advertisement
Furniture: Target, Colma, Calif.; EQ3, San Francisco; CRI, San Francisco
Lighting: Graybar, Sacramento, Calif.
Signage/Graphics: Toll Graphics, Emeryville, Calif.; Ferrari Color, Emeryville , Calif.
Wood Wall Paneling: Five Star Fixtures, Oakland, Calif.
Sliding door hardware: Crown Hardware, South San Francisco, Calif.
Storefronts: Golden Gate Glass & Mirror, San Francisco
Custom Acrylic Shelving: Acrylic Art, Emeryville, Calif.
Photography: Tom Story, San Francisco
SPONSORED VIDEO
Embracing Whole-Brained Thinking in the Design Journey
Strategy needs creative, and creative needs strategy—yep, having both is really the only way of unifying all disciplines with a common vernacular with an eye toward building a strong creative vision that is foundational to the processes. Hear from Bevan Bloemendaal, former VP, Global Environments & Creative Services at Timberland, how to connect the dots between disciplines, claiming and creating a clear differentiation for the brand and ensuring that any asset (experience, product, ad, store, office, home, video, game) is created with intention.