Eastern Mountain Sports
New York City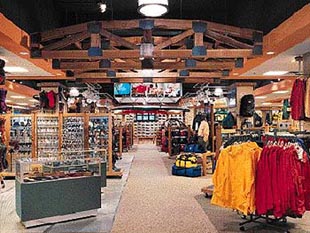 In its prior incarnation, the Eastern Mountain store on Commonwealth Avenue in Boston failed to project a strong brand identity. It employed generic flooring and a scheme that, while "woodsy," was too slick to portray the rugged terrain for which the company's products are intended. Eastern Mountain needed a new look, and turned to Horst Design International, Huntington, N.Y. The result is a look of lumber camps and hunting lodges, employing hand-sawn timbers in the fixturing, cabin-style overhead beams, "stone" support columns and flooring and a color palette long on earth tones and forest green. The colors allow the brightness of the products to stand out, as does the lighting scheme, which relies heavily on HID downlighting to emphasize strike zones. Fixtures are mounted on casters to promote display flexibility, and the fixtures are open on as many sides as possible to increase product visibility. The footwear section, marked by a nine-screen videowall, features track lighting, wood-plank flooring and an inverted kayak marking the entrance.
Design: Horst Design International, Huntington, N.Y. — Douglas Horst, principal-in-charge; Bernhart Rumphorst, principal; Fidel Miro, design and planning director; Cynthia Davidson, colors and materials; Alexander Latham AIA, project architect; Tom Noonan, Robert Cruse and Peter Gerace R.A., production assistants
Fixturing: Beacon Industries, Newark, N.J.; Omaha Fixtures, Omaha, Neb.; Display World, Toronto
Lighting: Store Lighting Systems, New York City Flooring: Strizo Stone Carpeting, Carteret, N.J.
Photography: Elliot Fine, New York City
Advertisement
SPONSORED VIDEO
Embracing Whole-Brained Thinking in the Design Journey
Strategy needs creative, and creative needs strategy—yep, having both is really the only way of unifying all disciplines with a common vernacular with an eye toward building a strong creative vision that is foundational to the processes. Hear from Bevan Bloemendaal, former VP, Global Environments & Creative Services at Timberland, how to connect the dots between disciplines, claiming and creating a clear differentiation for the brand and ensuring that any asset (experience, product, ad, store, office, home, video, game) is created with intention.