At Lucky Buns, Framed Prints and Wall Decor Create a Kitschy and Laid-Back Atmosphere
CONCEPT:

Art Deco details are paired with 1960s and '70s aesthetics

ART DECO-INSPIRED details are paired with 1960s and '70s aesthetics alongside eclectic and purposefully kitschy decor, creating a dining experience brimming with retro fun.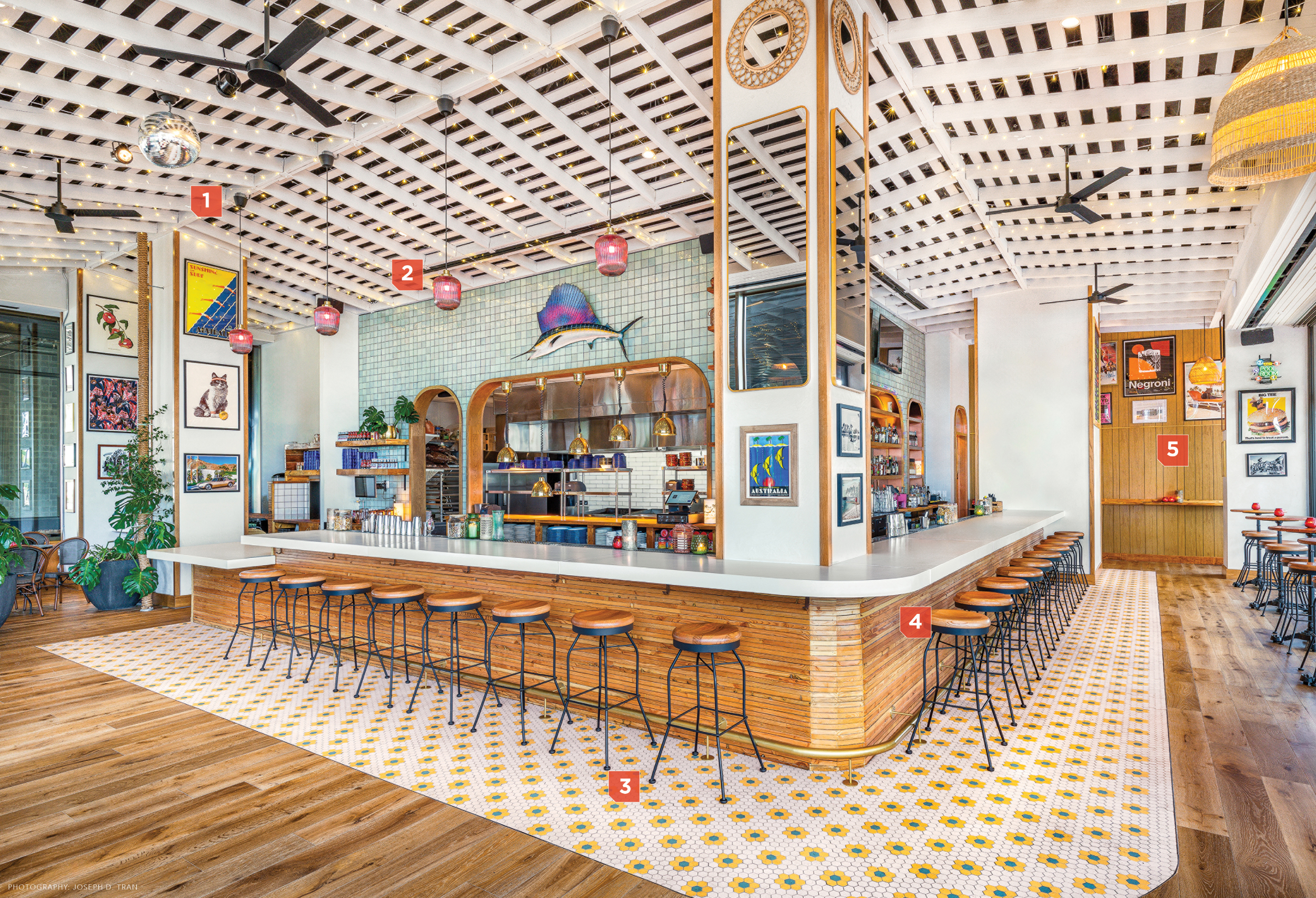 1.

KEEP YOUR HEAD UP

Evoking images of a white picket fence, the restaurant's ceiling is embellished with timber. With a lattice-like design drawing eyes across the entire restaurant, the timber visually opens the space and "creates a comfortable look for the whole design," says Matt Vargas, Architect at Washington, D.C.-based design firm //3877.
2.

GUIDING LIGHTS

Different styles of light fixtures define areas of the restaurant: Hanging pendants provide a bright pop of color over the bar, string lights line the ceiling and spherical fixtures illuminate the tables.
3.

IN BLOOM

Though the hexagonal tiles look vintage, this art deco-inspired feature was a new installation for Lucky Buns to highlight the wrap-around bar. Adding retro flair is the pattern of yellow flowers created by the tiles, which complement the vibrant color palette.
4.

KNOCK ON WOOD

Against all the varying details and bright hues are warm woods, seen throughout seating, flooring and tables, bringing "warmth and a lot of texture," making the eatery "feel welcoming," says Vargas.

Advertisement
5.

ART POP

Inspired by '60s and '70s art and modern pop culture, framed prints and wall decor create a kitschy and laid-back atmosphere. Overall, the restaurant's design intentionally "contrasts the existing building's beautiful, sleek exterior of metal and glass," says Vargas. Homey and fun, the design also "feels slightly whimsical yet inviting."
PHOTO GALLERY
(6 IMAGES)


📷 Joseph D. Tran

Advertisement
SPONSORED VIDEO
Embracing Whole-Brained Thinking in the Design Journey
Strategy needs creative, and creative needs strategy—yep, having both is really the only way of unifying all disciplines with a common vernacular with an eye toward building a strong creative vision that is foundational to the processes. Hear from Bevan Bloemendaal, former VP, Global Environments & Creative Services at Timberland, how to connect the dots between disciplines, claiming and creating a clear differentiation for the brand and ensuring that any asset (experience, product, ad, store, office, home, video, game) is created with intention.