FIRST PLACE:

Macys Flower Show Windows 2022
Submitted by: Macy's Inc. | Photography: Bill Waldorf, Knoxville, Tenn.
2023 International Visual Competition Awards
Non-Holiday Windows
FOR DECADES, MACY'S iconic Flower Show has entranced shoppers each spring.
For 2022's Flower Show windows, Macy's wanted to celebrate "the start of spring and all the beautiful elements that it brings with it," explains Manuel Urquizo, Director of Storewide Visual Campaigns & Windows, Macy's.
"My hope was to create a dramatic and lavishly romantic landscape taking the viewer from dusk, where Zephyrus, the Greek god of the west winds, brings in the cool spring winds, parting the clouds in the night sky and revealing a golden crescent moon," continues Urquizo. "Night turns into dawn, where spring has finally arrived, [with] soft clouds made of flowers all around. The grand finale [is] a golden sun rising from the horizon, bringing with it the start of spring."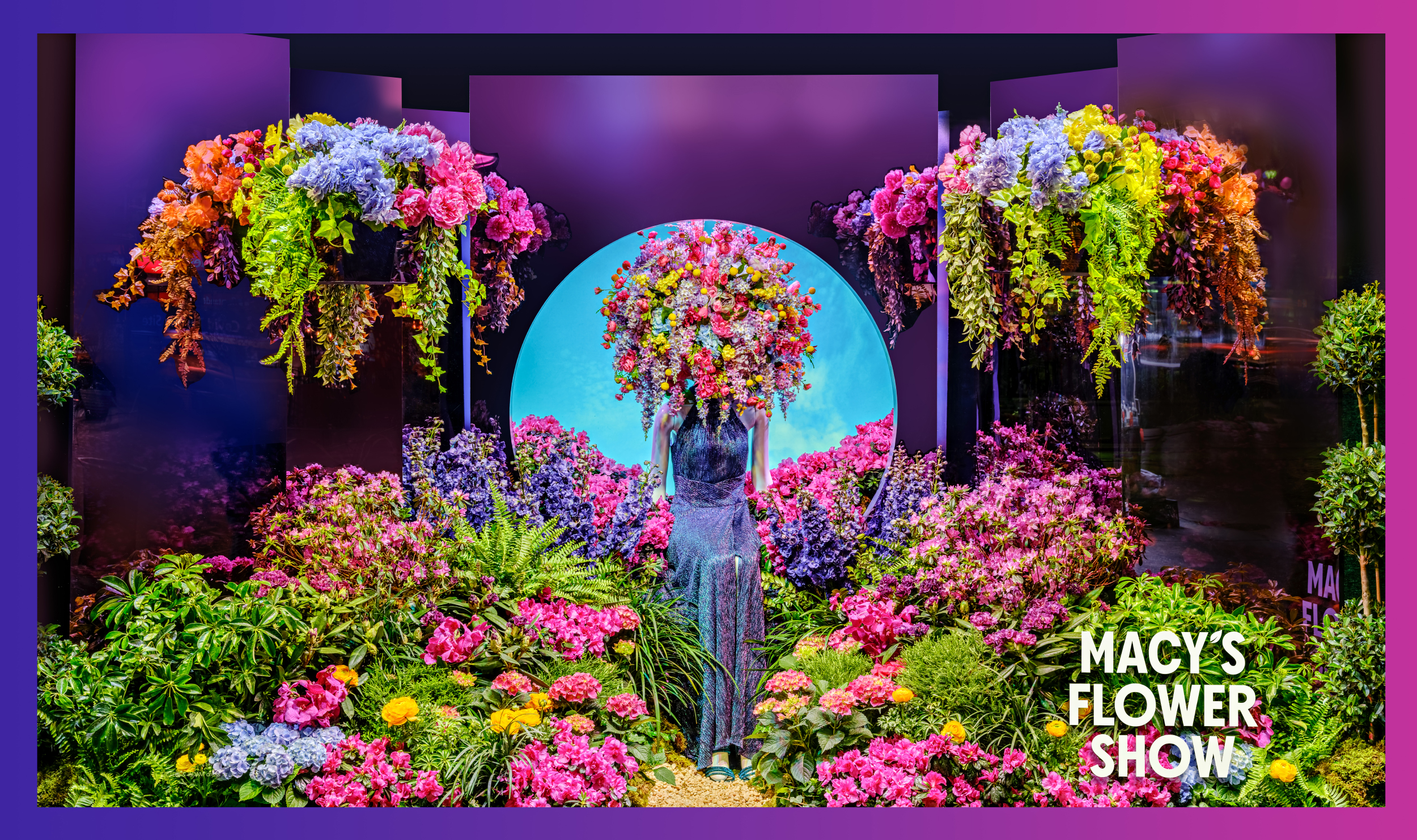 The windows representing "dusk" featured dark, dramatic hues like purples, magentas, reds, pinks and blues, with touches of orange. The "dawn" windows featured brighter colors like light blues, pinks, whites and pastels. Larger sculptures, like Zephyrus and the sun, anchored the windows on either end. The design was extended onto the building's façade and awnings through graphics.
Advertisement
One of the biggest challenges was keeping the interior window temperature around 68 degrees Fahrenheit, with humidity evenly distributed, so the petals of the many hydrangeas used throughout – including Star of Bethlehem, Azaleas, Spiraeas and more – wouldn't dry out. Sourcing the right mannequins was important too, says Urquizo, as they were to represent muses in the overall window narrative and needed to be fairy like or ethereal.
The end result wowed our 2023 judges, who felt last year's windows were a standout for the retailer's coveted, annual displays.
"It is always a pleasure to see the customers enjoying the windows, it's the best part of the job," says Urquizo. "You know it's a hit when you see people taking photos with each window; I always stand in the back and enjoy watching."
PHOTO GALLERY
(11 IMAGES)


📷 Bill Waldorf, Knoxville, TN

Advertisement
SPONSORED VIDEO
Embracing Whole-Brained Thinking in the Design Journey
Strategy needs creative, and creative needs strategy—yep, having both is really the only way of unifying all disciplines with a common vernacular with an eye toward building a strong creative vision that is foundational to the processes. Hear from Bevan Bloemendaal, former VP, Global Environments & Creative Services at Timberland, how to connect the dots between disciplines, claiming and creating a clear differentiation for the brand and ensuring that any asset (experience, product, ad, store, office, home, video, game) is created with intention.