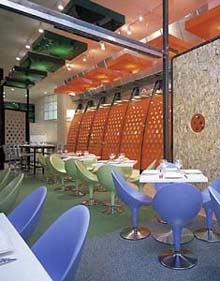 Riding the wave of enthusiasm for retro modern design, MOD is the latest venture of hip restaurateur Terry Alexander and chef/partner Kelly Courtney. Situated in a strip mall in Wicker Park, Chicago's artsy/gritty West Side neighborhood, the restaurant's saucy, near-psychedelic interior is the work of London-born designer Suhail, who also creates furniture. He designed Mod's Jetson-like molded-plastic chairs to resemble sliced-off egg cups colored sky blue or guacamole green.
The vestibule is sheathed in bright orange acrylic panels. In the main dining area, circles and squares provide the geometric leitmotif for lighting, fixtures and furnishings. Blue and green dining areas can be partitioned off with see-through wall panels of pierced acrylic that look like slices of Swiss cheese. Ceiling fixtures — green or orange acrylic squares and blue acrylic "bowls" — help define the spatial boundaries.
Materials are used innovatively throughout. Convex safety mirrors are mounted above banquettes that look like granite but are actually made of industrial foam sheathed with transparent vinyl. The flooring, which mimics tile, is made of recycled tires. And a long, counter-height table of tinted glass accommodates various seating groups, conserving space while fostering a sense of conviviality.
Client Team: MOD, Chicago, Terry Alexander, Steven Ford, Quay Tao, Kristin Skrainy and Kelly Courtney
Design: Suhail, Chicago
Advertisement
Photography: Doug Fogelson, Chicago
SPONSORED VIDEO
Embracing Whole-Brained Thinking in the Design Journey
Strategy needs creative, and creative needs strategy—yep, having both is really the only way of unifying all disciplines with a common vernacular with an eye toward building a strong creative vision that is foundational to the processes. Hear from Bevan Bloemendaal, former VP, Global Environments & Creative Services at Timberland, how to connect the dots between disciplines, claiming and creating a clear differentiation for the brand and ensuring that any asset (experience, product, ad, store, office, home, video, game) is created with intention.