Tech by Design: The Long-Awaited Adoption of E-Paper at Retail
Electronic shelf labels are being used by smart retailers to enrich the shopping experience.
If you are reading this on an e-reader like a Kindle, then you're literally immersed in the topic of this article: e-paper tech. E-readers are the way in which most of us were introduced to this cool technology – paper-like displays with low power consumption and quick, almost magical updating of content. And it's so easy on the eyes, even in bright light.
To date, the commercial application of e-paper is found mostly in what is called electronic shelf labels, or ESL. ESL technology has been around for several decades, with slow early adoption initially. Its primary use case of delivering SKU-level pricing and promotional information accurately and automatically has always been appealing, but the costs of early-generation ESL were high, especially when you added the expense of required hard-wired power and data infrastructure. The investment was difficult, if not impossible, to justify.
ESL at Retail Today
Fast forward to today, and you'll find a totally different story. Indeed, retail might be the most fertile environment ESL technology has seen to date.
First and foremost, forget about the unwieldy and costly infrastructure and installation requirements that come with wired power and data. Today's digital tags run on batteries that last up to five years, and tag displays are updated via wireless access points in the ceiling capable of updating thousands of tags in a matter of seconds.
Advertisement
Lower-cost tags with security mounts, powered wirelessly? Now we're talking. It's no wonder we're seeing this easier-to-deploy, lower-cost e-paper technology show up in a growing number of highly beneficial retail use cases.
What's in a Name?
Naming conventions for various e-paper devices now found at retail are a bit all over the place, however names usually relate to their size and how they're being used. Displays ranging in size from 1.6 inches to 12.2 inches are either called tags or labels associated with the shelf they're mounted on. The larger ones are called signs or screens, mounted on the wall or incorporated into a kiosk or freestanding stanchion.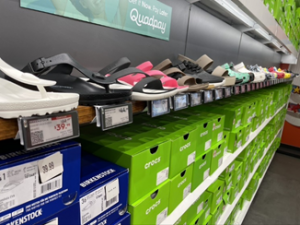 Data Integration for the Win
Advertisement
The lifeblood of any e-paper application is data integration. Shelf-edge ESL is a good place to start. These slick-looking digital displays snap into security mounts along the edge of the shelf to replace printed price labels. Integrated with the retailer's SKU-level pricing data, a cloud-based content management system (CMS) automatically updates regular and promotional pricing based on any criteria imaginable: price zone, day of the week, time of day, inventory levels, even sales demand levels.
But why stop there? Let's add product availability information in the store and, if not in stock, online. Add a QR code and the shopper can scan it to view additional product information on their phone or take advantage of promotional pricing. They can even complete their transaction online and have the product shipped to their home. This mobile interaction unifies traditional retail with e-commerce for a true omnichannel shopping experience, the holy grail for many retailers.
While we are at it, let's pile some additional ESL benefits onto the operational side of retail. Having digital shelf tags associated with every item in the store enables geolocalization of items that can support product finder apps for the shopper. Sales associates benefit as well because many of the ESL displays come equipped with an LED that flashes to identify the product to be picked. With both BOPIS and click-and-collect increasing the amount of time sales associates need to pick a customer order, finding efficiencies in this area are essential, especially with store labor shortages and higher wages.
While moving up in size increases costs, especially when compared to standard digital signage, many strong use cases demonstrate the value of e-paper signs. Because today's ESL displays
Advertisement
don't require power or data lines and can be easily read in direct sunlight, they're useful in a wide range of use cases where traditional digital signage falls short. For example: car dealerships are replacing window stickers with e-paper signs; easel- or picture-frame-style mounts are giving retailers the flexibility to nestle dynamic signs close to the merchandise; outdoor e-paper is used to support curb-side pickup; and, e-paper bulletin boards are offering retailers a cool way to deliver community-focused information that looks like folksy chalk on a blackboard. The benefits of e-paper are here today, and this technology is clearly ready for prime time.
A Look at What's Ahead
With all the recent advancements in ESL tech, a number of key developments will drive further adoption in the years ahead. One such advancement is in wireless power, which could do away with battery-powered ESL displays altogether. Many of us are familiar with existing technology that can power devices like your smartphone by resting it on an inductive charging surface. While this saves us from plugging in our devices, the power transfer is limited to only a few centimeters, and the current isn't strong enough to power ESL devices at a reasonable distance. But stay tuned for a new generation of wireless power that works like WiFi, transmitting power over a distance of several meters, no wires batteries required.
Another major upcoming development pertains to a broader spectrum of colors available on ESL displays. Current e-paper technology is most commonly available in white, black and red. But we're starting to see early-generation, multi-pigment electronic ink tags offering black, white, red and yellow pigments with Advanced Color ePaper (ACeP) capable of more than 32,000 colors being deployed mostly in pilot environments since 2019. Chances are that the consumer market will see these multi-color e-paper displays built into e-readers before the economics work for large-scale commercial deployments. But full-color ESL displays will find their way into retail more broadly in the not-so-distant future.
Finally, don't expect to run video on e-paper displays any time soon. If you've used an e-reader, you know that the refresh rate is equivalent to turning a page in a book – which isn't an issue for reading or for conventional digital tag use cases such as displaying pricing, product reviews and QR codes. So full-motion video on ESL displays is still a way off. But innovation is happening on this front as you might expect. In 2019, the U.K.-based company Papercast demonstrated an e-paper solution capable of a 7.5 frames-per-second refresh rate that significantly exceeds the limitations of standard e-paper technology. ESL displays with integrated video will come, it's just a matter of when.
In my view, e-paper technology at retail is an innovation that's mostly flown under the radar. It quietly solved many of the pricing control and inventory management issues that plagued the brick-and-mortar space for many years. And now we're starting to see retailers use ESL displays to enrich the shopping experience in some very innovative and creative ways. When you consider some of the e-paper innovation that's percolating in the background, I would expect ESL displays to play a much more prominent role in the retail shopping experience in the years ahead.
SPONSORED VIDEO
Embracing Whole-Brained Thinking in the Design Journey
Strategy needs creative, and creative needs strategy—yep, having both is really the only way of unifying all disciplines with a common vernacular with an eye toward building a strong creative vision that is foundational to the processes. Hear from Bevan Bloemendaal, former VP, Global Environments & Creative Services at Timberland, how to connect the dots between disciplines, claiming and creating a clear differentiation for the brand and ensuring that any asset (experience, product, ad, store, office, home, video, game) is created with intention.