The Jewel of New York
Tiffany & Co. reopens its Landmark concept after a three-year renovation.
CROSSING THE THRESHOLD of the remodeled Tiffany's on Fifth Avenue is a transformative experience, taking the visitor to another time, another place, another state of mind. The environment is respectful of tradition, contemporary and futuristic at the same time. In a word, it's "timeless."
New York City is expecting upwards of 60 million visitors in 2023. Most will clamor to visit Times Square, the Statue of Liberty and the ever-present Empire State Building. A new landmark, in the form of an iconic jewelry store, now avails itself as a must-see New York City destination.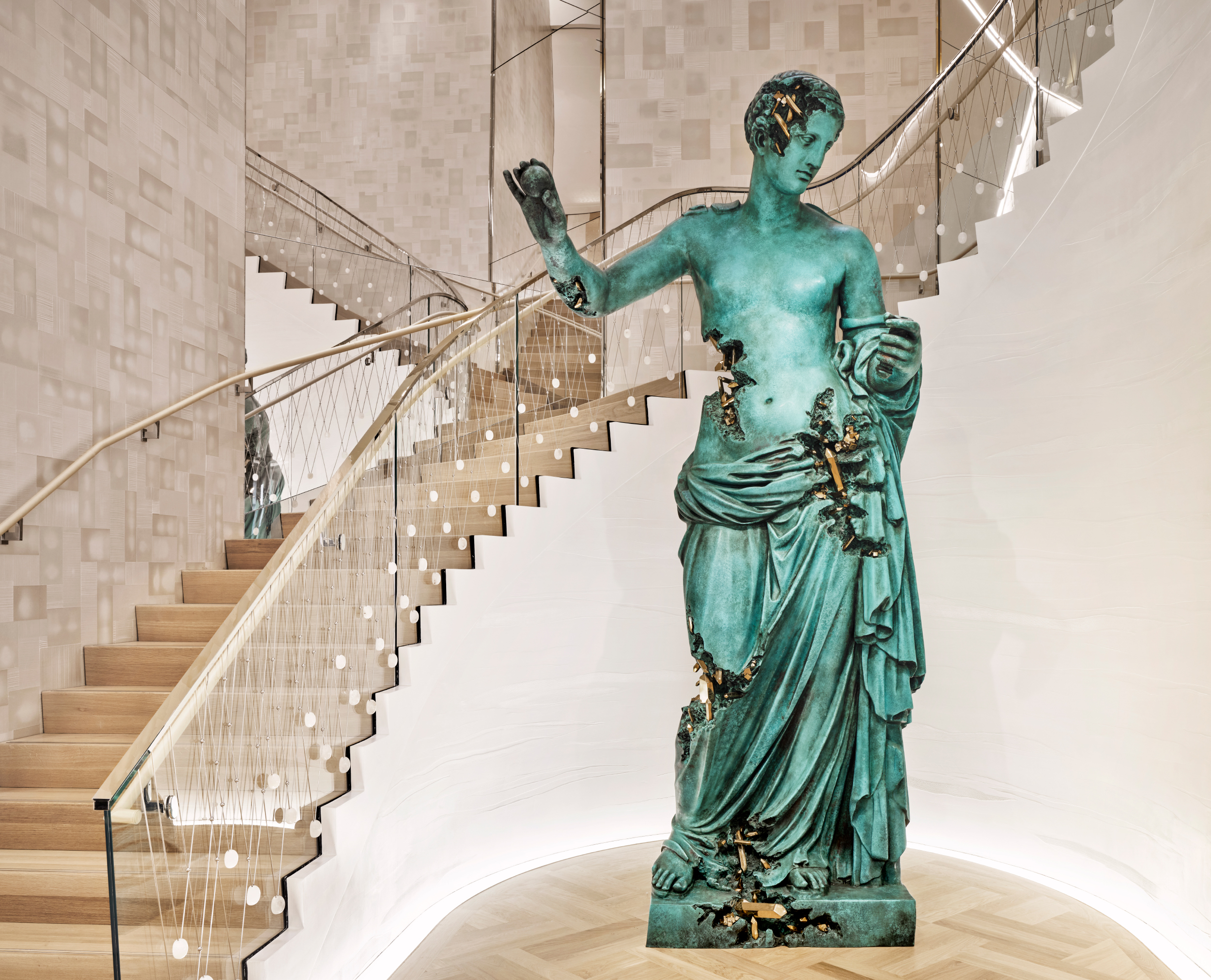 THIS IMAGE: Tiffany & Co. reopened its storied New York store this past April, now dubbed the "Landmark," spanning 110,000 square feet.
Glorified by Audrey Hepburn in the beloved film "Breakfast at Tiffany's," the 110,000-square-foot store reopened after a three-year renovation in April, not as a flagship, but as a "landmark." The architectural integrity of the building was carefully maintained as OMA (New York), under the direction of Shohei Shigematsu, completed a masterful remodel of the core structure, while renowned architect Peter Marino orchestrated a stunning interior makeover. Although the façade, the statue of Atlas and the storied clock remained intact, the interior underwent a transformation of epic proportions.
"Symbolic of a new era for Tiffany & Co., the Landmark is much more than a jewelry store – it is a cultural hub with an exquisite showcase of architecture and superior hospitality, as well as cutting-edge art and design," says Anthony Ledru, President and Chief Executive Officer, Tiffany & Co.
Advertisement
Guests immediately experience a jaw-dropping moment, entering an expansive street-level environment defined by floor-to-ceiling arches framing islands of jewelry cases clad in mother-of-pearl. The vaulted arches feature video projections of New York panoramas, including the iconic skyline.
Enhancing the experience is a curated collection of artwork by renowned artists Julian Schnabel, Damien Hirst, Rashid Johnson, Anish Kapoor and neo-expressionist Jean-Michel Basquiat, whose painting "Equals Pi" is prominently displayed above the main floor elevator bank. A sculpted spiral staircase connecting floors three through eight is adorned with leather handrails and bottle-shaped rock crystals inspired by the sensual forms of designer Elsa Peretti. Standing guard at its base is a Renaissance-inspired sculpture by Daniel Arsham. Resplendent in Tiffany's Blue hue (Pantone 1837) with gold-colored spikes, the majestic piece marries classicism with visions of the future.
THIS IMAGE: A dedicated area houses Audrey Hepburn's black Givenchy dress from the famous 1961 film, "Breakfast at Tiffany's."
The design of each floor, reflective of product offerings on display, features an eclectic mix of tactile surface treatments. A room showcasing the organic works of Peretti complements her style with a palette of painted burlap, free-form wood tables, and blue and gold accents. The sixth floor, housing the Home Collection, is anchored by a grand mosaic fireplace designed by Louis Comfort Tiffany for Citizens Bank. The piece was purchased from the bank to be featured in the renovation.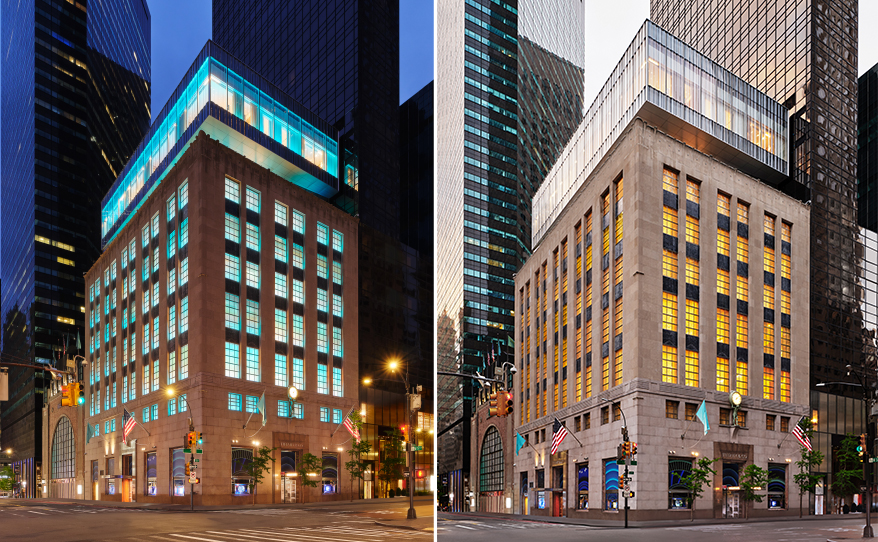 Advertisement
A room dedicated to Hepburn and the iconic black Givenchy dress she wore as Holly Golightly in "Breakfast at Tiffany's," captivates while inspiring an abundance of photo opportunities. Another nod to Tiffany's history is the homage to legendary window designer Gene Moore, with replications of some of his most iconic windows strategically positioned around the store.
A delightful respite from the dazzling jewels, fine art and historical references, the Blue Box Cafe by Michelin-starred chef Daniel Boulud offers everything from breakfast to coffee to tea to private fine dining experiences.
ABOVE: The colorful, in-store Blue Box Cafe can play host to private dining events.
There's a gravitational pull to the space, an allure more compelling than that of a just a store. The newly renovated Tiffany & Co. is a cultural jewel, an immersive experience into fine jewelry, fine art and history. With all that it offers, Tiffany clearly sets a new standard of luxury with its Landmark on New York's fashionable Fifth Avenue.
PHOTO GALLERY
(46 IMAGES)


📷 COURTESY OF TIFFANY & CO.

Advertisement
Advertisement
SPONSORED VIDEO
Embracing Whole-Brained Thinking in the Design Journey
Strategy needs creative, and creative needs strategy—yep, having both is really the only way of unifying all disciplines with a common vernacular with an eye toward building a strong creative vision that is foundational to the processes. Hear from Bevan Bloemendaal, former VP, Global Environments & Creative Services at Timberland, how to connect the dots between disciplines, claiming and creating a clear differentiation for the brand and ensuring that any asset (experience, product, ad, store, office, home, video, game) is created with intention.