Thierry Mugler: Daring to Be Different
The Brooklyn Museum celebrates the fashion visionary who challenged the boundaries of convention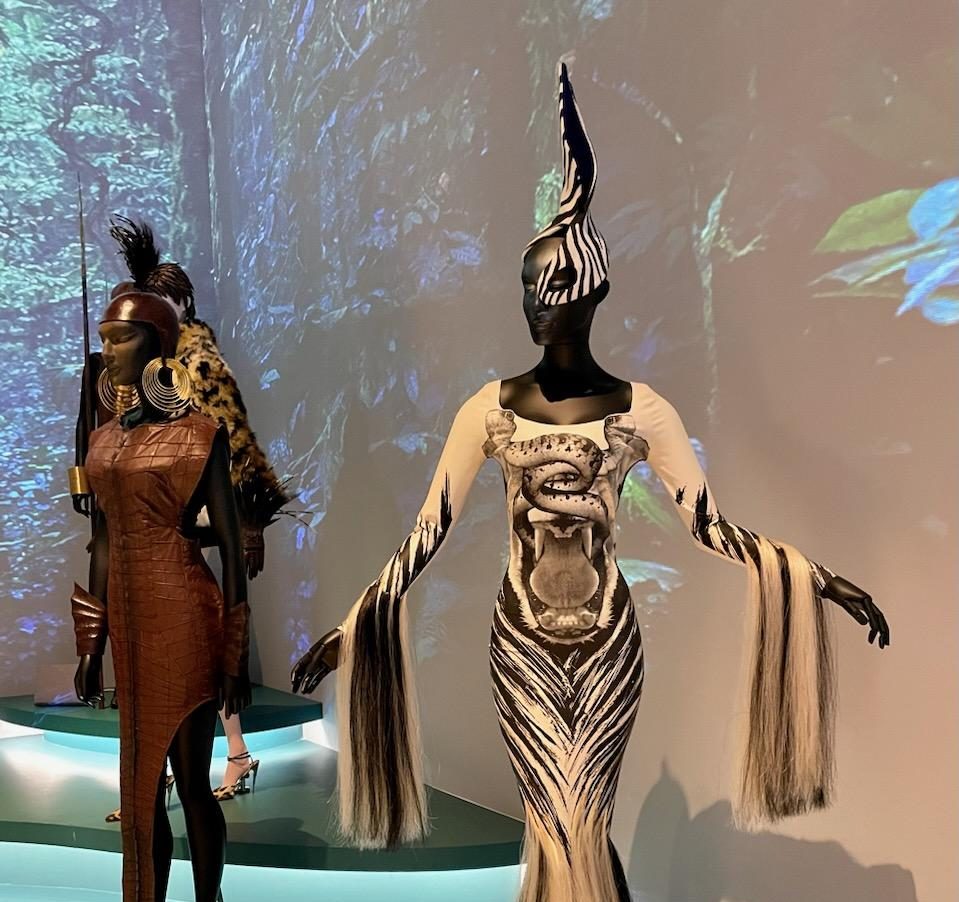 As an artist whose multi-disciplinary vision transcended the fashion runways of Paris, Milan and New York, Thierry Mugler pushed the boundaries of contemporary culture with his haute couture designs, theatrical costumes, renowned perfumes, cutting edge photography and esoteric film making.
The genius of the iconic visionary has been documented and richly celebrated in a stunning exhibition at the Brooklyn Museum, titled "Thierry Mugler: Couturissime." First curated by the Montreal Museum of Fine Arts, the exhibition has been brilliantly choreographed by Thierry-Maxime Loriot, curator of the exhibition, and Matthew Yokobosky, Senior Curator of Fashion and Material Culture, Brooklyn Museum, to meld seamlessly into 16,000 square feet of the museum's galleries and presentation halls.
The exhibition includes more than 100 of Mugler's fashion designs (most on view for the first time) accessories, videos, photographs and sketches, as well as a gallery showcasing the designer's fragrance innovations, particularly Angel, the groundbreaking scent that placed him in high esteem within the perfume world.
In a thematic arrangement of fantasy and glamour, viewers are guided through a series of rooms in the Museum's Morris A. and Meyer Schapiro Wing and Iris and B. Gerald Cantor Gallery. More than just an anthology, the exhibition examines themes and the impact and meaning of Mugler's work from his "glamazon" creation (a melding of "glamour" and Amazon), to his collaboration with singer George Michael on the video "Too Funky," and further to his "Futuristic and Fembot Couture." The journey also brings viewers to his inspirational work behind the camera lens, featuring images inspired by his fascination with Gothic architecture and art deco design, as well as images of super models Iman and Jerry Hall.
Mugler's overarching vision can be defined by a statement emblazoned at the entrance to the exhibition, "In my work I've always tried to make people look stronger than they really are."
Along with that telling epigraph, the exhibition opens with a dynamic, life-size 3-D hologram designed by Quebec artist Michel Lemieux. In an experiential moment, visitors are captivated by life-like images of Mugler's costume designs for a staging of Shakespeare's "La Tragédie de Macbeth," presented by the Comédie-Française at the 1985 Festival d'Avignon. Accompanying the dramatic presentation is a display of sketches for the play.
Advertisement
Monsieur Mugler's creative journey was greatly influenced by childhood memories of his formative years in Strasbourg, France, his lasting love of theatrical settings, and his early artistic expression as a dancer for the Ballet de l'Ópera national du Rhin.
Yokobosky explains, "Originally a ballet dancer, Thierry Mugler was a designer who intimately understood the mechanics of the body and had extensive knowledge of materials and production. He used this expertise to create empowering visions for all people, especially women, including his archetypal superheroine silhouettes."
The Metamorphosis gallery underscores Mugler's conviction that beauty and seduction are instinctual qualities shared by all living creatures. Some of the designer's most imaginative creations are on full display in this otherworldly and ethereal setting, including work inspired by the natural wonders of the world. Front and forward is Mugler's "Les Insects" collection, including an awe-inspiring sheath with a black velvet train adorned with a suggestion of butterfly wings made of rooster feathers. Also in this gallery is the "La Chimere" collection portraying a mythical being with linked armor and a dress adorned with iridescent scales and shimmering crystals.
The Brooklyn Museum has consistently demonstrated its position as centerstage for some of the most important documentations of iconic fashion design. Yokobosky proudly says, "Building on the Brooklyn Museum's history of celebrating the trailblazing French couturiers Jean Paul Gaultier in 2013, Pierre Cardin in 2019, and Christian Dior in 2021, we're thrilled for our audiences to experience 'Thierry Mugler: Couturissime.' "
Since its launch in 2019, the exhibition has been seen by more than one million visitors in Canada, Germany, the Netherlands and France. "Thierry Mugler: Couturissime" will be on view at the Brooklyn Museum through May 7, 2023.
Photography: Eric Feigenbaum, New York
Advertisement
SPONSORED VIDEO
Embracing Whole-Brained Thinking in the Design Journey
Strategy needs creative, and creative needs strategy—yep, having both is really the only way of unifying all disciplines with a common vernacular with an eye toward building a strong creative vision that is foundational to the processes. Hear from Bevan Bloemendaal, former VP, Global Environments & Creative Services at Timberland, how to connect the dots between disciplines, claiming and creating a clear differentiation for the brand and ensuring that any asset (experience, product, ad, store, office, home, video, game) is created with intention.