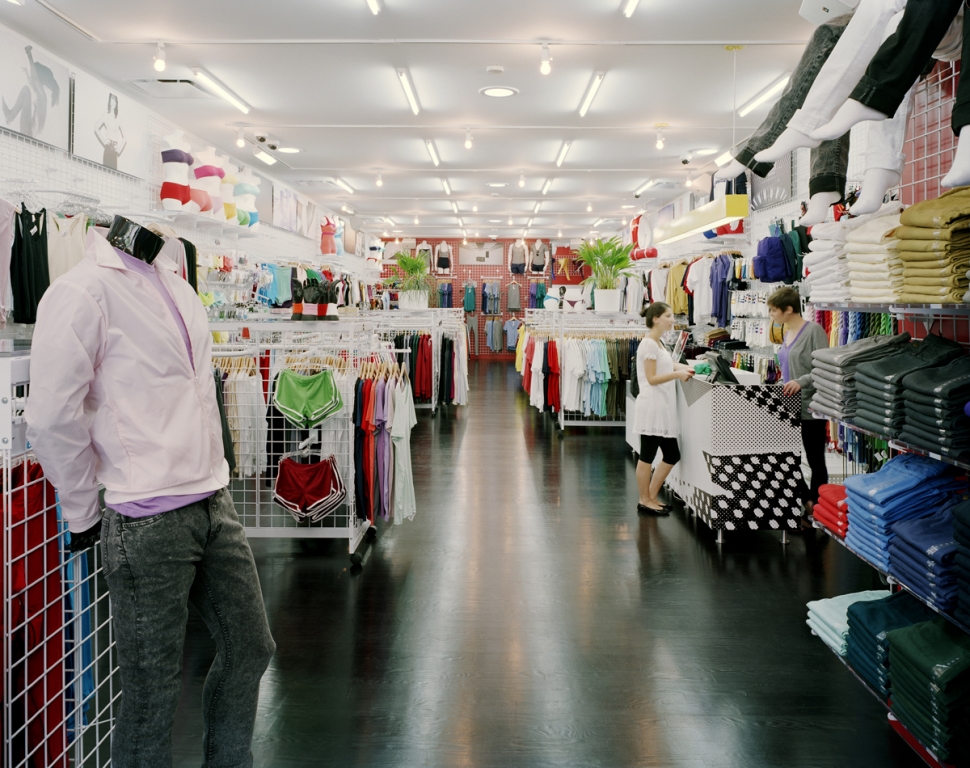 American Apparel prides itself on doing the right thing. The specialty retailer's "sweatshop-free" manufacturing environment, U.S.-made merchandise and support for immigrants' rights have placed it at the forefront of social movements.
Now the company is bringing that social consciousness to its store environment. Jordan Parnass Digital Architecture (JPDA), the retail design and branding firm in Brooklyn, N.Y., that designs American Apparel's stores, suggested taking the retailer's new location on the West Side of Manhattan in a sustainable direction.
But designers wanted to go eco-friendly without screaming green. "There's a difference between changing out your palette to look green and actually incorporating sustainable practices," says Darrick Borowski, creative director at JPDA. "All those things that look green on the surface can be just as harmful as what they're replacing. We were more interested in proving that we could tell any visual story and do it responsibly."
The retailer's signature white store with gridwall systems and large graphics remains. But incandescent track lighting has been swapped for energy-efficient compact fluorescent lamps; recycled tiles and locally sourced wood that's certified by the Forest Stewardship Council cover the floor; and the storefront sign is illuminated with LED lighting.
JPDA and American Apparel anticipate LEED Gold Certification.
Project Suppliers Client American Apparel, Los Angeles Design/Architect Jordan Parnass Digital Architecture, Brooklyn, N.Y. Lighting Solatube Intl. Inc., Vista, Calif. Specialty Lighting Industries, Ocean, N.J. Fixtures American Standard, Piscataway, N.J. M Fried Store Fixtures, Brooklyn, N.Y. Flooring Terra Green Ceramics Inc., Richmond, Ind. Bike storage racks Rutland Industries, Rutland, Vt. Signage/Graphics IDL Concepts Inc., New York American Apparel, Los Angeles Frank Oudeman, New York
SPONSORED VIDEO
Embracing Whole-Brained Thinking in the Design Journey
Strategy needs creative, and creative needs strategy—yep, having both is really the only way of unifying all disciplines with a common vernacular with an eye toward building a strong creative vision that is foundational to the processes. Hear from Bevan Bloemendaal, former VP, Global Environments & Creative Services at Timberland, how to connect the dots between disciplines, claiming and creating a clear differentiation for the brand and ensuring that any asset (experience, product, ad, store, office, home, video, game) is created with intention.