Bridging Cultures Through Design
Restaurants in 2023 are embracing myriad influences in culture and cuisine through a fusion of design
DINING OUT IS SO much more than just eating a meal; it's connecting with a culture, discovering a cuisine, sharing an experience. Restaurants are leaning into this in 2023. As the world becomes more interconnected, dining scenes have to become more diverse – hubs for culture and global appreciation. New restaurant concepts seek to celebrate their roots and open up a world of the undiscovered for new audiences.
ABOVE: A mural illustrating a "dragon dance" anchors the welcoming interior of the new Panda Home concept. 📷 MARK STEELE, COLUMBUS, OHIO
WARM AND WELCOMING
Panda Express (Rosemead, Calif.), the largest Asian-American chain in the U.S., is bridging cultures and celebrating both with its new concept: the Panda Home store model. The iconic color palette of black and white with strong red accents ensures the exterior is recognizable, elevated by warm wood tones and a sweeping roofline, nodding to the traditional Chinese pagoda.
"As guests enter through a moon gate-inspired entrance, they are greeted with an interior design that tells a story centered on celebrating American-Chinese cuisine and Panda's culture," says Amberlee Sales Talavera, Creative Design Director, Restaurant Development at Panda Express. "It combines design styles from the East and West, incorporating a mural depicting a dragon dance that is a key component of cultural celebrations, as well as lighting, colors and scenes inspired by the vibrancy of Chinatown."
The space is warm and welcoming, with tables designed to be shared with other parties, red lanterns and neon signage. The bar, laid out with woks to showcase the cuisine on offer, is approachable so customers can discover something new.
Advertisement
"It's bold, immersive and memorable," says Ryan Brazelton, Chief Creative Officer at ChangeUp, the design firm that conceptualized the design. "We had the opportunity to reach outside typical tropes and industry norms to do something special for Panda Home. Instead of chasing trends, our goal was to create something distinctive. Absolutely every design detail has been considered and created to tell guests a story that relates to Panda's food, heritage and passion for their culture and brand."
Advertisement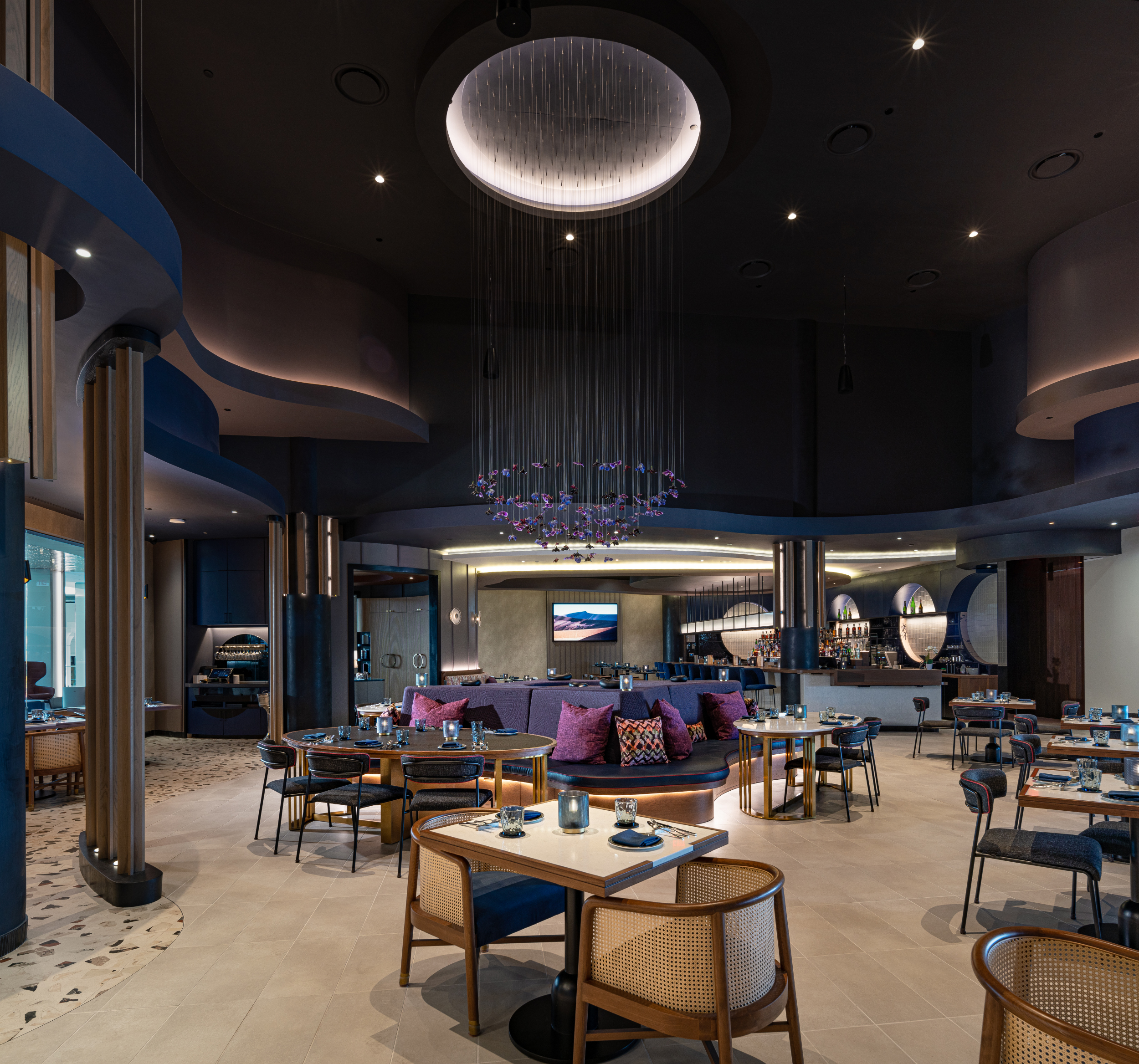 VIBRANT FUSION
For Jiwa Singapura in McLean, Va., the challenge was "designing an immersive interior that visually represents Singapore, as it's a fusion of diverse cultures as well as architectural styles," says Molly Forman, Interior Designer, //3877, the firm charged with the restaurant's design. "The goal was to let Chef Pepe's cuisine be the lead singer and the interior to provide harmonious backup. We first began with understanding the cuisine and getting to know Singapore. We were then able to weave a design concept supported by modern architectural forms imbued with Singaporean culture."
THIS PAGE: Vibrant yet moody, the dramatic interior of Jiwa Singapura references Singapore's fishing history through various blue hues. 📷 JOSEPH D. TRAN
The space is slick yet vibrant, with subtle references to Singapore's heritage as a fishing village in blue tones, curved features and the "boundless" height of the ceiling. At the heart of the floor plan, an orchid structure fills the restaurant with layers of shadow and soft color.
"The menu is the central element of the experience. We wanted guests not only to enjoy Singaporean-Malaysian dishes but find cultural touchpoints in their environment to round out the meal as a full experience," says Megan Holden, Interior Designer, //3877.
Advertisement
For these restaurants, going beyond the food to imbue the environment with culture and heritage creates an experience to immerse diners in a captivating narrative of culinary traditions and global influences, enriching every aspect of their visit.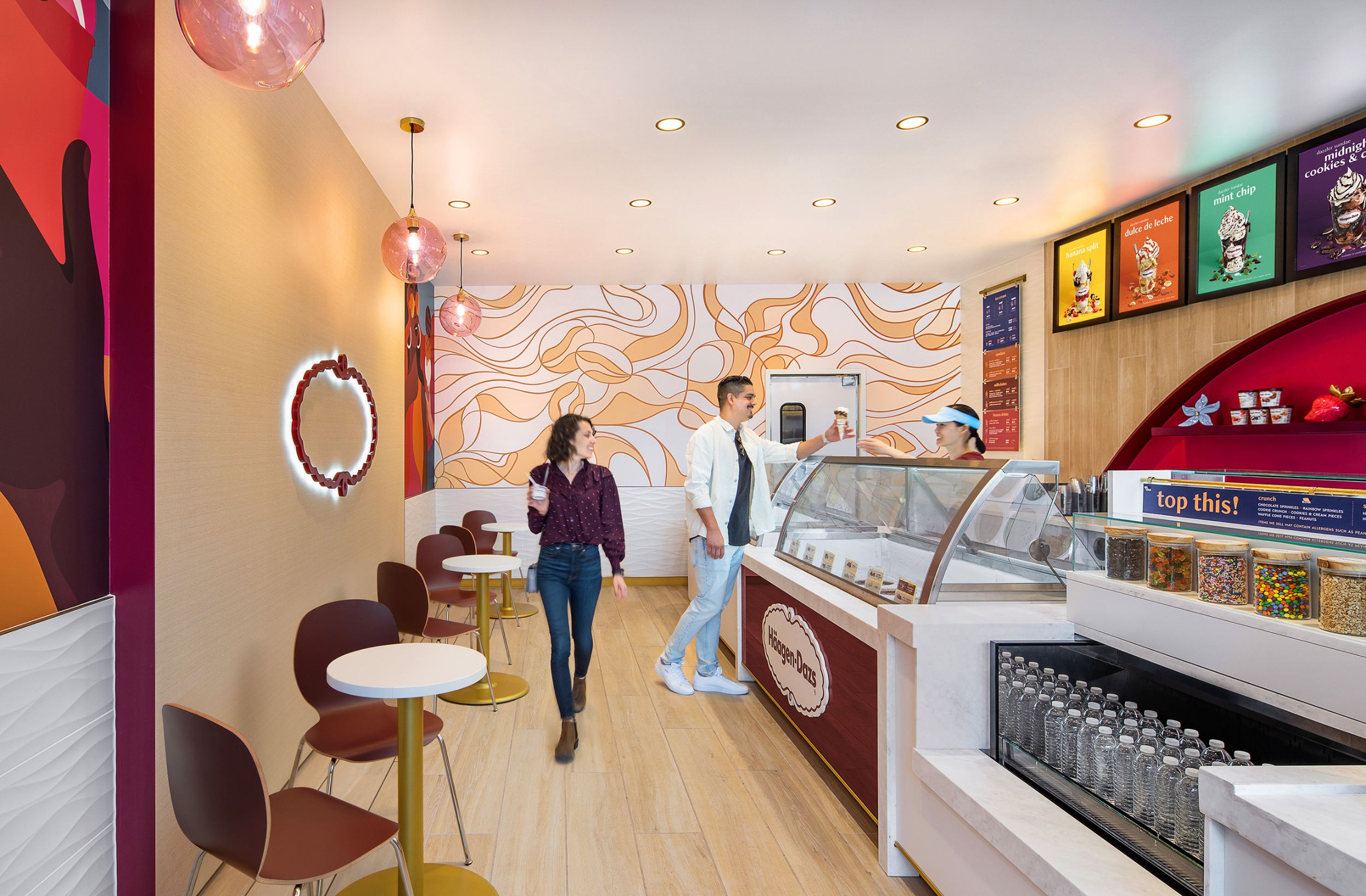 📷 COURTESY OF CHASE DESIGN GROUP
THE SCOOP
Häagen-Dazs, Nationwide redesign
Häagen-Dazs has embarked on a 360° brand overhaul. In partnership with Chase Design Group (South Pasadena, Calif.), the renowned ice cream brand brings its "Thät's Dazs" personality to life through an immersive visual identity across packaging, signage, menus, furniture and uniforms. The redesign embraces a vibrant color palette, tastefully interwoven abstract ingredient representations in tapestry wallpaper and custom sculptures that guide customers on an artful ordering journey.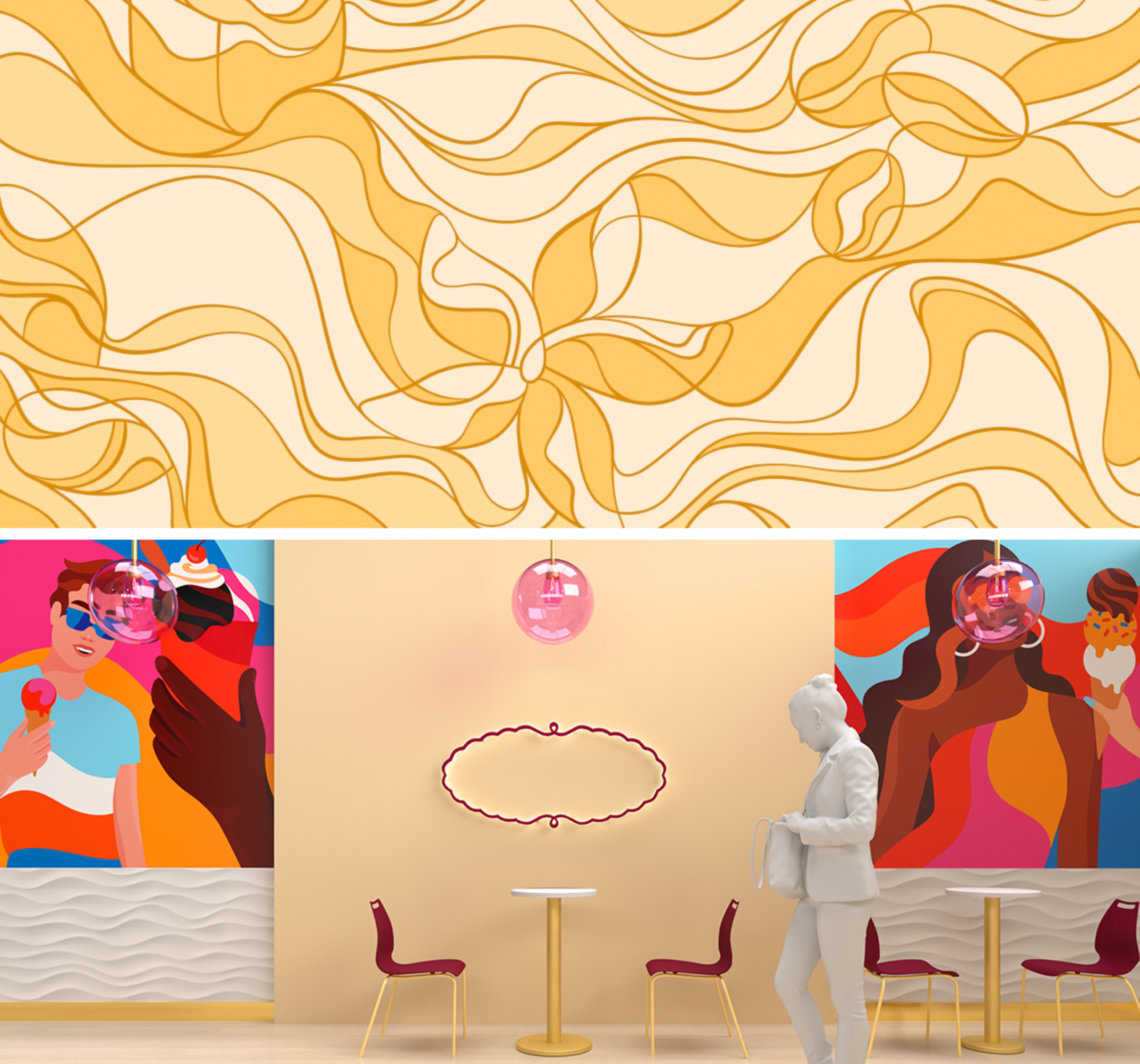 All of these elements are inspired by the packaging redesign, making clear connections for the brand across every touchpoint," says Jon Arriaza, Senior Design Director, Chase Design Group.
Advertisement
The redesigned spaces are tasteful, welcoming and immersive, from standalone shops to cozy kiosks. The revamped experience is currently unfurling across 208 franchise locations nationwide, encapsulating the brand's essence in every delectable scoop.
PHOTO GALLERY
(39 IMAGES)


📷 MARK STEELE, COLUMBUS, OHIO | JOSEPH D. TRAN | CHASE DESIGN GROUP

Advertisement
SPONSORED VIDEO
Embracing Whole-Brained Thinking in the Design Journey
Strategy needs creative, and creative needs strategy—yep, having both is really the only way of unifying all disciplines with a common vernacular with an eye toward building a strong creative vision that is foundational to the processes. Hear from Bevan Bloemendaal, former VP, Global Environments & Creative Services at Timberland, how to connect the dots between disciplines, claiming and creating a clear differentiation for the brand and ensuring that any asset (experience, product, ad, store, office, home, video, game) is created with intention.