Mega Foods, Eau Claire, Wis.
This locally owned cooperative projects both a vintage and modern feel to a community-centric area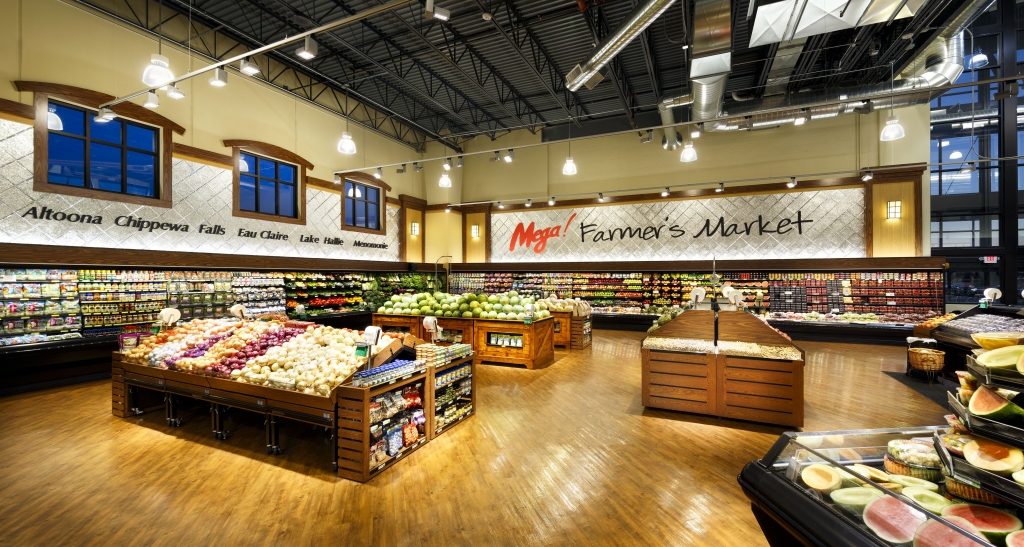 What do you get when you combine nostalgia, modernity and groceries?
After being stuck in a rundown building for the past several years, Mega Foods, the nation's largest consumer-owned food co-op, was ready for some revamping. Harry Steen, Supervalu creative director, and his team heeded the call of renovation.
Before construction, the team first conducted research on the local community – which is inextricably involved in the co-op – to discover their desires for the new space. Thus, the blending of community, modernity and vintage began.
The first trial involved the preexisting building, which was to remain open for the duration of the construction and created some unique challenges for the team.
"The old store and the new store were about eight feet apart." Steen says. "We built the new store and created a temporary entrance into the liquor store and into the main store. Once the new store opened, we tore down the old store and put the front on the new store. It was a complex project."
The finished storefront is a large, beacon-like glass window bolstering a grand, vaulted arch that welcomes patrons into the cooperative. This is a nod to the original store's Quonset hut design, which Steen explains, is mimicked sparsely throughout. Beyond the door is an expansive seating area and a Caribou Coffee encouraging shoppers to linger for a short while. Overall, the grocery features an earth-tone color palette – complementary to the vinyl wood and polished concrete floors, reminiscent of a barn – and comprises a plethora of windows, bathing the interior in cheery light.
Advertisement
Throughout the grocery hang murals sourced from historic photographs from the Mega Foods archive, which depict people involved with the beginnings of the co-op. "We had a photograph going back to the '50s of a man working in the produce area," Steen says. "As it turns out, it was one of Mega Food's current customer's husband who had passed away many years ago. It made her so happy to see that his work lived on."
Another acknowledgement to locality is that each aisle is named after a local street, which Steen explains isn't a completely original idea, but it is the first time he didn't incorporate numbers with the names. Neon signage near the liquor section is a throwback to the original that once hung in the store in the '50s. An aged patina gives the glowing-giant nostalgic character.
Other small details include enameled tin on a majority of the walls – as seen in the produce section – bathed in a twinkling, glowing light. Vintage '30s-style wallpaper and classic subway tiles line certain sections of the market and seamlessly meld with the earth-tone color palette.
"Our major goal was to truly make [Mega Foods] recognizable and local to the clientele. Great care was taken to ask its customer base what they wanted from this new store," Steen concludes. "It's a beautiful, welcoming store full of rich, historic value."
Project Source List
Client
Mega Foods, Eau Claire, Wis.
Advertisement
Design Firm
Supervalu Design Services
Architect
Camburas & Theodore, Des Plaines, Ill.
General Contractor
Hoeft Builders, Eau Claire, Wis.
Refrigerated Cases and Systems
Benedicts Refrigeration Service, Eau Claire, Wis.
Hill Phoenix & Baker Specialty Products, Conyers, Ga.
Southern Store Fixtures, Bessemer, Ala.
Lighting
DMA, Boise, Idaho
Graybar, Boise, Idaho
Fixture Installation
Capital Wood Products, St. Paul, Minn.
Advertisement
Shelving
Lozier, Omaha, Neb.
Deli Equipment
Henny Penny, New Brighton, Minn.
Rotisol, France Inc., New Brighton, Minn.
Atlantic Food Bars Inc., Owings Mills, Md.
Bakery Display Cases
Structural Concepts, Muskegon, Mich.
Smallwares
Hubert, Harrison, Ohio
Decor and Interior Signage
DGS Store Fixtures Inc., Payson, Utah
Cashwraps
Accent Industries, Kenosha, Wis.
Exterior Signage
Leroy Signs Inc., Brooklyn Park, Minn.
Photography: Mark A. Steele Photography, Columbus, Ohio
SPONSORED VIDEO
Embracing Whole-Brained Thinking in the Design Journey
Strategy needs creative, and creative needs strategy—yep, having both is really the only way of unifying all disciplines with a common vernacular with an eye toward building a strong creative vision that is foundational to the processes. Hear from Bevan Bloemendaal, former VP, Global Environments & Creative Services at Timberland, how to connect the dots between disciplines, claiming and creating a clear differentiation for the brand and ensuring that any asset (experience, product, ad, store, office, home, video, game) is created with intention.