Personifying Scorched Earth
Atelier Intimo's bold, dramatic flagship in Shanghai speaks to new beginnings.
THE COVID-19 PANDEMIC cultivated a rebirth in many of us, calling for bold changes and deep introspection. Using this resurgence of life as their inspiration, designers at O&O Studio (Hong Kong) created a new space for lingerie brand Atelier Intimo (Shanghai), highlighting nature-inspired motifs and an industrial aesthetic.
Located on busy Huai Hai Road in Shanghai, the Atelier Intimo flagship store is a dramatic visual experience aligned with the concept of the brand's latest lingerie line, "Rebirth of the Scorched Earth." The design team preserved the façade of the two-floor space while transforming the interior into displays for Atelier Intimo's latest product that reflect the brand's design philosophy.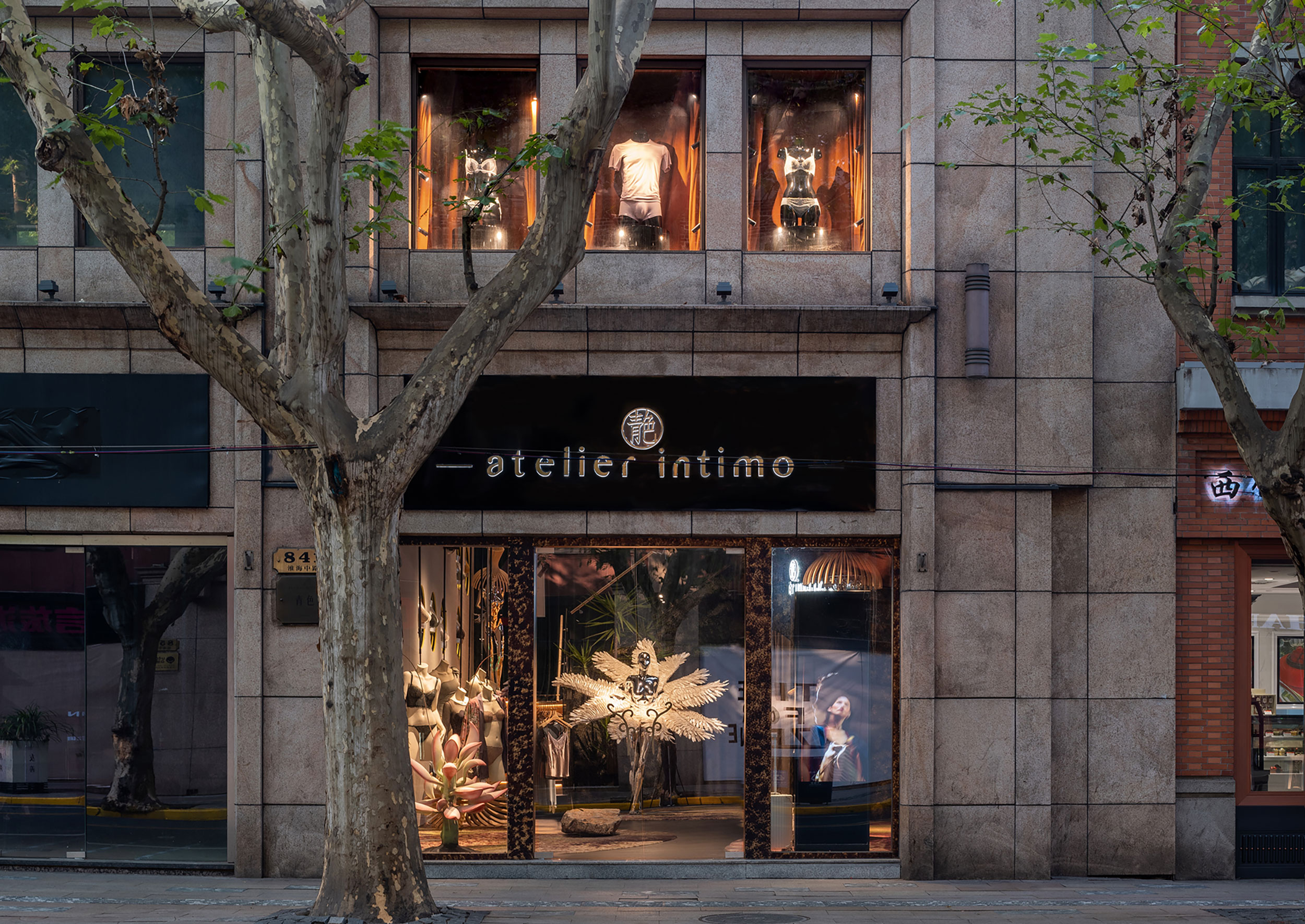 "Designing such an important retail store, as well as it being their first ever flagship, is certainly where the challenge begins," says Suzanne Li, Co-Founder of O&O Studio. "Given a tight time frame, we managed to create an [effective] storytelling design."
The team created a more efficient layout of the space – repositioning an existing staircase and changing its structure from an L- to a U-shape provided for additional storage and maximized selling space.
Once the layout was reconfigured, the design team visualized a store that acts as a stage for different stories, featuring unique art installations and custom-made materials that form a theatrical set of visuals.
"While the entire composition is designed to present the brand's latest product, it also [references] the world's unusual happenings with the pandemic, which also at the same time reflect the brand's design philosophy," says Li.
Custom-made circular carpets in earthy prints create zones on the ground floor while minimally designed display "islands" feature bases decorated with large, natural stones like septarium, quartz and taishan, intended to signify the birth of new life. Eight hanging mannequins in adjustable heights display womens' intimates at the front of the space, while opposite, a series of custom-designed display units are placed at various heights. Stainless steel finishes appear throughout the store and on the changing room's outer walls.
On the second floor, shoppers will find the exhibition area. The cashwrap and the wall behind it are decorated in finishes that play off the scorched earth theme, while the opposite side is an installation with display poles reminiscent of trees in a forest. Flaring out from the poles are ledges that act as branches, which can be adjusted manually to display apparel in different styles and sizes.
Also part of the exhibition area, an elevated platform is used as a stage for product launches, parties or live streaming. For lingerie fittings and parties for customers, a curtain transforms the space into a private area.
Honoring its commitment to serving customers of diverse shapes and sizes, the brand's research project titled "15+1" invited 15 female customers and one female staff member to be measured by a 3-D scanner, then printed as half-body forms that display different bra styles. Designers, challenged to integrate these custom mannequins into the layout late into the design planning, created a display with 16 circular niches, each holding one half-body mannequin, placed along the wall that spans the two floors.
Creating fluidity between the design concept, product and displays, designers developed a true flagship experience with a backdrop that serves as the perfect canvas to display the brand's merchandise as well as a space for customers to wander and discover.
SPONSORED VIDEO
Embracing Whole-Brained Thinking in the Design Journey
Strategy needs creative, and creative needs strategy—yep, having both is really the only way of unifying all disciplines with a common vernacular with an eye toward building a strong creative vision that is foundational to the processes. Hear from Bevan Bloemendaal, former VP, Global Environments & Creative Services at Timberland, how to connect the dots between disciplines, claiming and creating a clear differentiation for the brand and ensuring that any asset (experience, product, ad, store, office, home, video, game) is created with intention.